Eight more US troops, family members test positive for coronavirus after flying to South Korea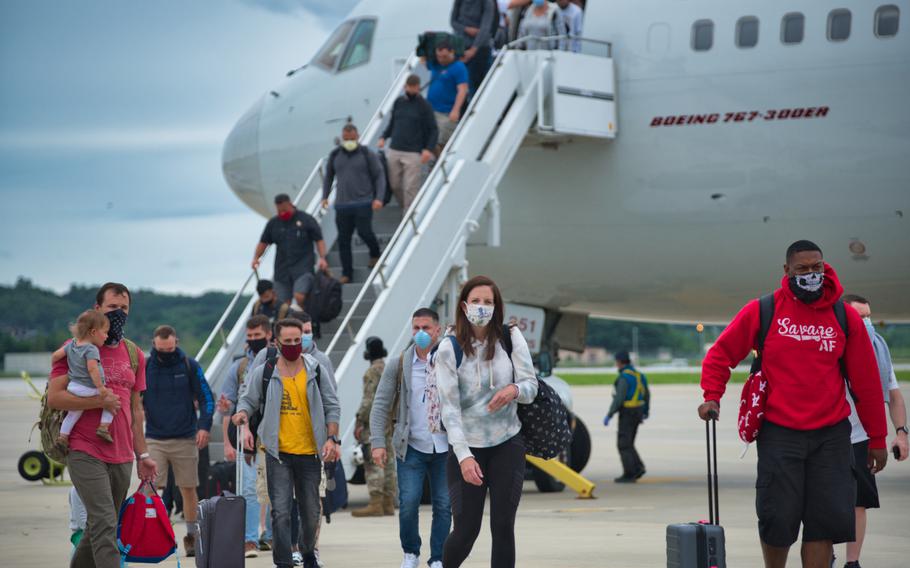 Stars and Stripes is making stories on the coronavirus pandemic available free of charge. See other free reports here. Sign up for our daily coronavirus newsletter here. Please support our journalism with a subscription.
SEOUL, South Korea — Eight more American troops and family members tested positive for the coronavirus after flying from the United States to South Korea, the military said Monday, raising the total number of cases affiliated with U.S. Forces Korea to 188.
Three service members arrived at Osan Air Base on U.S. government-chartered flights on Sept. 1 and 9, while two troops and three dependents landed at Incheon International Airport on commercial flights on Sept. 6 and 10, USFK said in a press release.
The command has implemented a strict testing and quarantine process in a bid to prevent travelers from spreading the virus within South Korea. All arrivals must pass a test upon arrival, undergo a two-week quarantine, then pass another test before being released from quarantine.
Six of the latest cases tested positive on their first test, while the other two received positive results on the exit test, USFK said. All have been transferred to isolation facilities at Camp Humphreys or Osan Air Base and any transportation or quarantine rooms used by them have been cleaned, it added.
The increase came despite a new rule that soldiers must test negative before boarding international flights, although officials note that only applies to the Army, not the other branches of service. USFK also says it can't control what happens before personnel arrive but insists it maintains tight control once they land.
South Korea, meanwhile, continued to see a decline, reporting 109 new cases on Monday, including 98 that were locally transmitted. That raised the national total to 22,285 since January, with 363 deaths, according to the newly formed Korea Disease Control and Prevention Agency, which replaced the Korea Centers for Disease Control and Prevention.