Eight decades after surprise attack shut down Waikiki Beach, the coronavirus has done the same
by
Wyatt Olson
April 1, 2020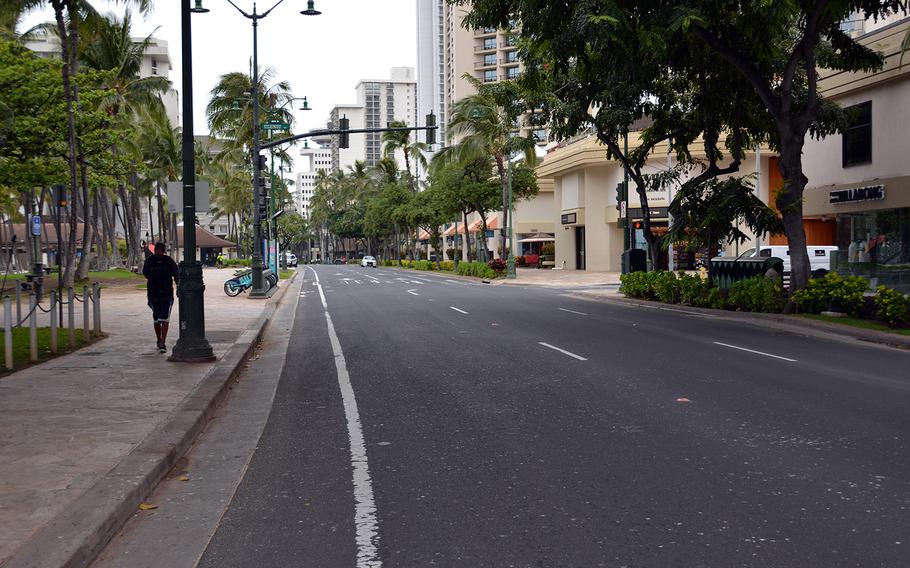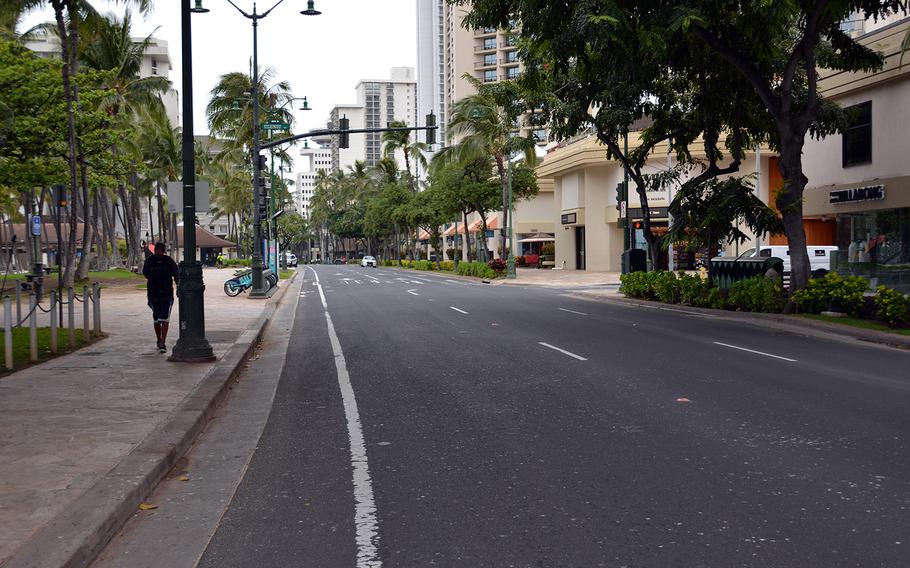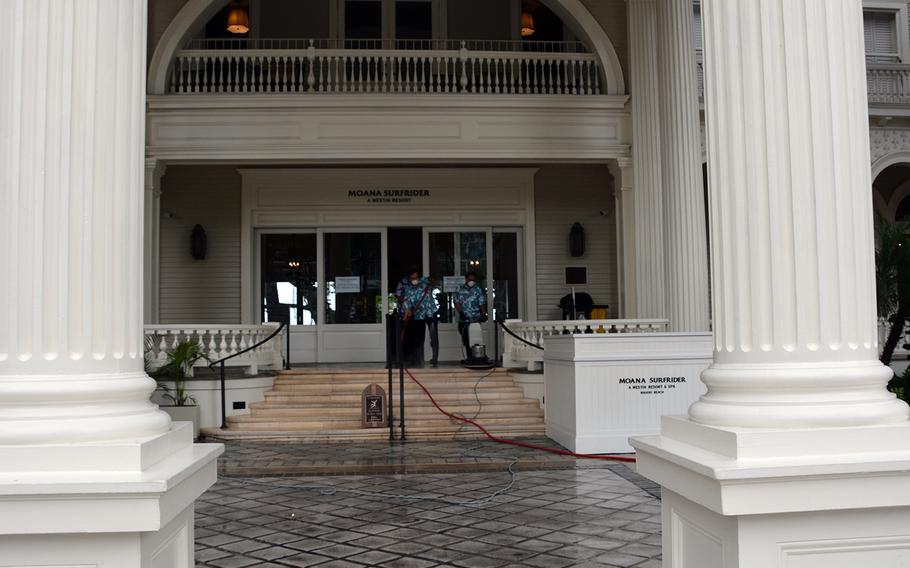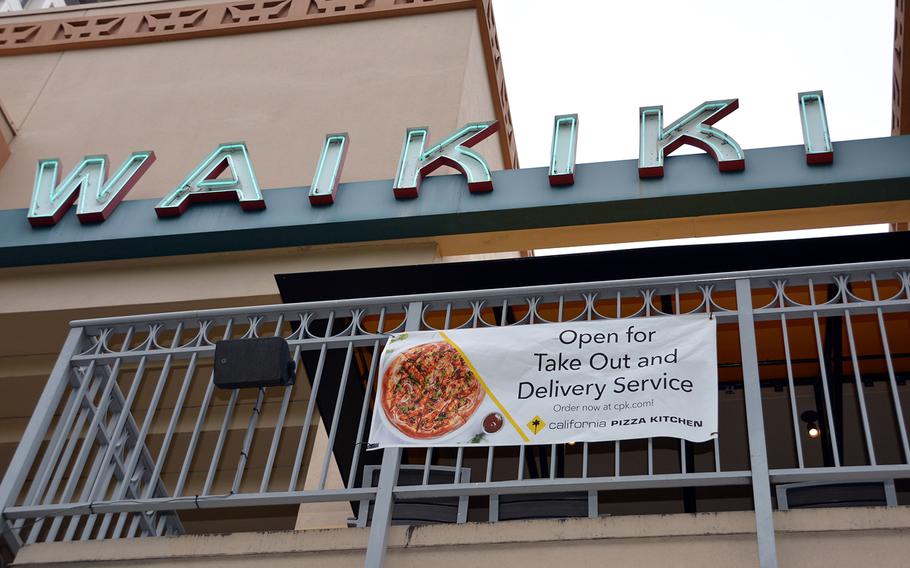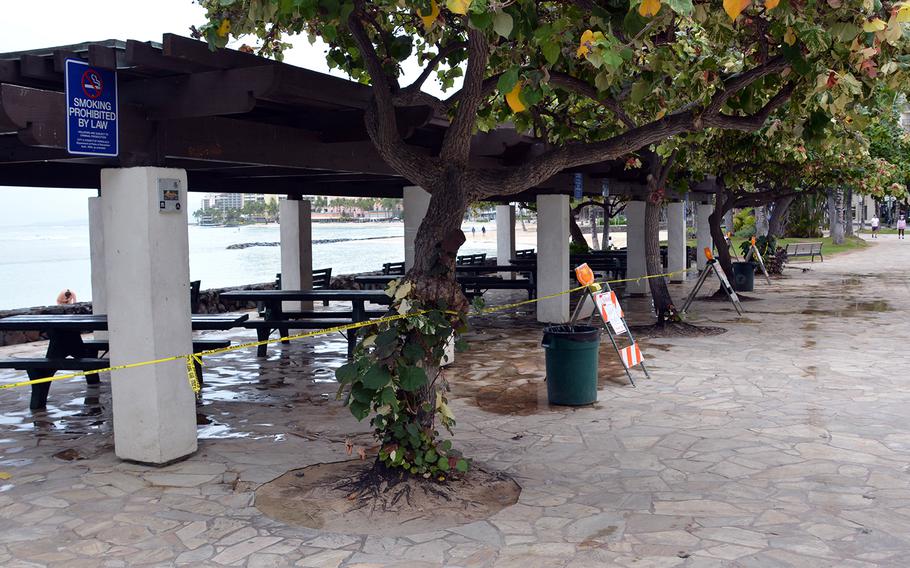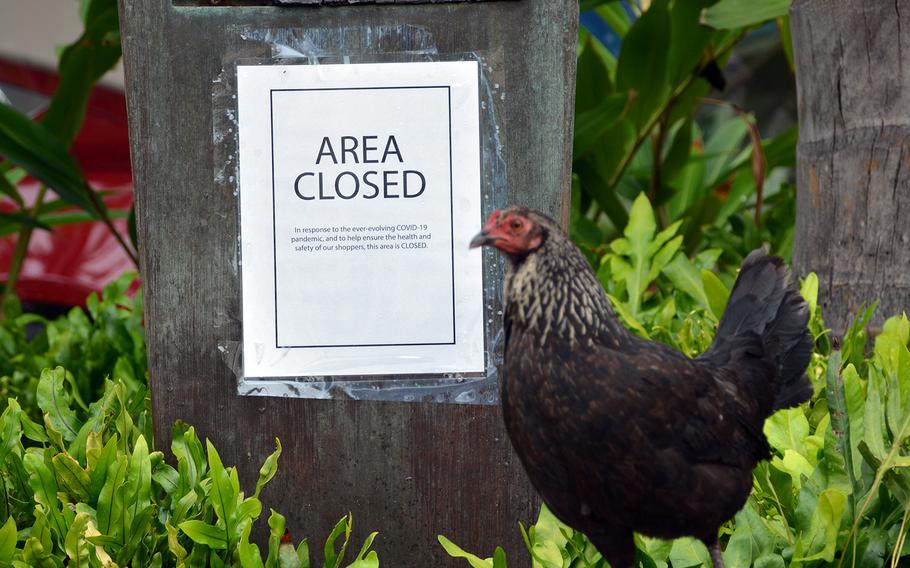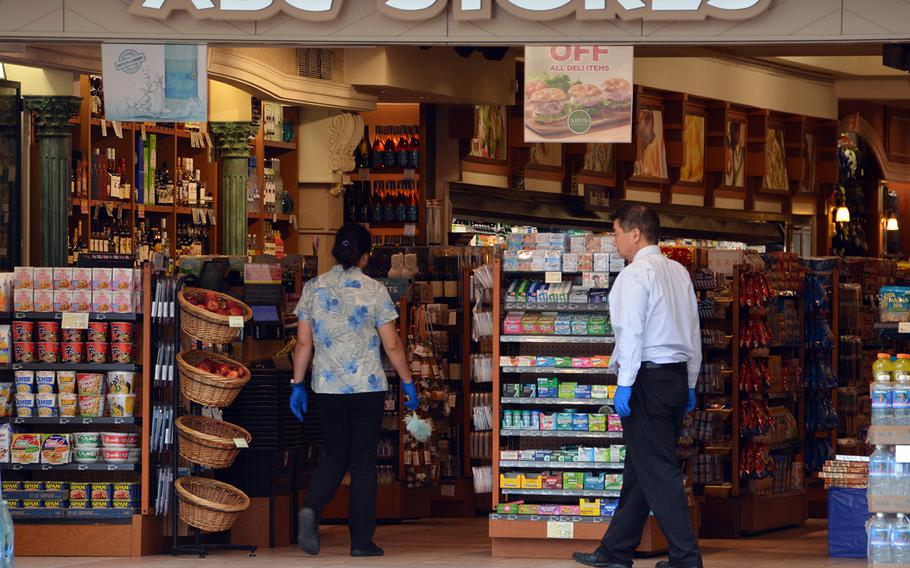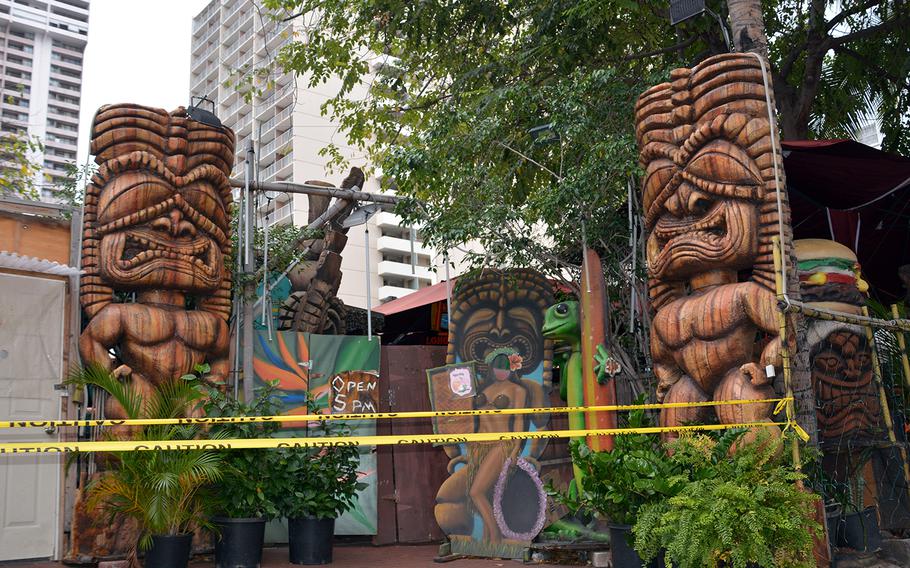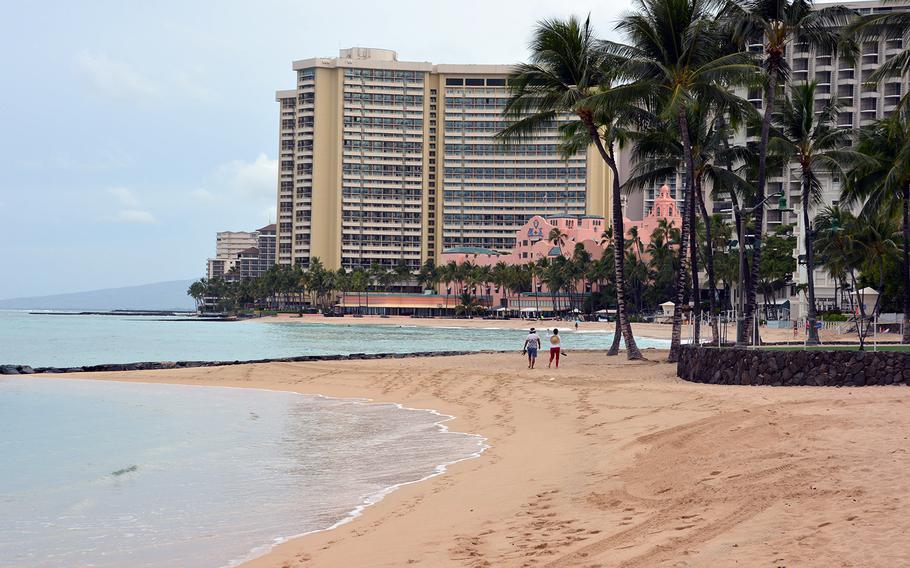 Stars and Stripes is making stories on the coronavirus pandemic available free of charge. See other free reports here. Sign up for our daily coronavirus newsletter here. Please support our journalism with a subscription.
FORT SHAFTER, Hawaii — You'd have to go all the way back to the dark days following the Dec. 7, 1941, Japanese sneak attack on Oahu to witness a Waikiki Beach this desolate.
The roughly 1 ½-mile stretch of sandy beaches, hotels and upscale shops is normally teeming with tourists. Visitors by the thousands cram the sidewalks, streets are gridlocked with traffic and beachgoers lounge cheek by jowl on the sandy shoreline.
Today, official measures taken to suppress the spread of the coronavirus have turned this famed tourist destination into a ghost town. The beachside Kalakaua Avenue looks like a Potemkin village — scores of tony shops and hotels big and small are shuttered, bereft of patrons.
The panhandlers and street performers have disappeared.
Hawaii Gov. David Ige and Honolulu Mayor Kirk Caldwell issued separate shelter-in-place orders early last week, limiting outside movement to essential needs, such as buying food, seeking medical care or solo exercise.
As of Tuesday, the state had 224 confirmed coronavirus cases and one death.
Anyone returning to Hawaii has been required to quarantine for 14 days. On Wednesday, that quarantine was expanded to include anyone traveling between the state's islands.
The number of visitors from outside the state has plummeted.
On Monday, 681 people arrived in the state, compared to the roughly 30,000 arriving daily during this period a year ago, according to the Hawaii Tourism Authority. Of those, 121 were visitors.
During a news conference Tuesday, Caldwell bristled over the trickle of visitors still coming.
"These hundreds are putting a burden on our resources here on the island of Oahu, and I believe on the state of Hawaii," he said.
"For example, we had three folks arrive who didn't have a home and went to homeless shelters and put a burden on the shelter to try and quarantine in place for 14 days where they are already stressed out and challenged. We had a family of four show up — visitors — with no hotel reservation, and we spent Friday of last week trying to find places for them to stay."
Caldwell announced Tuesday that he and other local and state officials were sending President Donald Trump a letter requesting he ban all nonessential travel to Hawaii.
"No one, absolutely no one, should be coming to Hawaii for a vacation at this point," Caldwell said.
There is certainly little reason to visit Waikiki Beach.
The three major shopping malls in Waikiki — International Market Place, Royal Hawaiian Center and Duty Free Shops — are closed, although some of their restaurants remain open for carry-out or delivery orders.
The main entrance to the 600-room Hilton Waikiki Beach on Kuhio Avenue has been unceremoniously boarded up with plywood. The Defense Department's Hale Koa Hotel on the beach is shut down, as are Marriott, Sheraton, Hyatt and many others.
There are a few signs of life in the all-but-abandoned strip.
Some ABC Stores — Waikiki's ubiquitous convenience stores that sell tourist trinkets, beach gear, snacks and drinks — remain open. With a dearth of customers, though, the mask-shrouded staff spend most of their time disinfecting and tidying up.
City parks along and near the beach are off limits, although surfing and swimming are allowed if not done in groups.
During Tuesday's news conference, Susan Ballard, chief of the Honolulu Police Department, said officers had issued almost 1,500 warnings and about 180 citations for violations of the emergency law.
Almost all the violations were for loitering in closed parks, the police department said in a statement to Stars and Stripes.
"When informed of the closures, most individuals were cooperative and left," the statement said.
"Those who were cited were either uncooperative or had been previously warned. Nine people have been arrested for violating the order. All of the arrests were linked to other offenses, such as drug or traffic violations."
The reduction in Honolulu's infamous traffic gridlock has also kept police busy.
"Now that there's a lot less traffic on the road, we all have a tendency to speed because we've never had wide-open roads before," Ballard said. "So, we have been giving quite a few speeding citations, unfortunately."
olson.wyatt@stripes.com Twitter: @WyattWOlson