PHOTOS
Early-morning grouchiness a way of life for RIMPAC Marines
by
Marcus Fichtl
August 4, 2018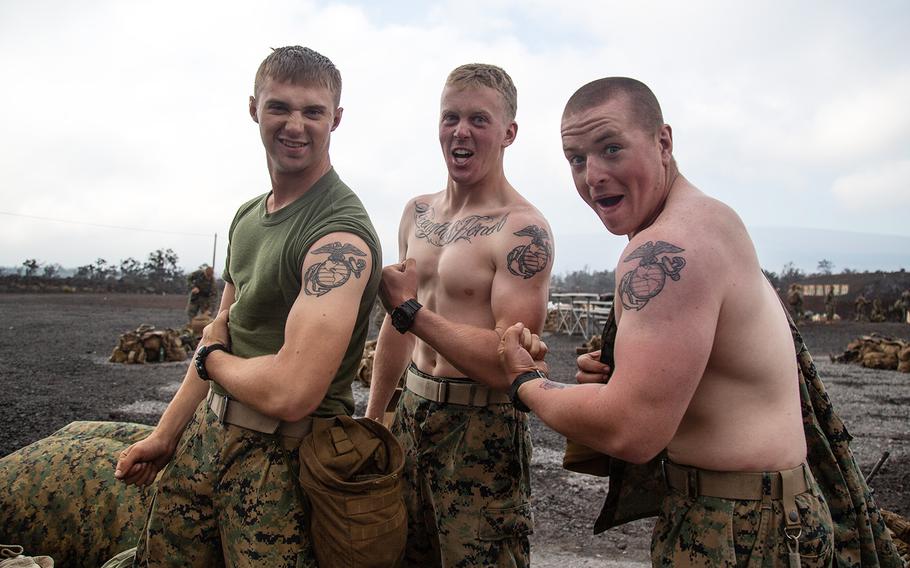 POHAKULOA TRAINING AREA, Hawaii — The military likes to boast "we do more before 9 a.m. than most people do all day."
That sounds better at the recruiting office than at six in the morning when you're wet and cold in a training area that's 6,000 feet above sea level.
When the sun rose over Hawaii's Big Island last month during the 25-nation Rim of the Pacific exercise, members of Company B, 1st Battalion, 3rd Marine Regiment emerged from cocoon-like sleeping bags like angry butterflies filling the air with swear words and bad jokes. Overnight rain had drenched everything except spots in the lava-dirt where the Marines slept.
Early-morning grouchiness is a way of life, said Pfc. Miguelangel Vasquez, 19, of Victorville, Calif.
"We complain 100 percent of the time," he said has he pulled on his boots with the help of a fellow "boot," as new Marines are called.
While the early risers shaved near lava rocks, trucks showed up from base camp with hot chow. A group fired leftover rounds downrange and other Marines prepared more ammunition for the day's training.
Several Marines ripped off their shirts to show off "motivational" tattoos inked on their left shoulders a few months back at Twentynine Palms, Calif.
"We did some of the hardest ranges the Marine Corps has to offer and decided to treat ourselves with globe-and-anchor tattoos," said Pfc. Travis Stiles, 20, of Queensbury, N.Y.
Then it was time for the privates and lance corporals to grab chow, served per tradition by officers and senior noncommissioned officers.
The troops rated the food "better than an MRE," but a few opted for an alternative breakfast of energy drinks and cigarettes.
The last chore of the morning involved infantrymen picking up hundreds of shell casings at range-firing points – the Marines' version of 52-card pickup.
Then – almost exactly at 9 a.m. – they headed off in full battle rattle and weapons slung to the next range, with smiles but the same bad jokes and the same complaining.
fichtl.marcus@stripes.com Twitter: @MarcusFichtl