Duterte's threat to end defense agreement could harm US efforts to deter China in South China Sea, experts say
---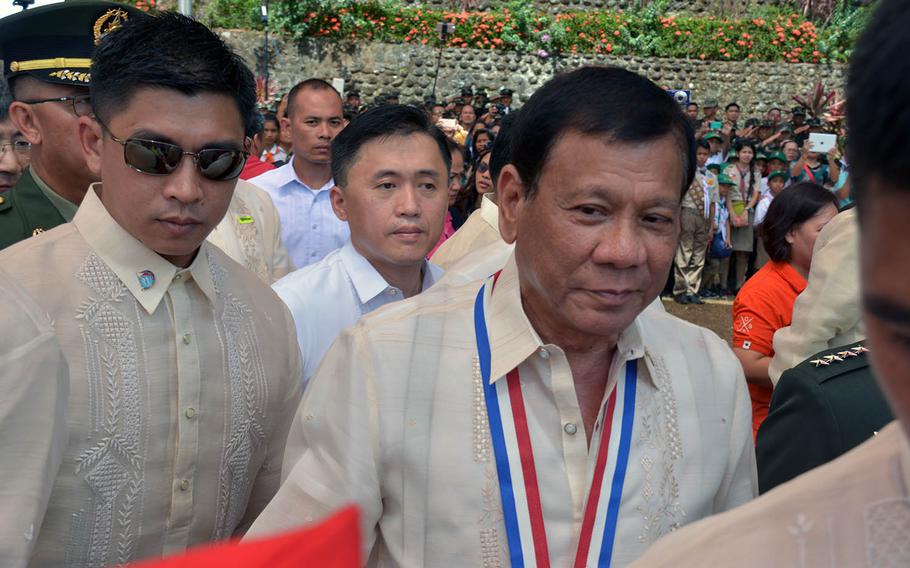 Philippine President Rodrigo Duterte's latest anti-American rant could do real damage to the longtime Pacific allies' defense relationship, some security experts say.
Duterte, who began his term in 2016 by insulting U.S. leaders and stating his intention to move closer to China and Russia, last week threatened to terminate the Visiting Forces Agreement that governs the deployment of U.S. troops to his country.
The U.S. Embassy in Manila declined to comment on the issue Monday.
But Jeffrey Ordaniel, assistant professor of international security studies at Tokyo International University, said in an email from Manila on Tuesday that all military exercises in the Philippines would have to be reviewed and likely need a new legal framework to back them up if Duterte follows through on his threat.
"Washington will also [be] less likely to continue to commit to Philippine defense in the South China Sea, given that there was no way for its troops to be in Filipino territory," he said.
U.S. counterterrorism assistance, which might also be impacted, is irreplaceable, according to Patricio Abinales, a Philippines expert at the University of Hawaii.
Duterte's threat to terminate the agreement came in response to the U.S. revoking its visa for one of his closest political allies, Sen. Ronald "Bato" Dela Rosa. Thousands of extrajudicial killings took place during a bloody drug war while Dela Rosa was chief of the Philippines National Police from 2016-18.
Duterte's threat "I'm warning you. This is the first time," Duterte said in a speech Thursday, according to the Philippine Daily Inquirer newspaper. "If you do not correct that, I will terminate the basis of Visiting Forces Agreement."
A day later, broadcaster Russia Today aired an interview in which Duterte said the U.S. sees his country as "a vassal state."
"America is not the Philippines and the Philippines is not America. It ain't that way anymore, and I refuse to dovetail under American foreign policy," he said. "I cannot get a credible posture from the Americans; I can get it from the Russians and China." The comments mark a return to the anti-American rhetoric that Duterte favored early in his term when he insulted then-President Barack Obama and called for the withdrawal of U.S. Special Forces from Mindanao and the end of bilateral military exercises.
U.S.-Philippines relations had appeared warmer under the administration of President Donald Trump. American officials have refrained from public criticism of the drug war and military exercises have continued. U.S. Army Green Berets helped Philippine troops win a bloody battle against Islamic insurgents who had captured the southern city of Marawi in 2017.
However, there appears to have been only minimal progress under an agreement for shared use of Philippine military bases by U.S. forces.
Duterte has declined to challenge Chinese occupation of disputed territory in the South China Sea, even after an international court ruled in the Philippines' favor. He scrapped plans for joint U.S.-Philippine patrols and naval exercises in the waters early in his term.
It's unclear how termination of the Visiting Forces Agreement, which includes guidelines on visas and jurisdiction over crimes committed by American troops, might affect the U.S.-Philippines military relationship.
However, it might impact large-scale annual exercises such as Balikatan and Kamandag, U.S. support for counterterrorism efforts and assistance during natural disasters such as Typhoon Haiyan, which prompted the deployment of a U.S. aircraft carrier and thousands of personnel to help with relief efforts in 2013.
The Philippines and U.S. are allies under the 1951 Mutual Defense Treaty, which mandates both countries support each other in case of an external aggression.
'Game of chicken' Abinales said Duterte is playing a "game of chicken" and the Visiting Forces Agreement would probably not be terminated.
Ordaniel said he expects the Philippine military establishment is trying to save the agreement.
"Duterte's term expires in 2022. There is still hope that reason will prevail and that Manila can find a face-saving way to not follow through with the president's pronouncements," he said. "But there are those surrounding the president who, instead of advising him on the course of action most beneficial to Filipino interest, will instead kowtow and downplay the negative impact of [ending] the VFA," he said.
The best the U.S. can do is to remain calm and highlight the benefits of the agreement, Ordaniel said.
"The Alliance is an anchor to Philippine national security. The VFA allows for the U.S. to fulfill its treaty-obligations," he said.
Without an agreement, conducting operations under the alliance becomes difficult, for example, during contingencies in the South China Sea, Ordaniel said.
"It will be virtually impossible for the U.S. to preposition troops, defense equipment and [humanitarian and disaster assistance] supplies without a VFA," he said.
The U.S. could lose a longterm opportunity to deter the Chinese in the South China Sea, he said.
"Beijing will certainly be happy with this," Ordaniel said. "One of the very few options available for the U.S. to influence China's behavior in the South China Sea, long-term, is to work with its alliance with the Philippines. It's difficult to deter China in maritime Southeast Asia from Guam, Okinawa or Darwin. They're simply too far away."
It's unlikely that the Philippine military establishment was consulted ahead of Duterte's speech, Ordaniel said.
"Duterte has proven to be an inconsistent and misinformed leader who, on many occasions, does not act or speak on the basis of facts, proven statistics, or intelligence information," he said.
"This episode demonstrates that four years into the presidency, Duterte's parochial concerns and whims still prevail over the Philippines' long-term national interest."
robson.seth@stripes.com Twitter: @SethRobson1
---
---
---
---