During US Navy visit, China vows 'never to stop' island buildup
---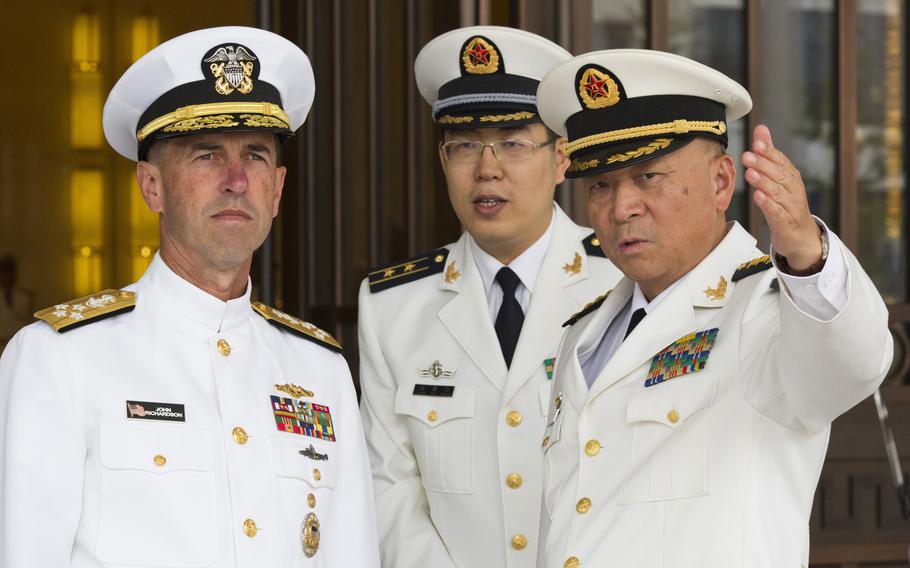 WASHINGTON — China's top naval officer told U.S. Adm. John Richardson this week that his country will never stop its construction of man-made islands in the South China Sea, according to news reports.
Wu Shengli, commander of the People's Liberation Army Navy, met with Richardson, the U.S. chief of naval operations, during a planned five-day visit to China.
China has rejected the ruling and vowed to continue to develop the islands. On Wednesday, China's third largest telecommunications carrier announced it was expanding its wireless capabilities to the man-made islands, which China calls the Nansha Islands, "in an effort to safeguard the country's legal claim in the South China Sea and to improve communication services for local people," according to the China Daily newspaper.
During the visit, Wu told Richardson that China was committed to peaceful operations in the South China Sea. But he also said "flexing military muscles will only have the negative opposite effect," referring to U.S. vessels cruising within 12 nautical miles of some of the contested islands, according to Xinhua, a Chinese state-run news service.
Richardson and his Chinese counterparts organized the visit to emphasize areas of further cooperation. During a news conference Wednesday at the Chinese North Sea Fleet headquarters in Qingdao, Richardson said the "freedom of navigation" sails performed by U.S. vessels to reiterate common access to the now built-up waterways will continue.
"This will not change," he said.
Richardson said he supports "a continued and deepening navy-to-navy relationship."
"But I will be continuously reassessing my support conditioned on continued safe and professional interactions at sea," the admiral said. "In this area, we must judge each other by our deeds and actions, not just by our words."
copp.tara@stripes.com Twitter: @TaraCopp
---
---
---
---