DODEA announces Japan school closures as two students await coronavirus test results
---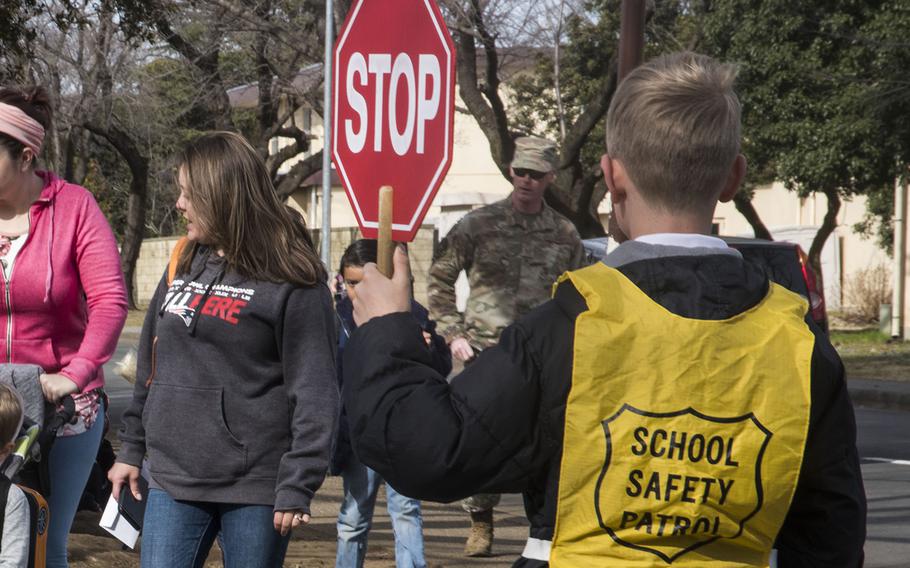 • Stars and Stripes is making this story and other coverage of the coronavirus pandemic available free of charge. See other stories here, and sign up for our daily coronavirus newsletter here.
YOKOSUKA NAVAL BASE, Japan — After parents complained of a decision to continue classes despite the coronavirus pandemic, Defense Department schools in Japan announced Thursday they will temporarily close next week.
Friday will be the last day of classes for students at schools on military installations across Japan and Okinawa, Department of Defense Education Activity Pacific East Superintendent Judy Allen said in a letter to parents Thursday. Instruction is slated to restart on April 13.
The news comes a day after Stars and Stripes published a story about parents' frustrations over Allen's comments during the virtual town hall that DODEA did not plan to imminently close its schools in Japan despite similar closures in the region due to concerns over coronavirus. Public schools in Japan closed March 2.
During the town hall, Allen told parents she did not know if a positive case of coronavirus at a school would cause a decision to close DODEA schools in Japan.
"We are looking at the situation that we have, I don't know what the situation will be when it occurs," Allen said during the Tuesday town hall. "We will follow our medical guidance and act accordingly."
DODEA on Wednesday shut down its U.S. schools, including those on Guam. DODEA schools in South Korea have been closed since Feb. 26.
Some parents, such as Navy spouse Amy Cheatham Hayes, were happy that DODEA ultimately decided to close its Japan schools.
"I'm really glad they've decided to make the responsible choice," she said. "A good poker player knows how to fold no matter how many chips they've contributed to the pot."
However, some fifth-grade and Sure Start students at Yokosuka's Sullivans Elementary School were later told not to return Friday after officials learned that two students had been tested for the virus, according to a DODEA announcement posted to the school's official Facebook page.
Parents of children in the two grades were directed to keep them home until the results of those tests are available, said the announcement posted late Thursday.
Cheatham Hayes, whose husband is deployed aboard the USS Blue Ridge, has three children who attend Ikego Elementary School at the Ikego Housing Area and one who attends Yokosuka Middle School.
"We don't need to wait for COVID-19 to show up in our schools," she added. "It would be too late at that point."
The decision to close the schools aligns with a policy of social distancing — individuals staying at least six feet apart — to stem the virus' spread. As of Thursday, no service members, DOD civilians or their families in Japan have tested positive for coronavirus.
The schools will undergo a thorough cleaning during the temporary closure, "which would not be possible while students are in the building," Allen said in the letter.
Students will instead have online learning options available starting Wednesday through April 2, Allen said in the letter.
"Teachers will provide work for students using various learning platforms," Allen wrote. "To be clear, this temporary school closure is not an additional vacation. School instruction will continue."
Parents who need additional technological support should contact their school for help, Allen added. During a virtual town hall on Tuesday, she said schools can loan computers to students who need ways to access online learning opportunities at home.
While Allen said in the letter that DODEA had been able to keep schools open in Japan because no military personnel, civilians or families stationed in Japan have tested positive for the virus, Navy spouse Lisa Tamargo Uptegrove said the closure will provide relief for concerned parents.
"Making the decision to close schools helps alleviate stress for the parents trying to decide when to take a child out of school for a simple cough when they need that face-to-face time to understand topics in school," she said in a message to Stars and Stripes on Thursday.
---
---
---
---