'Do not give our guards any grief': Marine, Navy base commanders in Japan urge cooperation on anti-coronavirus measures
---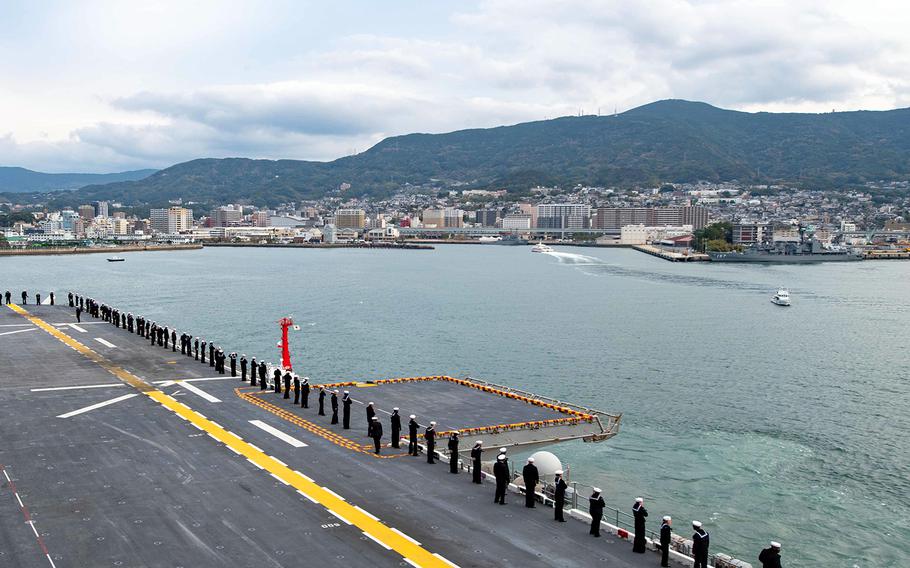 Stars and Stripes is making stories on the coronavirus pandemic available free of charge. See other free reports here. Sign up for our daily coronavirus newsletter here. Please support our journalism with a subscription.
The commander of Sasebo Naval Base imposed a planned series of closures of many base activities Tuesday to prepare for the coronavirus, which is cropping up on military bases in Japan and South Korea.
Base commander Capt. Brad Stallings took an urgent tone and cited "folks who are not following the guidance, which is placing the force and the community at risk," according to his announcement on Sasebo's official Facebook page.
"I take this situation dead seriously," Stallings wrote. "It is up to each and every one of us to follow the guidance and keep this virus out of our community. For you that are 'all in now,' thank you!"
No cases of coronavirus have been reported at either Sasebo or Marine Corps Air Station Iwakuni, whose commander announced similar measures Monday, according to Facebook posts by both commanders.
Effective immediately, Stallings wrote, the Sasebo base gym is closed, along with bars and playgrounds. Most retail shops along with theaters and hobby shops are closed.
"If you want to go for a jog," Stallings wrote, "run alone."
The commander is urging a community effort, not singling out any one group, said base spokesman Aki Nichols. Civilians as well as military need to cooperate, he said.
Civilian Defense Department employees and contractors, while mostly exempt from military orders aimed at stemming the coronavirus pandemic, have been encouraged to comply as commanders increasingly tighten liberty and travel restrictions and clamp down on base activities.
Stallings emphasized cooperation, in capital letters: "THIS IS FOR ALL 7,500 INDIVIDUALS THAT LIVE AND WORK" on Sasebo.
Restaurants on base are restricted to take-out orders only, or at McDonald's, the drive-thru.
The base commissary, exchange and uniform shop remain open, although patrons should practice social distancing and keep six feet between one another, Stallings wrote.
The base has imposed a 50% workforce reduction to cut down on the number of bodies in any given area; "if your command isn't at 50% or near it, I need to know about it," he wrote.
Stallings said the base will soon begin temperature screening.
"When thermometers arrive, you will be tested at the (entry control point) or at your building, please do not give our guards any grief," Stallings wrote.
At MCAS Iwakuni, base commander Col. Lance Lewis late Monday declared similar measures in effect, according to a post on the official Facebook page.
Lewis wrote that he expects active duty Marines, their families, Defense Department civilians and contractors to "be smart and follow the guidelines in place. Even the most rigid direction is all for naught if someone is selfish enough to break the rules."
He, too, stressed personal hygiene and social distancing.
"Instead of pushing the rules, live your life like the health of every person on this base depends on your actions," Lewis wrote. "Spoiler alert: We are counting on everyone to protect everyone else."
Stars and Stripes reporter James Bolinger contributed to this report from MCAS Iwakuni.
---
---
---
---