Distillery churns out free hand sanitizer instead of booze to help coronavirus fight
by
Wyatt Olson
April 10, 2020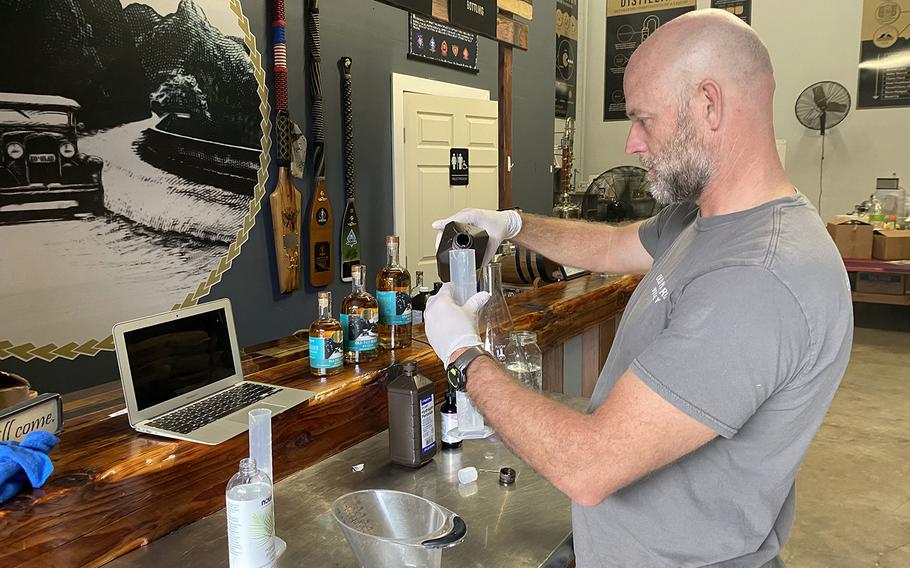 Stars and Stripes is making stories on the coronavirus pandemic available free of charge. See other free reports here. Sign up for our daily coronavirus newsletter here. Please support our journalism with a subscription.
FORT SHAFTER, Hawaii — The coronavirus pandemic has brought many small businesses to a standstill, but Ko'olau Distillery on Oahu has never been busier.
However, founders Eric Dill and Ian Brooks are not producing their signature Old Pali Road Whiskey.
Instead, they have rejiggered the distilling process for the time being to make only "neutral" grain alcohol — concentrated at 95% by volume — to produce free hand sanitizer that has been in short supply in Hawaii with the onset of the coronavirus epidemic.
They limit distribution to key medical and civil service personnel in the state of Hawaii.
They use a formula recommended by the World Health Organization, which calls for a mix of alcohol, hydrogen peroxide and a moisturizing agent, in this case, glycerol.
Normally, the distillery's two stills operate a couple days a week for six to eight hours on each run, Dill said. In this race to produce hand sanitizer, they've been running most days from early morning to midnight, he said.
They average about 5 gallons of base alcohol a day for the hand sanitizer.
They use essentially the same process used for distilling alcohol for whiskey, the primary differences being the fermenting of sugarcane, not corn, with yeast and the much higher concentration of alcohol in the final product.
Dill, a retired Marine Corps lieutenant colonel, said the small distillery has been met with a stampede of requests for the ad hoc hand sanitizer since gearing up for production weeks ago after the disinfectant became a rare commodity in Hawaii.
"Overwhelming, overwhelming," he said during a phone interview Monday. "I bet we get … well, the phone starts at about 7 in the morning, and I'm here until between 10 and midnight, and the phone stops ringing about 6 p.m. I'd say there's a call every 10 to 15 minutes. And that doesn't count all the emails we get.
"That's what we didn't understand going into this. We thought we were going to be just helping some first responders."
Within the first 24 hours they were inundated by desperate requests from clinics and small hospitals.
"We now have a daily meeting with our list of all the requests from the day before, and we allocate based on the amount that we have," Dill said.
The distillery's website directs visitors to fill out a request form for sanitizer. It also asks for donations of new or used 2-ounce or 4-ounce spray bottles, hydrogen peroxide, glycerol and gallon zip bags.
Dill and Brooks, who is nearing retirement as base magistrate at nearby Marine Corps Base Hawaii, provide the hand sanitizer free of charge to the state's first responders, "essential" healthcare workers and civil-service providers.
Dill described that third category as the people "that literally are keeping the lights on and the water running."
"Ian and I have both seen societies where those basic services have disappeared, and we've seen what happens in those places."
Both have military experience in crisis response.
"I was on the Marine expeditionary unit that was out when 9/11 happened," Dill said. He said he was lead planner for the U.S. military's humanitarian relief response in the Philippines after super Typhoon Haiyan devastated the Southeast Asian country in 2013.
Why curtail a gainful whiskey operation to hand out free hand sanitizer?
"I think the biggest thing was we knew there was a need," Dill said. "It takes a federally issued distillery license to produce alcohol legally. So, we knew there was a need and we knew we had the capability and the capacity to help with that need. It was a tough decision to say we're gonna put on hold the thing that makes us money. But Ian and I have said multiple times, it just kind of seemed natural because as Marines, it's kind of what you do. If there's a problem, you try to help."
olson.wyatt@stripes.com Twitter: @WyattWOlson