Dignitaries, families, protesters gather to commemorate Battle of Okinawa's 74th anniversary
By
Aya Ichihashi Carlos M. Vazquez II
June 24, 2019
---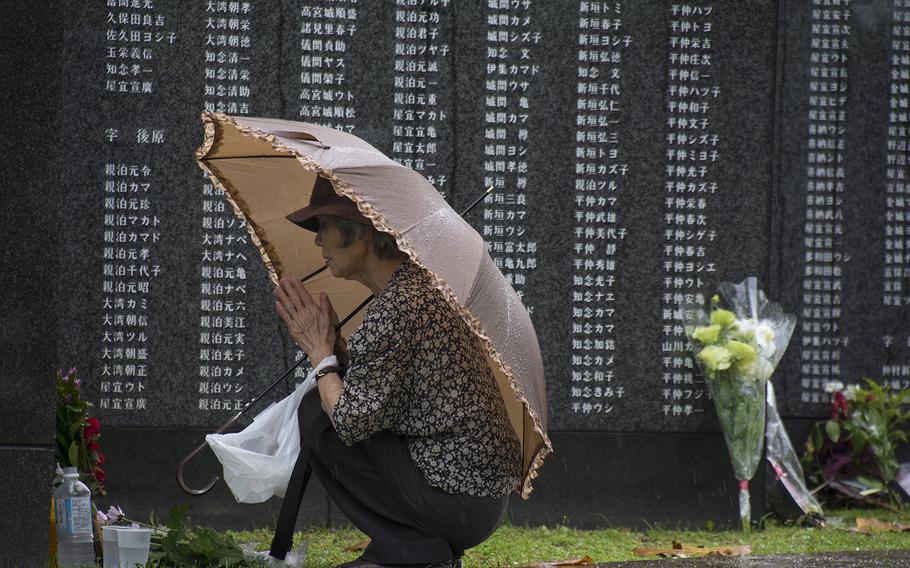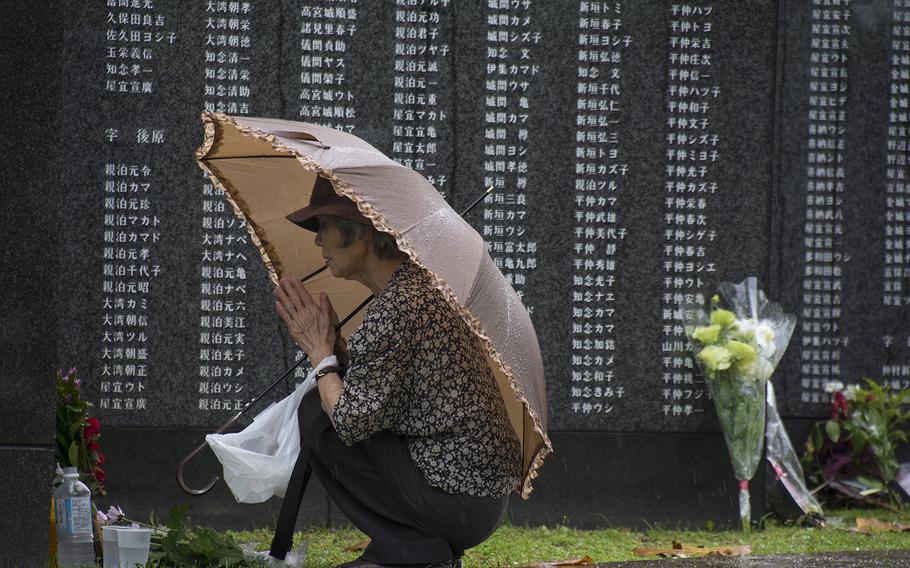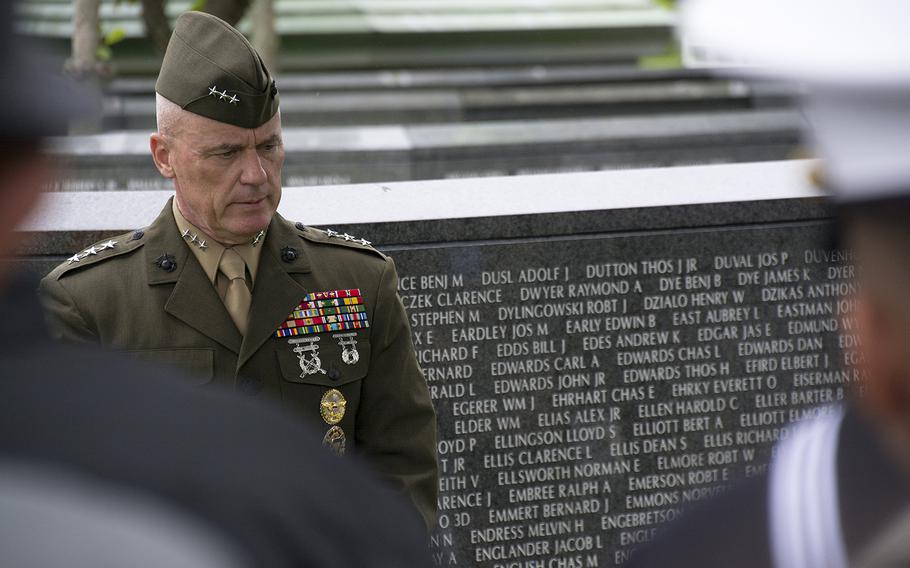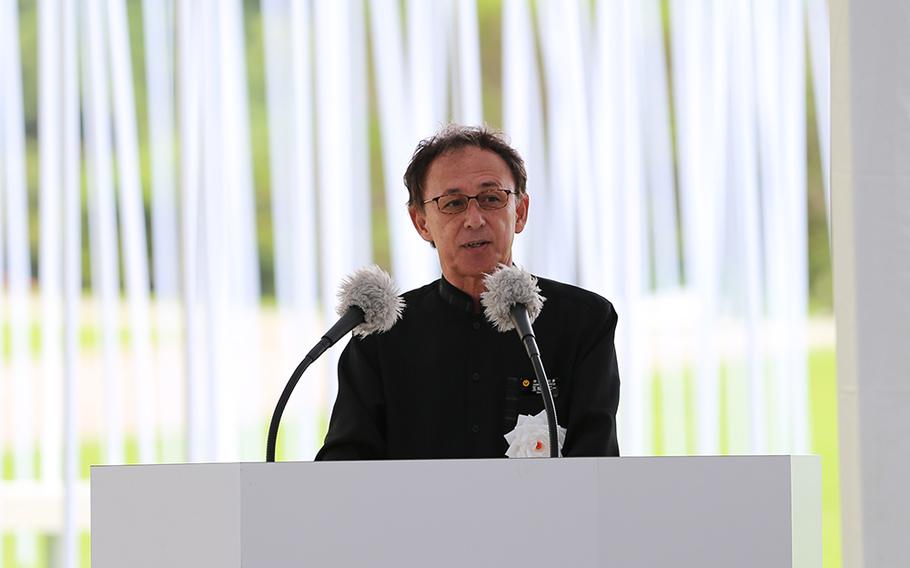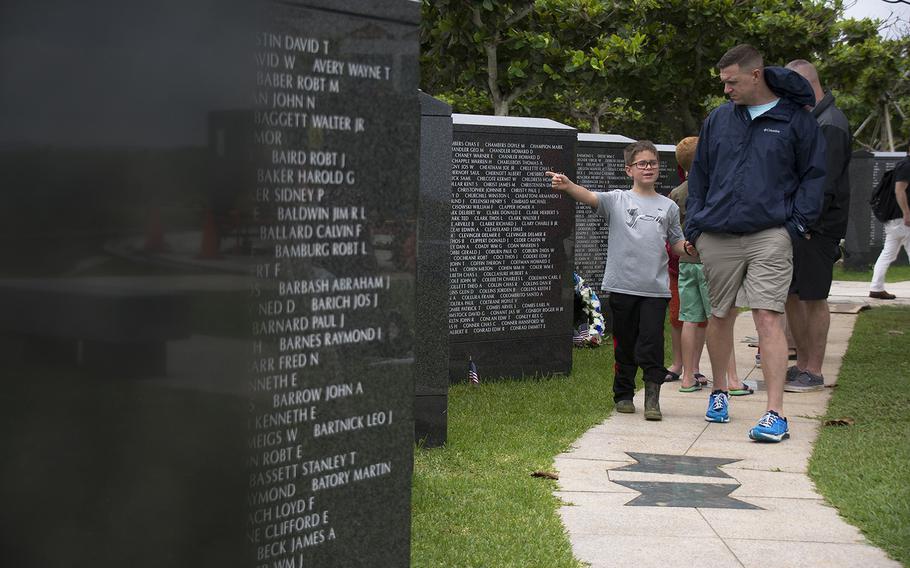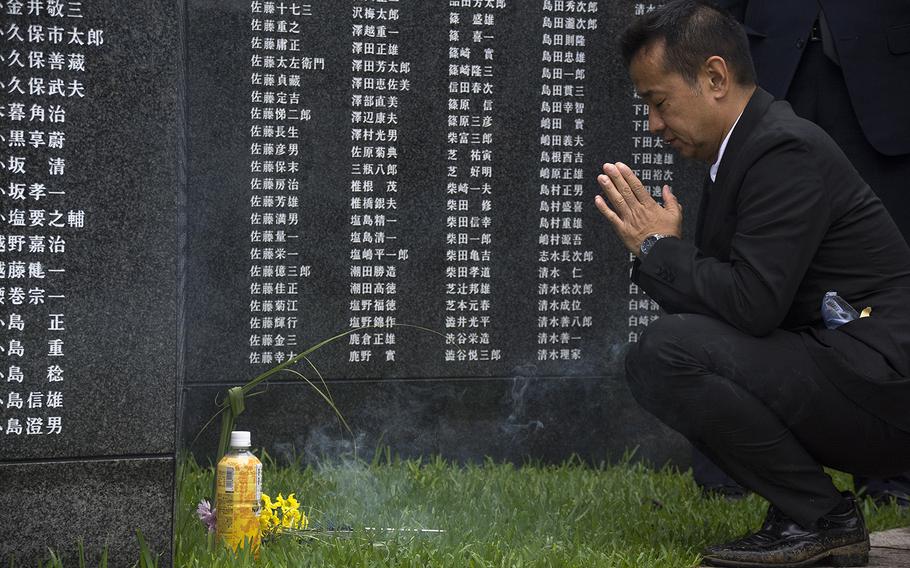 ITOMAN, Okinawa — Despite the heavy rain Sunday morning, thousands of visitors, including Prime Minister of Japan Shinzo Abe, U.S. and Japan government and military officials and family members of the deceased marked 74 years since the end of the Battle of Okinawa.
The annual Irei no Hi ceremony, held at the Okinawa Peace Memorial Park on the anniversary of the day fighting ended on Okinawa in 1945, serves as a tribute to the 12,520 American servicemembers, 110,000 Japanese troops and 140,000 Okinawan noncombatants who lost their lives, although the exact total number of civilian casualties may never be known.
The World War II battle lasted 82 days, but left behind deep feelings and remnants of war. During portions of the ceremony, particularly during Abe's speech, protestors shouted their opposition to the continued U.S. military presence on the island.
"The Okinawans suffered," said III Marine Expeditionary Force commander Lt. Gen. H. Stacy Clardy III, while laying wreaths at the Cornerstone of Peace monuments, which bear the names of fallen U.S. servicemembers. "This beautiful island still bears the wounds and scars of that war."
Clardy spoke about the somber experience he felt at the site and how honored he was to be in attendance. He assumed command of III MEF, which is headquartered on Okinawa, on May 31.
"It causes me to reflect on my life and how I live it," he said. "It causes me to think that I need to treat others with better respect and dignity."
Clardy pointed out the significance of Okinawa's memorial day and the Marines' presence and history on the island.
"This is an important day in Okinawa; it's also an important day for Marines, Americans, the region, the government of Japan and, I would argue, the world," he said.
An Okinawan woman, mourning and unwilling to share her name, visited her father's name in the park's engraved stone memorial.
"I was asking my dad [while praying] if it was raining like this on June 23, 1945," she said to Stars and Stripes. "I think it was raining like this on that day."
Another visitor, Ms. Higa, who would give only her last name, lost her father and four siblings during the battle.
"I was the eldest one of four surviving siblings," she said.
While pointing to four more names on the stone wall she added, "My father's side of the family also died."
Marine Corps Sgt. Gary Dashings volunteered to present a wreath at the stone memorial and said he felt welcomed by those in attendance.
"Regardless of what you and someone else might have had in the past, it may be bad or it may be good, but just try to have a positive outlook on the future because you never know what could happen," he said to Stars and Stripes on Sunday.
Futenma relocationFollowing the wreath laying was the completion of a 3 ½ mile peace march by the Japan Joint Association of Bereaved Family Members. Ceremony attendees then found their seats under a large white tent to observe a moment of silence and the start of the ceremony.
"It has been 74 years since the Battle of Okinawa," Abe said in a speech punctuated by the shouts of protestors. "Our current peace and prosperity are based on many people's sacrificed lives and their future," he said. "We must think deeply about it and bow our head with great respect."
In pauses during Abe's speech, protestors shouted in Japanese, "Go home!," "Liar!" and "Stop Henoko construction!"
Protesters in Okinawa have called for halting construction of a runway at Camp Schwab — a small, coastal Marine Base in less-populated Henoko — that will one day facilitate the relocation and closure of Marine Corps Air Station Futenma.
Residents around Futenma, which is in a densely populated, urban area of Okinawa, have raised safety concerns about its operations.
"We continue to reduce the burden from Okinawa by performing everything we can and making the result visible," Abe said.
One thing the central government of Japan has indicated it will not do is halt construction of the new airfield at Camp Schwab or move Marine Corps aircraft off the island.
Futenma's relocation plan has been met with small but persistent protests since 2006, when the U.S and Japan decided to maintain Marine air operations within the prefecture.
The project was forecasted to be completed by 2014 but slowed significantly due to construction delays and unsuccessful court challenges by anti-base Okinawa governors. Landfill work for the runway at Camp Schwab began in December and the estimated completion of the project stretches beyond 2025.
On June 17, the Central and Local Government Dispute Management Council rejected Okinawa's request to reconsider moving the Marine aircraft to Henoko.
'Chimugukuru'In a speech at last year's memorial service, former anti-base Okinawa Gov. Takeshi Onaga swore to stop the Henoko construction. Onaga, who had been diagnosed with pancreatic cancer, died in August.
Denny Tamaki, Okinawa's current governor, shares the same anti-base views as his predecessor.
"I renew my resolve every time I hear heart-wrenching stories from war survivors who went through the inhumane experiences, that we shall not go to war ever again," he said in a speech at the ceremony Sunday.
Tamaki concluded in English saying: "We must pass down Okinawa's warm heart we call 'chimugukuru' and its spirit of peace, inherited from our ancestors, to our children and grandchildren. We will endeavor to forge a world of everlasting peace; I am determined to work together with the people of Okinawa."
vazquez.carlos@stripes.com Twitter: @StripesCarlosichihashi.aya@stripes.com
---
---
---
---