Defense Department students start new school year in wake of staffing, course cuts
by
Caitlin Doornbos
August 26, 2019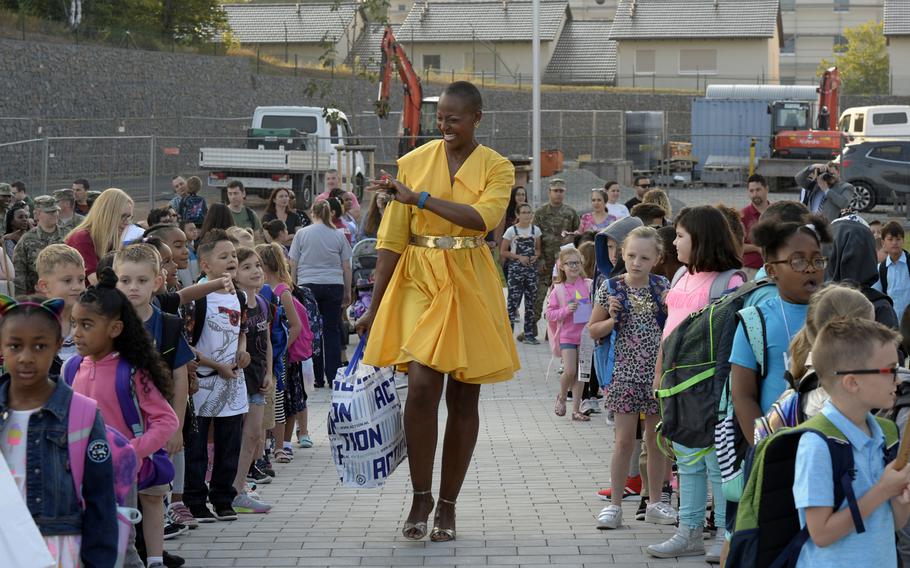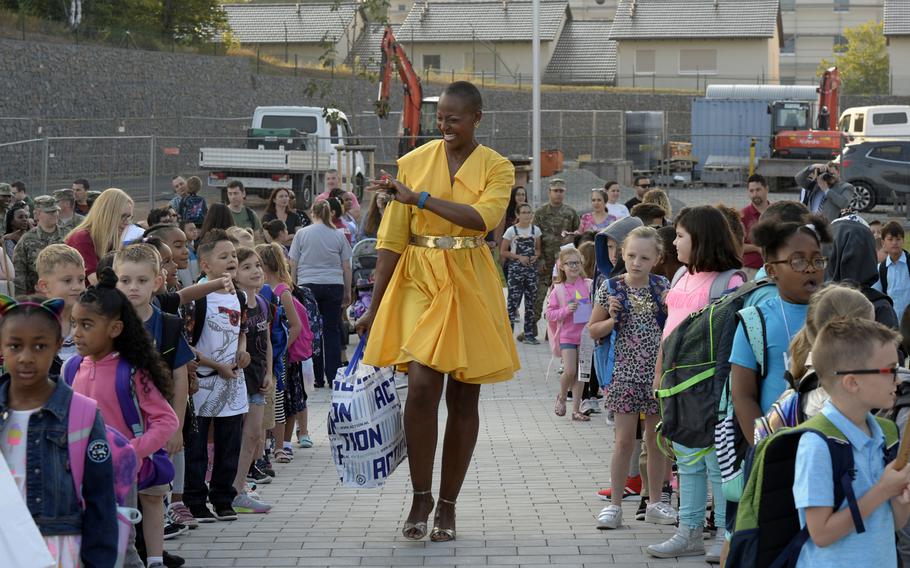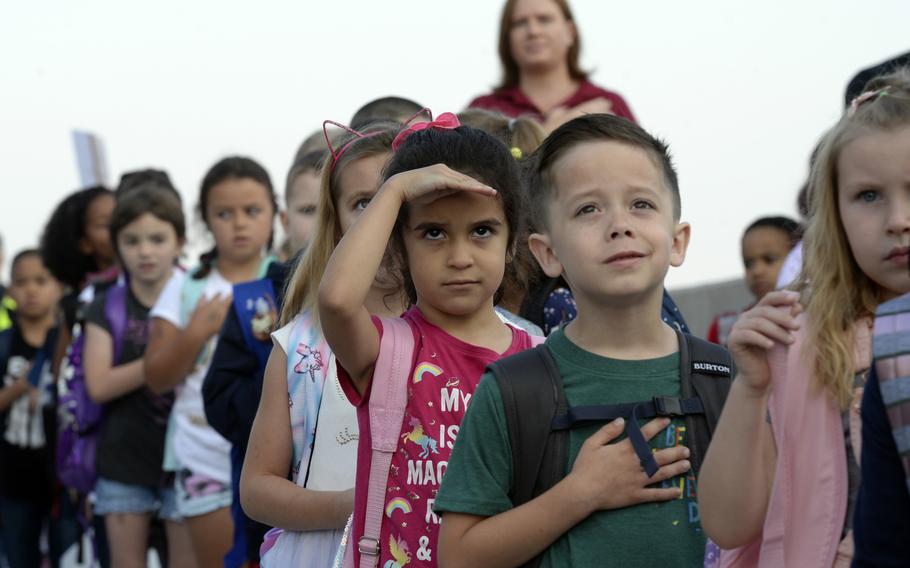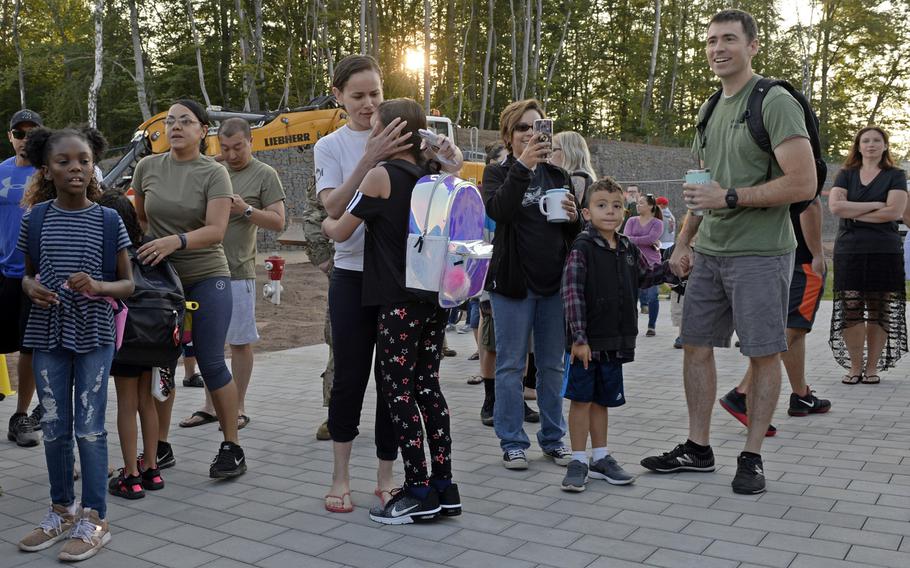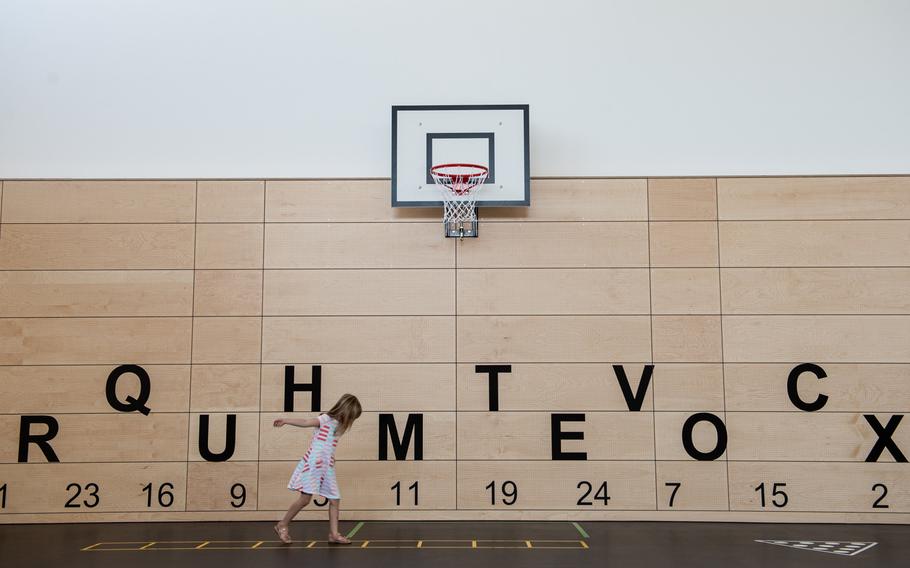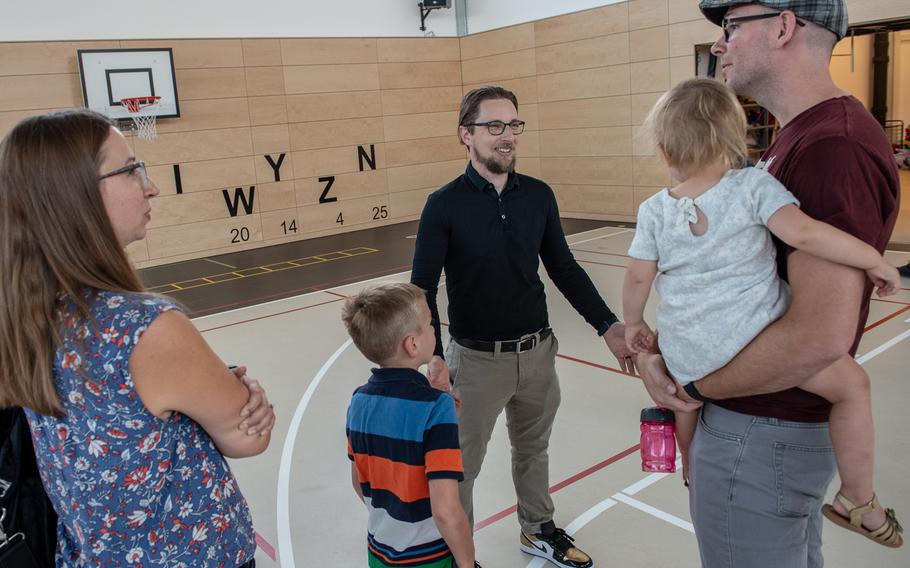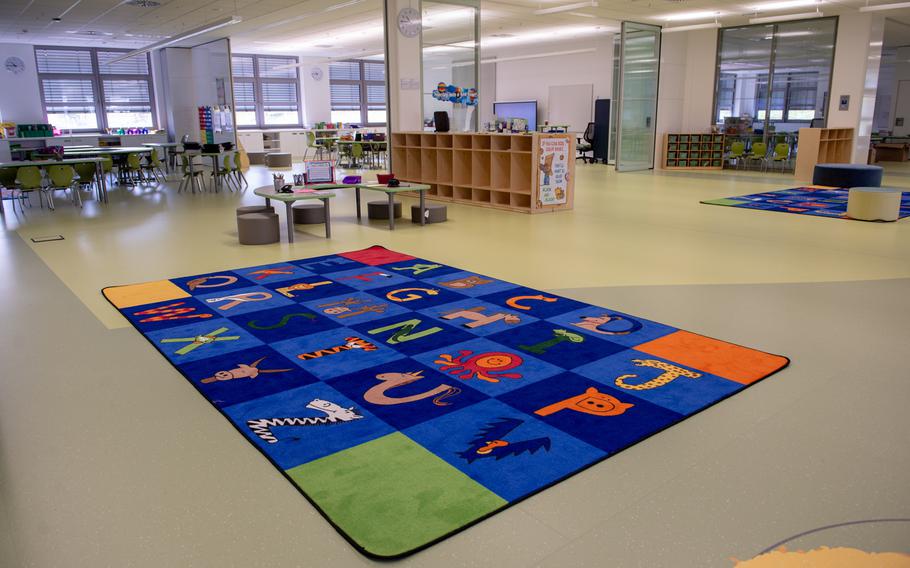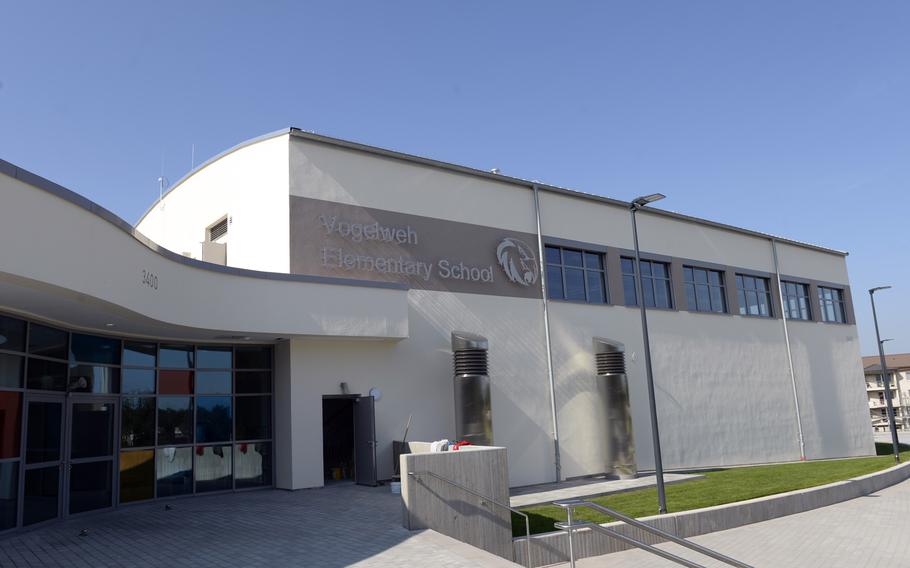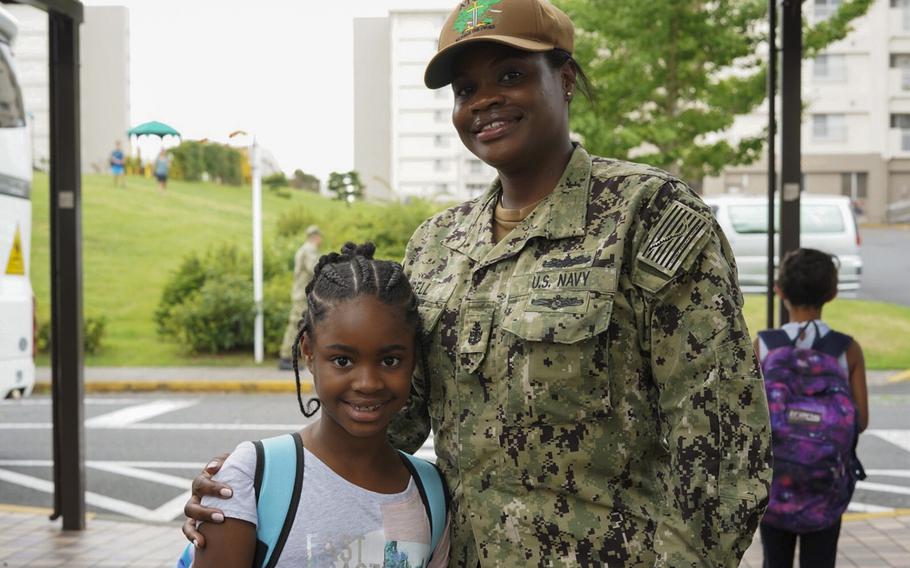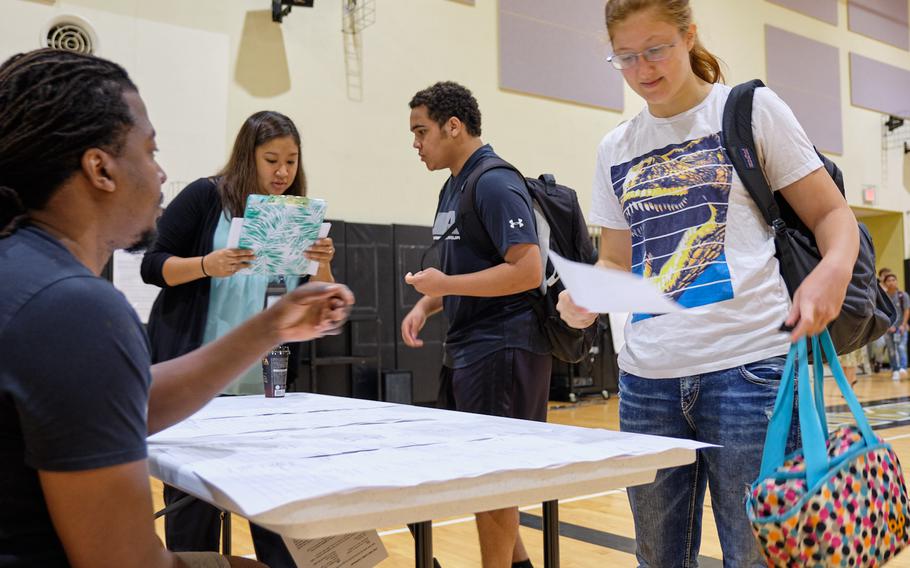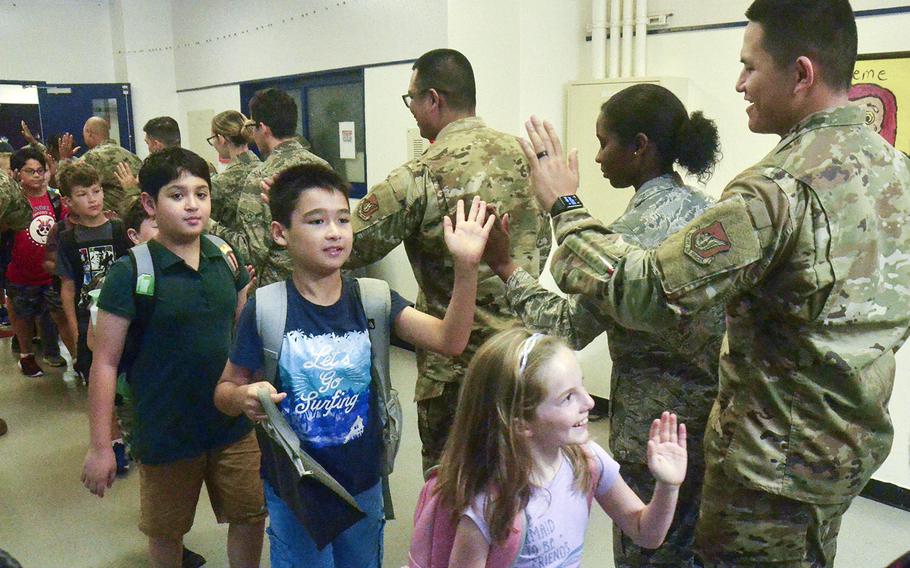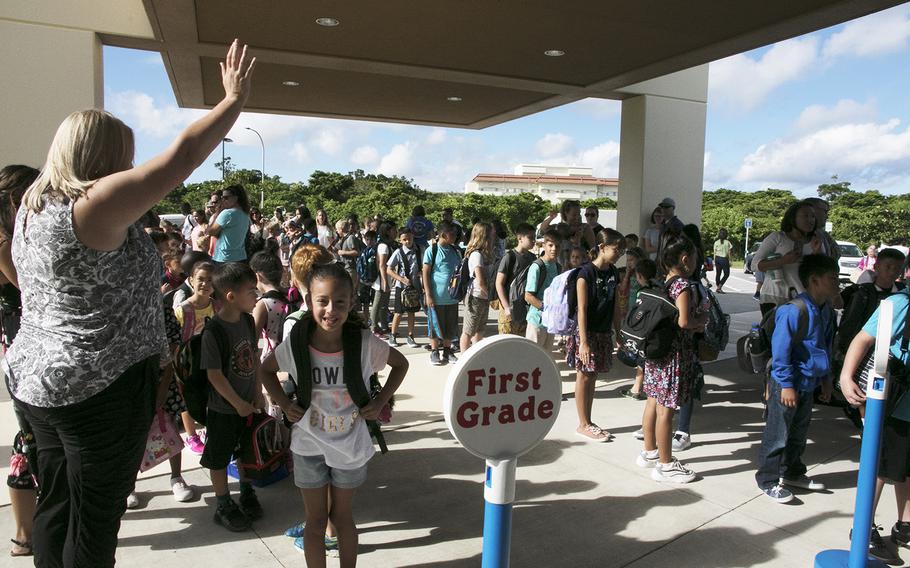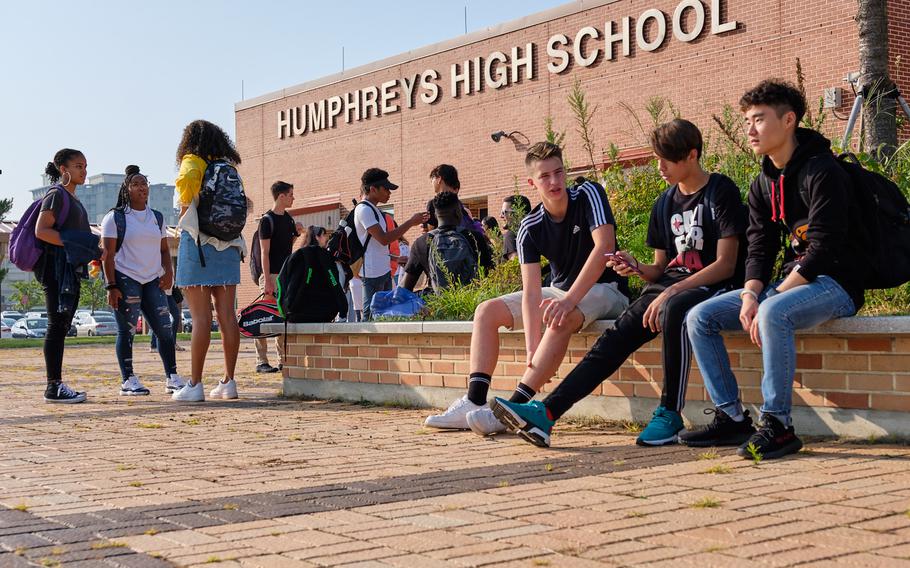 Students on overseas military bases returned to class Monday at schools run by the Department of Defense Education Activity, which reduced its teaching staff over the summer in order to spend elsewhere.
At Yokosuka Naval Base in Japan, parents assigned to the USS Ronald Reagan arrived home from deployment Saturday, just in time to take part in back-to-school rituals. Last year, the aircraft carrier was at sea on the first day of school.
Chief Warrant Officer 4 Ron McGinnis Sr. smiled wide as he brought his first-grader, Ron "R.J." McGinnis Jr., to Sullivans Elementary School for the first time.
"It means so much to be able to see him off," McGinnis said. "He was so excited last night."
Cuts and changes Beyond the first-day excitement, DODEA's decision to eliminate more than 300 teaching positions this school year also means reduced course offerings and larger class sizes.
DODEA director Thomas Brady said Friday the cuts free up funds for other areas. He did not say how much money was saved but said it would be "put back into student achievement in a different way," such as the purchase of new computers.
Average teacher-student ratios will range from 1-to-17 at middle schools to 1-to-25 at the largest high schools. Ratios at DODEA schools are still lower than those of stateside public schools, Brady said.
The DODEA educators' union criticized the staff cuts, saying the decision was made despite federal funding for DODEA remaining the same.
After the decision was announced in January, Federal Education Association spokesman Gary Hritz told Stars and Stripes that "no teaching position should ever be cut from any school system unless there is no other option."
Association executive director H.T. Nguyen said Monday that he couldn't believe "DODEA is trying to justify cutting teachers by saying they are buying more computers."
"That's like an NFL team cutting its star player so it can buy more helmets," Nguyen said.
Course offerings Course cuts this year include The Foreign Language in Elementary Schools pilot program, which accounted for 87 of the 300 jobs.
Another 174 positions were cut for grades six through 12 in Europe and the Pacific; and in South Korea, school closures eliminated 43 teaching positions.
Teachers across DODEA have reported cuts to electives such as drama, speech, foreign language and music, the teacher's association said.
Brady said course offerings at some high schools were eliminated after scrutinizing enrollment data, adding that high school staffing levels hadn't changed in 10 years.
"There was a remarkable number of classes there were at two or three students," he said. "We just don't have that kind of resourcing."
At Yokosuka's Nile C. Kinnick High School, the Chinese and journalism programs were eliminated, principal Craig Maxey said.
The former journalism teacher will teach English this year instead and will sponsor a club that will continue to publish a school newspaper.
While some courses went away, Brady said other programs are growing, such as the Career and Technical Education Program.
Kinnick sophomore Jessabell Tarun, 15, said she was looking forward to taking a culinary arts class for the first time.
"I want to be a pastry chef," she said. "I love to bake cakes."
Not all schools suffered the same cuts. For example, while Kinnick lost Chinese, Humphreys High School in South Korea kept the class.
In South Korea, schools at Camp Humphreys absorbed many of the staff and students from Seoul American High School. Seoul American closed in June after six decades as the Army prepares to return Yongsan to the South Korean government.
More than 660 students are enrolled at Humphreys High School, and school principal Erin Grazak said she capitalized on the opportunity to provide additional options for her students.
"I'm a huge foreign language advocate," she said. "Because of our increased enrollment and staffing, not only did we not lose anything, we added several classes to include a fifth language, French."
'Nomadic' students The nomadic lifestyle of military families often makes forging new friendships at schools a regular challenge for many, including Toddi Sinclair, a 10th-grader new to Humphreys High School.
"Because I'm going into my sophomore year, I'm afraid most of my classmates already have their friends established," she said Monday.
Sinclair and her family will be at the large Army base south of Seoul until her graduation in 2022.
"I'm also excited to meet new people, I like learning about where people come from — especially since this is a military base," she said. "It's nice to know I'm not the only military kid who has traveled around."
On Okinawa, 10-year-old Malachi Hannah was nervous on his first day at Kadena Elementary School after moving in July from Joint Base San Antonio-Lackland, Texas.
His mother, Air Force Capt. Brittany Hannah, said she brought him to the Kadena Youth Center before starting fifth grade to help him meet other children. While Malachi made some friends, it wasn't enough to shake the first-day butterflies in his stomach.
"I'm nervous," he said. "[Kadena Elementary] is a lot different [than Lackland]. It's huge."
Malachi said he was most looking forward to classes in reading and technology.
"He's really big into technology," Brittany Hannah said. "He's excited to make new friends."
At Yokota Air Base in Tokyo, 1st Lt. Edgar Villaruel was among about 30 airmen from the 374th Medical Group who high-fived kids from Joan K. Mendel Elementary School as they headed into classes.
"I know I'm going to be a parent someday and I know how hard it is for kids to move from school to school and be scared on their first day," he said.
Four walls are 'old school' Vogelweh Elementary School in Kaiserslautern, Germany, is so new that the furniture was still being unpacked last week. But the school is ready to go, principal David Lee said.
"We just got the keys to the building on Thursday and we're rocking," he said.
Gone are traditional classrooms with four walls.
Instead, each grade has its own section, called a neighborhood, with a common area, and spaces with tables and smart boards. Neighborhoods can be open or sectioned off using adjustable walls.
In the fourth-grade neighborhood, students were organized into three groups. Each group will go together for classes like art and music.
For core subjects like math and science, students will work across groups with all three fourth-grade teachers.
"I like how you have your own space but you can still see all your friends because it's just one big class, essentially," said fourth-grader Tim Cotter, 9.
Allison Koch, who has two children at the school, liked the concept but had some reservations.
"I'm not quite sure how it will work on a day-to-day basis … if it's going to be too loud, if the kids are going to be distracted. It's a lot of openness."
Lee, the principal, said he was "looking forward to doing something different."
"We've done the same thing in education for hundreds of years, right? It's different to have a neighborhood approach and have a lot of collaboration among teachers."
Stars and Stripes reporters Matthew M. Burke, Matt Keeler, Seth Robson and Jennifer H. Svan contributed to this report.
doornbos.caitlin@stripes.com Twitter: @CaitlinDoornbos