Defense Department schools give parents more time to consider virtual learning option
by
Caitlin Doornbos
July 28, 2020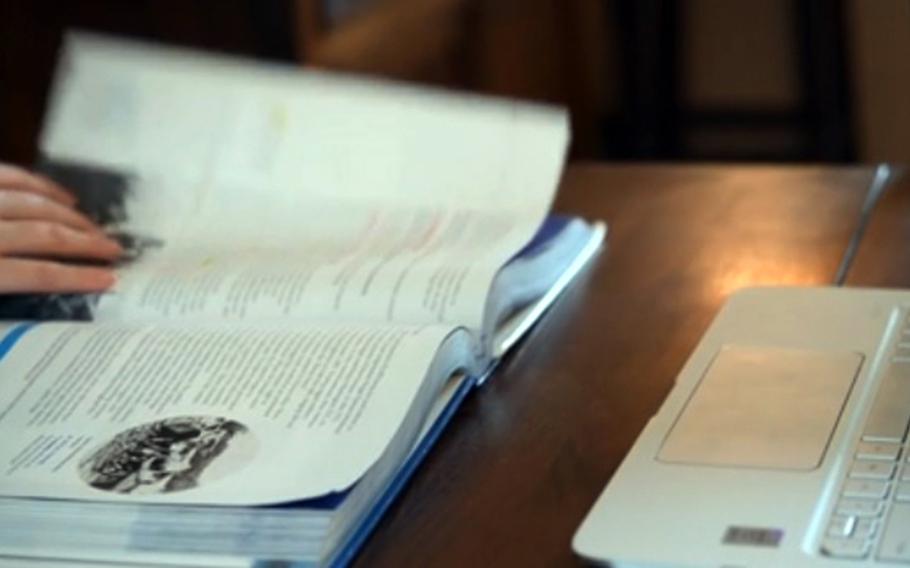 Stars and Stripes is making stories on the coronavirus pandemic available free of charge. See other free reports here. Sign up for our daily coronavirus newsletter here. Please support our journalism with a subscription.
YOKOSUKA NAVAL BASE, Japan — Defense Department schools have extended a deadline to apply for the virtual learning option this school year.
Department of Defense Education Activity parents now have until 6 p.m. EST on Thursday to decide whether they will send their children back to school for in-person instruction or keep them home for virtual learning as the coronavirus pandemic rages on. The previous deadline was Tuesday.
"DODEA will provide a full-time virtual learning option for students and families with health vulnerabilities related to COVID-19 or who are concerned about returning to a brick-and-mortar school setting," the agency said in a statement.
Defense Department schools closed this spring in favor of online instruction as the coronavirus spread across the world. Schools in Italy shut their doors on Feb. 24, followed by Bahrain and South Korea two days later. Schools in Germany, Belgium, the Netherlands, Turkey and Spain, Japan and the United Kingdom closed in March.
Next month, DODEA plans to reopen schools in areas where the health protection condition is at Bravo or better while offering a virtual option for students whose parents choose to keep them at home to avoid possible virus exposure. Health Protection Condition Bravo indicates the risk level is moderate with an increased chance of community transmission, according to the Defense Department.
The deadline extension was made to "allow parents additional time to make an informed decision about choosing a virtual option," DODEA said on its website.
The extension comes as the Federal Education Association is urging parents to select the online option. The teacher's union expressed concern that planned coronavirus precautions would not be enough to keep educators and students safe.
Precautions for the classroom include social distancing, using face masks when social distancing is not possible and regular handwashing and sanitizing, according to a 34-page document on DODEA's planned operational guidelines.
Parents will also be required to prescreen students before they go to school, checking their children's temperatures and looking for coronavirus symptoms such as shortness of breath or fatigue.
They must also sign a form at enrollment "acknowledging their responsibility to perform the prescreening protocol each day before their child departs for school or a school sponsored activity," according to the document.
Despite the protocol, the teachers' union is concerned that "DODEA has presented a very unrealistic picture of what to expect from an in-person reopening of schools," union spokesman Gary Hritz told Stars and Stripes in an email Monday.
"If the agency will not implement a remote opening while it gets its act together and comes up with realistic plans for cleaning and other issues, then the virtual-schools option is by far the safest way to go," he said.
DODEA director Tom Brady, in a statement on the DODEA website, said "face-to-face instruction and the routines of school add significantly to success and growth for all students."
"While we responded to the closures quickly in providing continuity through digital learning, we have always believed that instruction in the classroom is the optimal learning environment for most of our military-connected students," Brady said. "Restoring teaching and learning to the familiar environments of our classrooms, provides students with stability and continuity."
Some parents, such as Lt. Cmdr. Jeremy Smith, a quality assurance officer for Submarine Group 7 at Yokosuka, say the online options do not offer enough courses. Online students up to eighth grade take four core classes and either music, art or physical education. High school students are recommended to take no more than five classes per semester and enroll in summer school to complete the rest of their course requirements.
"We opted for in-person because the online didn't allow for enough courses," said Smith, who has a high-schooler who must take seven courses per semester to graduate and a middle-schooler who takes Japanese classes not offered virtually. "Our preference for both would be online if they could do all the courses, as they do better with online learning."
doornbos.caitlin@stripes.com Twitter: @CaitlinDoornbos