Deadline looms for DODEA parents to choose between virtual or in-person school
by
Matthew Keeler Kim Gamel
July 29, 2020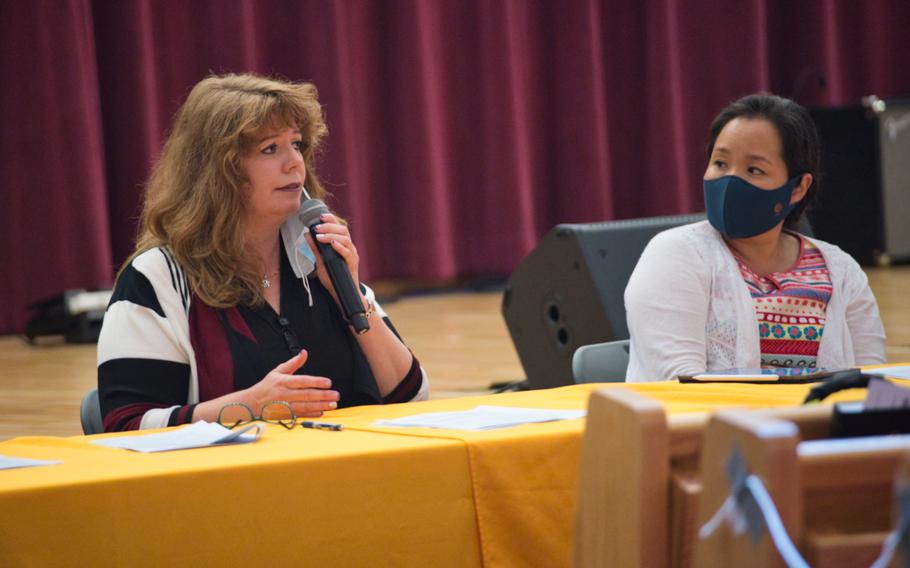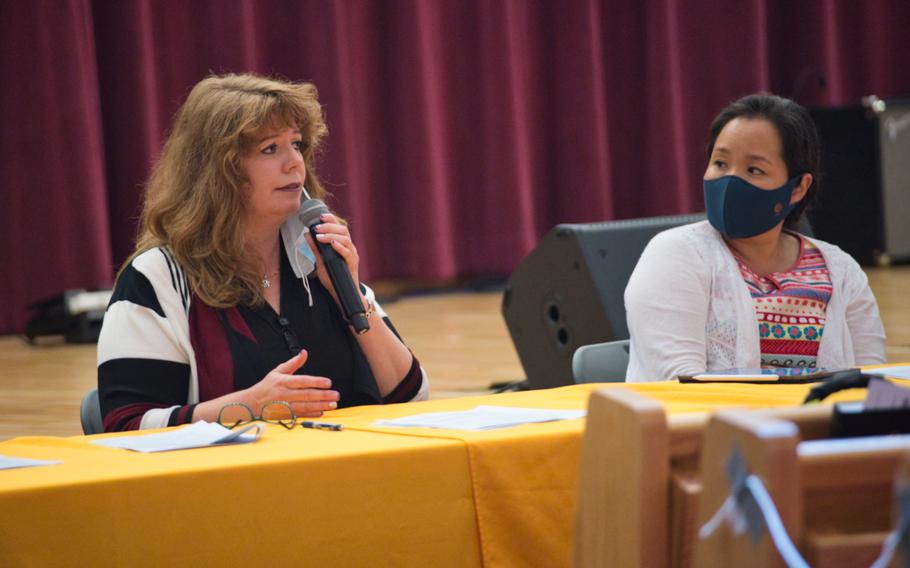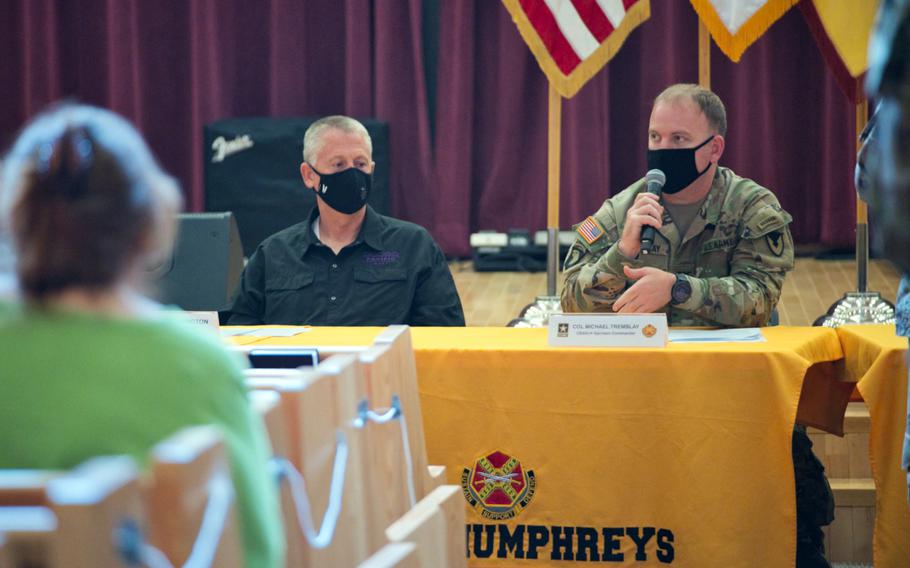 Stars and Stripes is making stories on the coronavirus pandemic available free of charge. See other free reports here. Sign up for our daily coronavirus newsletter here. Please support our journalism with a subscription.
CAMP HUMPHREYS, South Korea — Students at Defense Department schools in South Korea will get portable plastic barriers to protect them from the coronavirus, but buses and classrooms will likely be near pre-pandemic capacity, officials told parents Wednesday.
At a town hall meeting, the Department of Defense Education Activity regional superintendent, school administrators and the garrison commander at Camp Humphreys provided information to parents to help them decide between virtual or in-class learning for their children, just hours ahead of a 6 p.m. deadline on Thursday to make the choice.
But school officials also acknowledged they were still working on many aspects of the upcoming school year, which is supposed to start in less than a month.
"I feel like I'm in a holding pattern until we get the numbers on who is going to virtual school, and then again on the impact to my master schedule — do I have teachers that will be selected to the virtual school?" said Erin Grazak, the principal of Humphreys High School.
With memories still fresh of the difficulties experienced when schools were forced to close and go online as the virus spread globally in the spring, parents expressed concern about the safety of their children and the unknowns of remote learning.
As of Thursday morning, the percentage of students enrolled in the full-time virtual option in South Korea was 3%, according to DODEA's Pacific regional office. The total for the Pacific West district, which includes Guam, was 6.4%.
DODEA announced earlier this month that it would open all schools on Aug. 24 while providing a virtual option for parents who feel uncomfortable about sending their children back to a regular classroom.
On the eve of decision day, many parents were undecided about what route to take.
"I am still evaluating my options," Jetta Allen said in an interview after the town hall, which lasted more than an hour and was streamed on Facebook Live.
Allen's fourth grader has a disability and suffers from asthma and allergies but is part of the gifted program.
"Last year was hard," she said. "It was really hard to meet his special education goals and get progress through the virtual setting, so ideally in-person would be best for his academic success."
TOUGH DECISIONS DODEA has spelled out general safety protocols for the new school year, but officials filled in some of the blanks on Wednesday to help parents decide.
The standard calls for frequent hand washing will be made, and staff and students will be provided with plastic barriers, DODEA officials said.
"We are having barriers manufactured for every student and the teachers," regional chief of staff Joel Grim said.
Students can carry the shields with them between classes to supplement Plexiglass shields on cafeteria tables and other common areas, he said.
In places such as crowded hallways, where social distancing would be difficult, masks will be used, the officials said.
In response to a parent's concern that her child would damage or lose the plastic shield, Grim said they cost $16 each and students would be told how important they are. Buses also emerged as a source of concern because there aren't enough on Camp Humphreys to ensure proper social distancing, the officials said.
Masks could lower the risk, garrison commander Col. Michael Tremblay said.
"This is going to be one of the more challenging aspects," he said.
TEACHERS CONCERNED Some of the town hall attendees questioned how a new rule that requires parents to check children's temperatures and look for coronavirus symptoms before school would be enforced.
Many teachers and other staff have been on leave, but coronavirus planning groups would begin work on unresolved issues next week, Arrington said, stressing that school would look similar to past years with the exception of the mitigation measures.
"As far as the number of students in the room, it will be just like it was before, minus the students who choose to take virtual learning instead of being in-person, and the classrooms are the same size," he said.
That's one of the factors that led the Federal Education Association, which represents the teachers, to urge parents to select the online option.
DODEA has issued guidance calling on school staff, including custodians and faculty, to "clean and disinfect surfaces" between classes, during lunch and after school.
The agency also said face masks won't be required when social distancing is possible.
"DODEA's plans are completely unrealistic," the union said. "We understand that educating a child at home, rather than in school, presents difficulties for many families. But the risks associated with in-person schooling are too great at this time."
gamel.kim@stripes.com Twitter: @kimgamel
keeler.matthew@stripes.com Twitter: @MattKeeler1231