Day after missile test, North says Trump sent letter offering coronavirus aid
---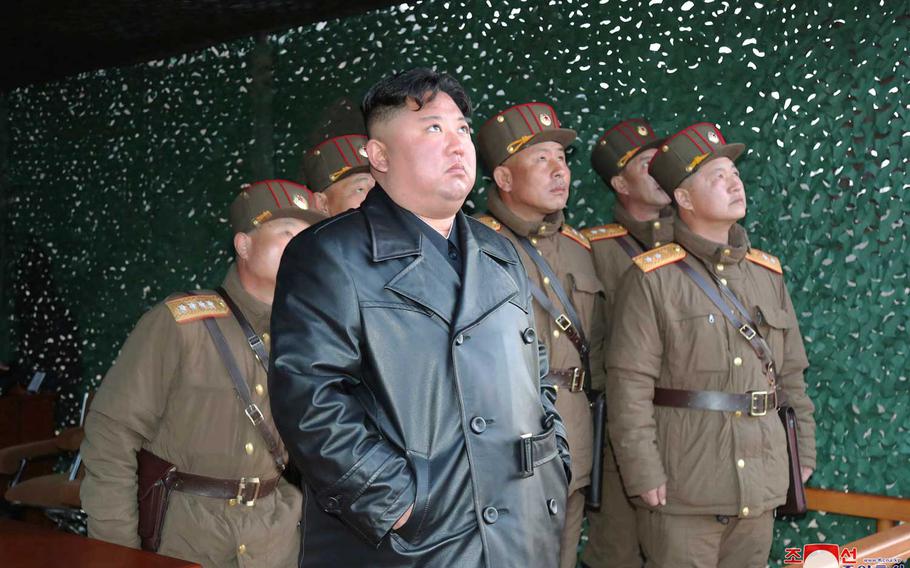 Stars and Stripes is making stories on the coronavirus pandemic available free of charge. See other free reports here. Sign up for our daily coronavirus newsletter here. Please support our journalism with a subscription.
SEOUL, South Korea — North Korea on Sunday welcomed a letter sent by President Donald Trump offering help in fighting the coronavirus but warned that good relations between the leaders was not enough to restart nuclear talks.
Underscoring the continued threat, North Korean leader Kim Jong Un oversaw a missile test on Saturday as the communist state pressed forward with weapons development amid the diplomatic deadlock.
Kim's sister praised Trump for sending a letter "at a time as now when big difficulties and challenges lie in the way of developing the bilateral relations."
Trump explained his plan to improve relations between the two countries, Kim Yo Jong said, without elaborating, in a statement on the state-run Korean Central News Agency.
He also "expressed his intent to render cooperation in the anti-epidemic work, saying that he was impressed by the efforts by the chairman to defend his people from the serious threat of epidemic," she was quoted as saying.
The reclusive North has insisted that it has had no cases of the deadly virus, which first appeared late last year in China, then spread globally. South Korea and the United States have faced massive outbreaks.
However, U.S. officials have expressed skepticism that the North has escaped the pneumonia-like illness.
The State Department said last month that it feared the disease could cause a humanitarian disaster in the impoverished nation, offering to help aid groups.
Kim Jo Yong stressed the relationship between the two leaders, who have exchanged several letters, remained "very excellent" but warned that was not a guarantee for peace.
"Nobody knows how much the personal relations would change," she was quoted as saying.
"And it is not something good to make hasty conclusion or be optimistic about."
She alluded to the fact that the country faces hardship from stringent U.S.-led economic sanctions aimed at driving it back to the nuclear negotiating table.
"If impartiality and balance are not provided and unilateral and greedy intention is not taken away, the bilateral relations will continue to aggravate," she said. "Even at this moment we are working hard to develop and defend ourselves on our own under the cruel environment which the U.S. is keen to provide."
Trump and Kim have held three summits, but diplomacy stalled after they failed to reach an agreement during a meeting in February 2019 in Vietnam.
The talks stalled due to deep differences over the extent of sanctions relief in exchange for steps toward nuclear disarmament.
North Korea resumed weapons tests last year after a hiatus in 2018 but so far has only launched short-range missiles, which could threaten U.S. forces and other targets in South Korea but not the continental United States.
Trump, who once said he and Kim "fell in love," has signaled the launch of an intercontinental ballistic missile would be a red line.
The North launched two short-range ballistic missiles that flew more than 250 miles across the country at an apogee of 31 miles toward the sea off the eastern coast on Saturday, South Korea's military said.
The missiles were launched from Sonchon, northwest of Pyeongyang, according to the Joint Chiefs of Staff in Seoul. It called the action "very inappropriate behavior" considering the world is struggling to contain COVID-19.
The tactical guided weapon "precisely hit a target islet" after Kim gave the order to fire, the
North's Korean Central News Agency reported Sunday, adding the test was "aimed at reconfirming and showing "the tactical characters and power of a new weapon system" to be delivered to army units.
Kim called it "a brilliant success" and called on his forces to "further build up the striking capability which can wipe out any enemy out of our territory if it dare designs to launch a military action against our state," KCNA said.
Jeffrey Lewis, a professor at the Middlebury Institute of International Studies at Monterey, Calif., said in a tweet that pictures published by North Korea showed it had tested a KN-24, which appears to be modeled after the U.S. Army Tactical Missile System.
It was the latest in a series of missile and artillery drills this year.
The show of strength comes after the United States and South Korea canceled plans for a joint military training exercise this month because of fears for troops' health as the number of coronavirus cases soared on the divided peninsula.
The allies insist they are continuing regular training and remain ready to fight if needed.
Some 28,500 American service members are stationed in South Korea, which remains technically at war with the North after their 1950-53 conflict ended in an armistice instead of a peace treaty.
gamel.kim@stripes.com Twitter: @kimgamel
---
---
---
---