Crews search for ways to free grounded Military Sealift Command ship
by
Erik Slavin
January 23, 2015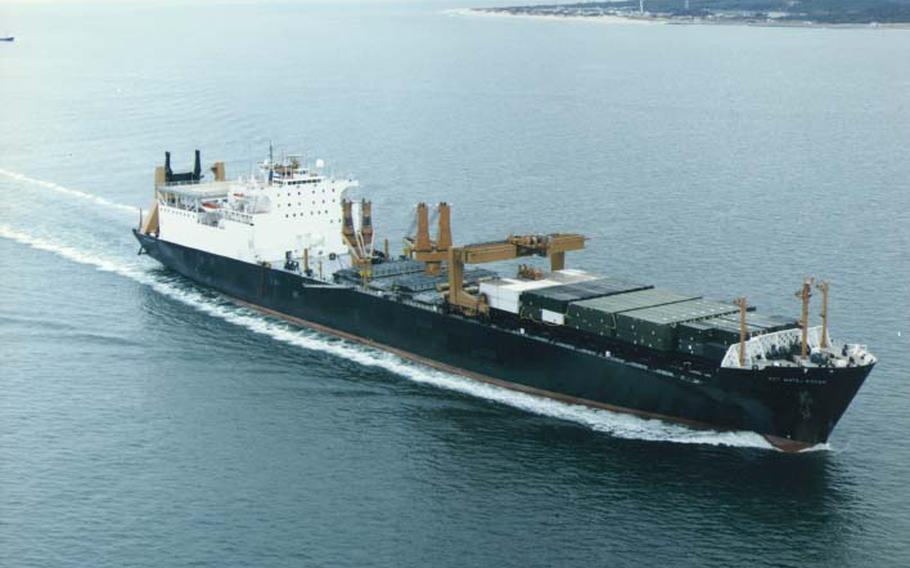 YOKOHAMA, Japan — The USNS Sgt. Matej Kocak remained grounded for a second day Friday in waters near Okinawa, as divers and other personnel determine the best way to free the stranded cargo ship.
Preliminary reports indicate the ship sustained some hull damage, though the extent is still being evaluated, Navy 7th Fleet spokesman Lt. Charles Banks said.
A "manageable" level of water is leaking into the ship, Banks said. Kocak's 131 crewmembers remain onboard, although a landing craft utility ship remains on scene if evacuation is needed.
The crew of the ship, which is operated by the Military Sealift Command, includes 38 civilians, 26 Marines and 67 soldiers.
High tide Thursday night did not refloat Kocak naturally, Banks said, so planners must find another way to remove the ship. Military experts on groundings were headed Friday to the scene, about six miles from the Uruma coastline, and divers were assessing the situation, officials said.
Tugboats were keeping the ship stable.
"We cannot make attempt to float the vessel with tugs before the assessment is completed," Banks said.
Floating a grounded ship depends on many factors and can be as simple as towing the ship off a ledge; or, as in the extreme case of the USS Guardian in 2013 when it struck a coral reef in the Philippines, it can mean systematically dismantling a ship at sea.
It was unclear Friday afternoon if the 821-foot ship was transiting in shallow waters, or if it was moving within generally deep waters and struck an outcropping. It was also unknown if any live coral was affected, and there were no reports of fuel leaking into the water, Banks added.
Okinawa, an island of about 1.4 million people, is home to the bulk of U.S. forces in Japan and considered strategically valuable because of its proximity to several potential flashpoints in the Asia-Pacific region.
The island is also economically dependent on drawing tourists, many of whom come to explore its warm-water reefs.
slavin.erik@stripes.com Twitter: @eslavin_stripes