Coronavirus testing in Japan: What happens, who's eligible and how long do results take?
---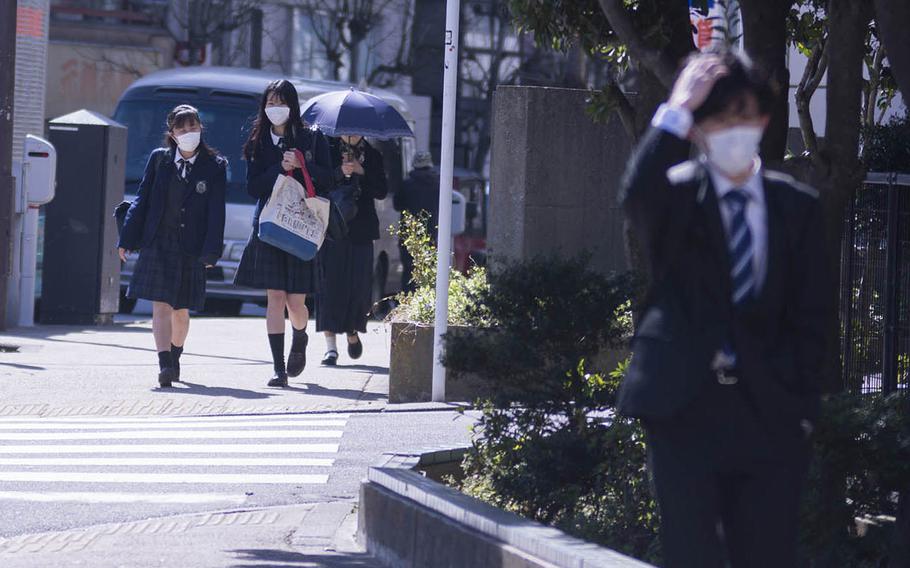 Read more coronavirus coverage from Stars and Stripes.
YOKOSUKA NAVAL BASE, Japan — With coronavirus on the minds of U.S. service members and their families in Japan, a sniffle or a cough may raise sudden concern.
Tests for the disease are available at military hospitals, but patients must show symptoms — fever, cough, shortness of breath — before they are given one, according to military doctors who posted informational videos online or spoke at base public meetings recently.
"We don't test everybody — we don't test you if you have no symptoms," preventive medicine physician Maj. Andrew Fisher said during a U.S. Forces Japan virtual town hall on coronavirus concerns March 2.
"This is a limited resource, so we test the people who it makes sense to test and there's specific criteria that governs who qualifies to get tested based on who's most at risk," said Fisher, who serves as the public health emergency officer at Yokota Air Base.
Military hospitals in Japan may administer the tests but must send the samples for analysis to local Japanese health agencies, to Tripler Army Medical Center in Hawaii, the Centers for Disease Control and Prevention in Atlanta or Naval Medical Center San Diego, Fisher said.
Results may be returned in three to seven days, said Capt. Drew Bigby, commander of Naval Hospital Yokosuka, in a video posted Thursday to U.S. Naval Forces Japan's Facebook page.
As of March 9, Defense Department laboratories had conducted 143 tests for the coronavirus, Joint Staff Surgeon and Air Force Brig. Gen. Paul Friedrichs told reporters in Washington, D.C., on Tuesday. The tests are processed at 13 DOD clinical labs across the nation, according to a Tuesday Defense Department statement.
In his video, Bigby described the testing process. First, those who have flu-like symptoms should contact their hospital before arriving there, he said.
At the doctor's office, patients will report their medical history and undergo a physical exam before possibly undergoing testing for a streptococcus infection, the flu or the coronavirus that causes COVID-19, Bigby said.
"The test consists of two swabs — one for your mouth, one for your nose," he said in the video. Those who are tested for coronavirus will be isolated "from family or others and pets in a private bedroom with a private bathroom" until results are received, he said. The isolation can take place at home.
Medical personnel will contact the patient daily "to make sure that you are well, and if you're not, you will be asked to be brought in," he added.
Those who have had contact with the patient but do not show symptoms will be placed in quarantine at home while the patient awaits results and must stay away from those who have not been exposed, Bigby said in the video.
This time of year, seasonal allergy sufferers may confuse their symptoms with those of the coronavirus. In Tokyo, for example, Japanese cedar trees produce pollen from February to April, according to the Tokyo International Communication Committee.
However, seasonal allergies, or "hay fever," unlike influenza and coronavirus, do not produce a low-grade temperature or body aches, according to the Mayo Clinic.
Also, coronavirus sufferers are less likely to experience the nasal congestion associated with allergies. Among coronavirus patients studied in China, less than 5% reported nasal congestion, according to the World Health Organization.
Deciphering influenza from coronavirus is more difficult. During the townhall, Fisher said symptoms of the two can look very similar, but different viruses cause seasonal flu and the coronavirus now in global pandemic.
"They are both respiratory and you can protect yourself from them in the same way" with handwashing and social distancing, he said.
"With the seasonal flu we have the benefit of having a vaccine, we don't have a vaccine for COVID-19 yet, but even with the vaccine, influenza is a very serious illness," he added.
As of Thursday, 620 people in Japan had tested positive for the coronavirus, according to the WHO. Worldwide, 125,048 cases have been recorded, about two-thirds of them in China, where the outbreak was first reported in December.
---
---
---
---