Coronavirus spreads to more US bases on Okinawa as local cases continue to rise
by
Aya Ichihashi Matthew M. Burke
August 5, 2020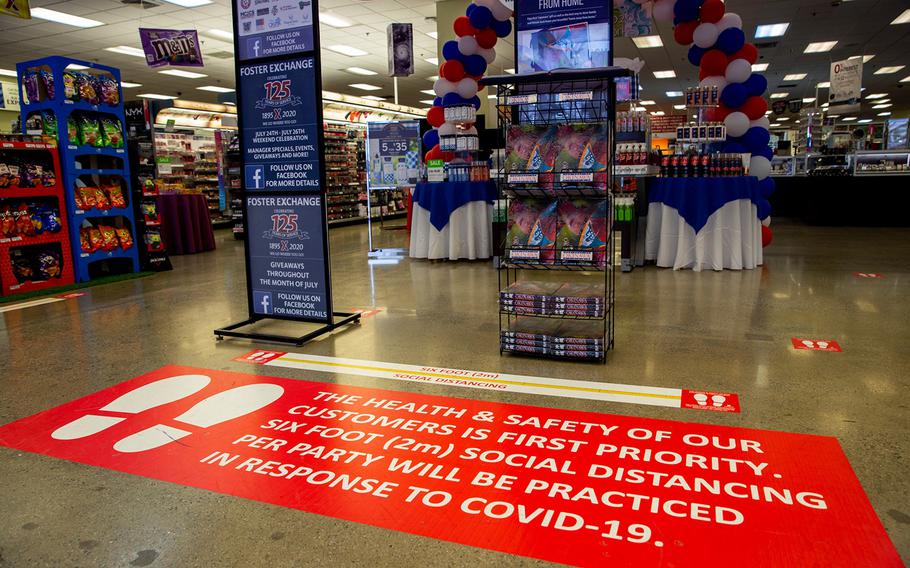 Stars and Stripes is making stories on the coronavirus pandemic available free of charge. See other free reports here. Sign up for our daily coronavirus newsletter here. Please support our journalism with a subscription.
CAMP FOSTER, Okinawa – Okinawa recorded 77 new cases of coronavirus, its second highest daily count, on Wednesday, as its wait list for quarantine space grew longer.
The U.S. military reported 11 new cases: seven at the Marines' Camp Courtney on the central coast, three at U.S. Naval Hospital Okinawa at Camp Foster and one at the White Beach Naval Facility, according to posts on official Facebook pages.
At a press conference Wednesday, Okinawa Gov. Denny Tamaki asked nightclubs, bars and cabarets in the Misaki area of Ishigaki Island and the Hirara district of Miyako to close Friday through Aug. 20. Both areas are sites of cluster outbreaks.
He urged residents to stay home except for urgent or necessary trips and nonresidents to avoid trips to the island prefecture for the time being. He especially asked nonresidents to refrain from trips to Okinawa to visit elderly family members who are at greater risk for the disease.
"Please use your phone to say hello to your grandparents or write a letter instead of visiting them," Tamaki said.
While not discouraging tourists from coming to the island, he asked that they "please be considerate as Okinawa is under a state of emergency." Tamaki declared the state of emergency on Friday.
Of the 715 coronavirus cases reported in Okinawa since the pandemic started, 572 have been announced since July 8. The list of infected individuals with no symptoms or mild symptoms waiting for a hospital bed or hotel room designated for quarantine is now 253, according to the prefecture.
The 11 new cases among the Navy and Marines brings to 295 the total military cases there since the pandemic began.
The Marines did not specify whether the individuals are service members, civilian employees, contractors or family members. The individuals at Courtney quarantined themselves after developing symptoms; their close contacts are also quarantined, according a Facebook post by Marine Corps Installations Pacific.
"Some residents of Camp Courtney barracks have been directed to return to their quarters and await further instructions from their commands," the Facebook post said.
Two of the individuals at U.S. Naval Hospital Okinawa had no recent contacts with patients and one with only a "few individuals," the Facebook post said. During those contacts, the individual was wearing full protective gear as a member of a virus testing team.
"Close contacts of these individuals have also been directed to quarantine," the post said. "None of these individuals worked in the main hospital facility."
The naval hospital is at Camp Foster, headquarters of Marine Corps Base Camp Smedley D. Butler, which encompasses all Marine bases on Okinawa, and Marine Corps Installations Pacific.
The infected patients' recent contacts are being traced, according to the Facebook post. Locations they visited will be posted to the command's COVID Trace Tracking map, which can be found at the Marine Corps Installations Pacific website. COVID-19 is the respiratory disease caused by the coronavirus.
At White Beach Naval Facility, the one individual there tested positive at the end of the mandatory 14-day quarantine period for new arrivals, according to a post Tuesday event on the Commander Fleet Activities Okinawa Facebook page.
"The individual has not had any contact with the local community since arriving on Okinawa and is currently in isolation on base," the post said.
burke.matt@stripes.com Twitter: @MatthewMBurke1
ichihashi.aya@stripes.com Twitter: @AyaIchihashi