Coronavirus quarantine awaits hundreds of Pacific Pathways soldiers heading home to Hawaii
by
Wyatt Olson
April 4, 2020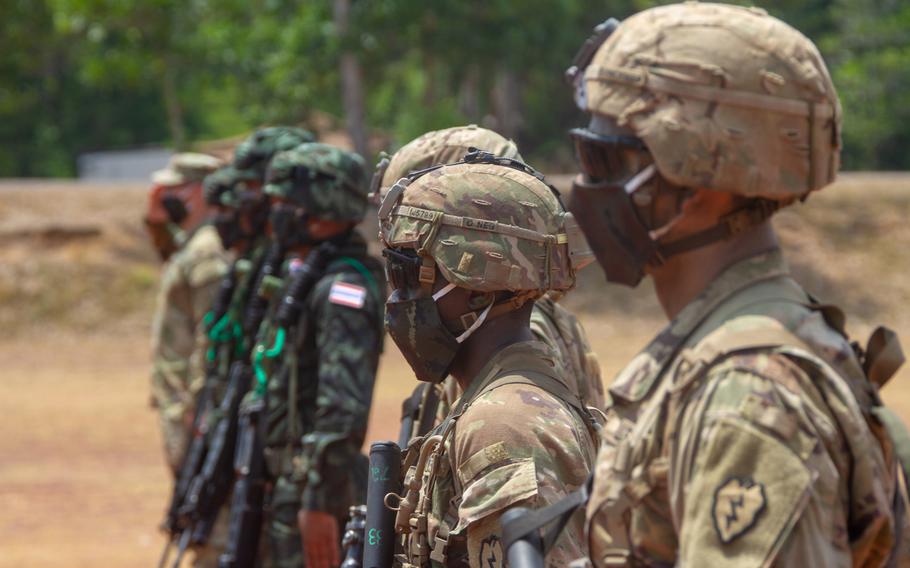 Stars and Stripes is making stories on the coronavirus pandemic available free of charge. See other free reports here. Sign up for our daily coronavirus newsletter here. Please support our journalism with a subscription.
FORT SHAFTER, Hawaii — Nearly 1,400 soldiers who have trained in Thailand since February as part of Pacific Pathways will soon head home to Hawaii — and to a mandated 14-day quarantine to prevent the possible spread of coronavirus.
"Our soldiers in Thailand will be returning home in the next few weeks," Maj. Gen. James Jarrard, commander of the 25th Infantry Division, said Thursday evening during a livestream on Facebook.
"The redeployment of our soldiers will be done in the same thoughtful manner we have implemented for all of our soldiers returning throughout this crisis," he said. "It will be focused on carefully and prudently mitigating the risk of exposure to maintain the safety and well-being of all. It will also reemphasize our commitment to the state of Hawaii and the city and county of Honolulu in slowing the spread of COVID-19."
Hawaii had 319 coronavirus cases as of Friday, with three deaths. More than three-quarters of the cases were linked to residents returning home from other areas, according to the Hawaii Department of Health.
The soldiers participated in Cobra Gold from Feb. 26 through March 6, then shifted location in Thailand for the Hanuman Guardian exercise. Pacific Pathways is an initiative aimed at keeping soldiers deployed in the Pacific for longer periods by moving them to successive exercises in the region.
About 1,440 soldiers participated in Hanuman Guardian, and roughly 1,350 of them will be returning to Hawaii in the next few weeks, said 25th ID spokesman Lt. Col. Adam Hallmark in a written response to a query from Stars and Stripes.
During daily Facebook streaming updates, Army Garrison Hawaii officials have been peppered with questions by family members about the safety of soldiers training in Thailand.
Officials have said that medical personnel in Thailand checked soldiers daily for fever and other coronavirus symptoms. Those displaying any symptoms were evaluated by medical providers.
"Both U.S. units and the Royal Thai Army have reduced the size of our formations during training, and we are attempting to maximize social distancing," Army Garrison Hawaii said in an online update.
Numerous photos published by the Army show U.S. and Thai soldiers wearing face masks.
No soldier has contracted the coronavirus in Thailand, Hallmark said. Two were tested and found negative, he said.
"I know many of you want a definitive date on when you can expect your soldier home, and what we can tell you is that it will be soon," Command Sgt. Maj. William Pouliot said during the Thursday livestream. "The process has begun, and just like it took a few weeks to get there, it's going to take the same to get home."
The Army will implement "stringent controls" that comply with Hawaii Gov. David Ige's direction to institute a 14-day quarantine and observation period for anyone returning to the state, Pouliot said.
"Every one of our team members returning from Thailand will follow this direction to the letter," he said. "Hawaii is our home, and we will remain in close coordination and communication with state and local officials."
olson.wyatt@stripes.com Twitter: @WyattWOlson