Coronavirus no barrier to training for Air Force crews in Tokyo
by
Seth Robson
April 20, 2020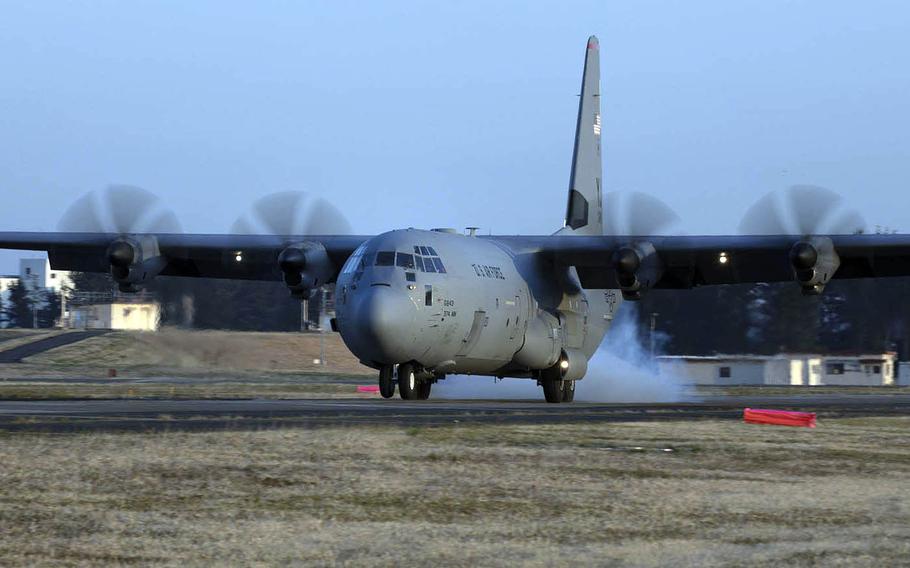 Stars and Stripes is making stories on the coronavirus pandemic available free of charge. See other free reports here. Sign up for our daily coronavirus newsletter here. Please support our journalism with a subscription.
YOKOTA AIR BASE, Japan — The coronavirus has impacted operations across the military but aircraft and personnel at the home of U.S. Forces Japan in western Tokyo remain ready for action, according to Air Force officials.
On Thursday Japanese Prime Minister Shinzo Abe extended a state of emergency declared in Tokyo earlier this month to cover the entire country. U.S. bases in and around the Japanese capital have been under a public health emergency declared by USFJ commander Lt. Gen. Kevin Schneider April 6 and extended Japan-wide April 15.
Japan's capital city reported 102 new cases of coronavirus Monday, but Yokota has reported no cases among the base population since Defense Secretary Mark Esper on March 27 ordered commanders to stop announcing new infections on their installations, citing a concern that potential adversaries might exploit that information.
Yokota is home to the 374th Airlift Wing, which flies 14 C-130J Super Hercules transport planes as well as a few C-12 passenger planes and UH-1 Huey helicopters. The 21st Special Operations Squadron, which flies CV-22 Osprey tiltrotor aircraft, also calls Yokota home.
Yokota airmen flew over the weekend and have conducted a variety of training in recent weeks even as commanders have tightened restrictions on troop movements and required social distancing and facemasks in many facilities, officials said.
The pace of operations at Yokota contrasts with some military bases in the U.S. At Fort Rucker, Ala., for example, troops resumed aviation training on Monday after a two-week stand-down imposed to combat the spread of coronavirus, garrison commander Maj. Gen. David Francis said in a Facebook video.
Gen. Robert Abrams, the U.S. Forces Korea commander, said March 27 that health measures forced by the coronavirus could jeopardize military readiness on the peninsula.
In contrast, airmen in Tokyo on April 3 participated in the Yokota C-130J Tactics Rodeo, which officials described as "a friendly competition designed to test an aircrew's combat capabilities and readiness through simulated and short-notice combat scenarios."
Members of the 36th Airlift Squadron practiced an "assault landing" in a Super Hercules aircraft on the base's Foxtrot taxiway March 26.
Airmen went through the steps they'd need to land a plane in an austere landing zone — the sort of thing they would need to do supporting ground troops in places like Iraq or Afghanistan.
Capt. Jeff Larkin, a C-130J pilot, said a taxiway landing doesn't differ much from landing on a normal runway but it requires a lot of work to achieve.
"It's not a common thing to see, especially in this area," he said.
The coronavirus has made things a bit more challenging than usual, he said.
"We usually like to train in some degraded environment," he said. "This is a real-world degraded environment."
Mission planning can't be done in the normal way, in a room packed full of people, but the coronavirus is teaching crews lessons they could use if something like this happens again.
"It is good for us because now we can figure out how to do that in future," he said.
Capt. Christopher Ansel, also a C-130J pilot, was ground safety officer for the landing exercise.
"My job was to make sure the runway… meets safety requirements," he said. "I'm there to make sure a tree didn't grow (in the landing zone) and notify the pilots it is safe to land."
Master Sgt. Aaron Woods, a member of Yokota's 374th Operations Support Squadron, led a team that marked the landing zone for the pilots.
Woods said he did the same sort of thing in at Al-Taqaddum Air Base, Iraq last year but added, "This is something a lot of my airmen have never seen."
Robson.seth@stripes.com Twitter: @SethRobson1