Coronavirus hits US military in South Korea at its core with three new cases at Camp Humphreys
---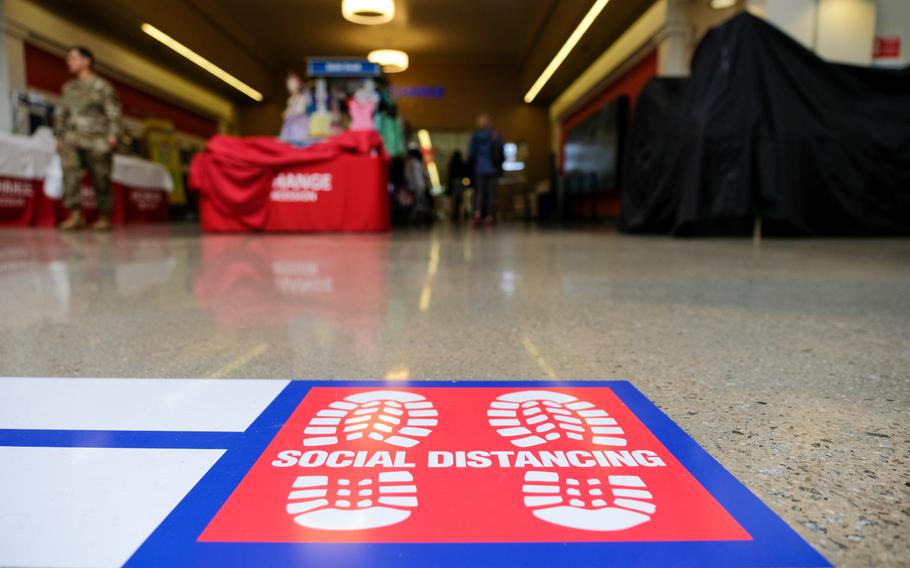 Stars and Stripes is making stories on the coronavirus pandemic available free of charge. See other free reports here. Sign up for our daily coronavirus newsletter here. Please support our journalism with a subscription.
SEOUL, South Korea — The coronavirus pandemic hit the U.S. military in South Korea at its core this week as three people working at the Eighth Army headquarters tested positive, including the second soldier to be infected on the divided peninsula.
The new infections, including two reported Friday, raised the total number of cases affiliated with U.S. Forces Korea to 12, raising concern about complacency as the overall number of infections in South Korea has slowed.
Officials at Camp Humphreys, the main Army base in South Korea with a population of more than 37,000, ordered all organizations to reduce staff to mission essential only and restricted movement to bare necessities, including food and health needs.
Gyms were closed, and taxis and buses halted as teams worked to clean areas that the infected people visited over the past 48 hours and to conduct contact tracing to determine whether anybody else may have been exposed.
Lines formed at the main post exchange and the commissary, where only 100 people at a time may enter. Col. Michael Tremblay, the garrison commander, said the limit was imposed for social distancing purposes and there were no shortages.
Army Sgt. Trisha Bacani, 32, of Los Angeles waited about two hours to get into the commissary to buy supplies for herself and a friend who is self-quarantined in the barracks.
She wasn't complaining, saying the protective measures were appropriate given the situation.
"It's scary to go out," she said. "We just have to be patient and wait in line.
Meanwhile, bases in other parts of the country barred entry for anybody who had been at Camp Humphreys over the past few days.
The new restrictions were imposed after U.S. Forces Korea confirmed Friday that an American soldier and a contractor had tested positive after apparently coming in contact with another contractor who was confirmed to be infected on Tuesday.
All three worked at the Eighth Army headquarters, Gen. Robert Abrams said in remarks on American Forces Network radio. Another soldier tested positive in late February, but the other cases were military dependents, contractors or South Korean employees.
The contractor confirmed Friday was in isolation at his off-base residence as directed by the Korea Centers for Disease Control and Prevention, according to a press release. It said he last visited Camp Humphreys on Tuesday but had been self-isolated due to the previous case.
The soldier is in isolation at Camp Humphreys in a barracks set aside for coronavirus cases, according to a USFK press release.
The contractor was the fourth case of coronavirus confirmed at Camp Humphreys, which is in the rural area of Pyeongtaek about 55 miles south of Seoul. The other eight cases are at bases in the southeastern city of Daegu and nearby areas, which were at the center of the outbreak that began in mid-February in South Korea.
USFK remains at a high-risk level for the virus. The command has sharply restricted access to bases and ordered service members to avoid nonessential travel and off-post social activities in a bid to keep the virus from spreading.
"I've been staying at home all the days I'm not on duty and I ran out of food," Navy Lt. Jamie Collyer said as she stood in line at the commissary.
"Do I want to stand outside in the wind? No. Am I upset about it? No. I think that the restrictions are a reasonable measure," she added. "We've seen how it can jump from person to person."
South Korea logged 91 new cases on Thursday for a total of 9,332, according to the latest figures available from the KCDC. It was the 16th day of figures around 150 or lower, down from a high of 909 cases on Feb. 29.
gamel.kim@stripes.com Twitter: @kimgamel
---
---
---
---