Coronavirus factors into Air Force's typhoon preparations in Tokyo
by
Seth Robson
June 9, 2020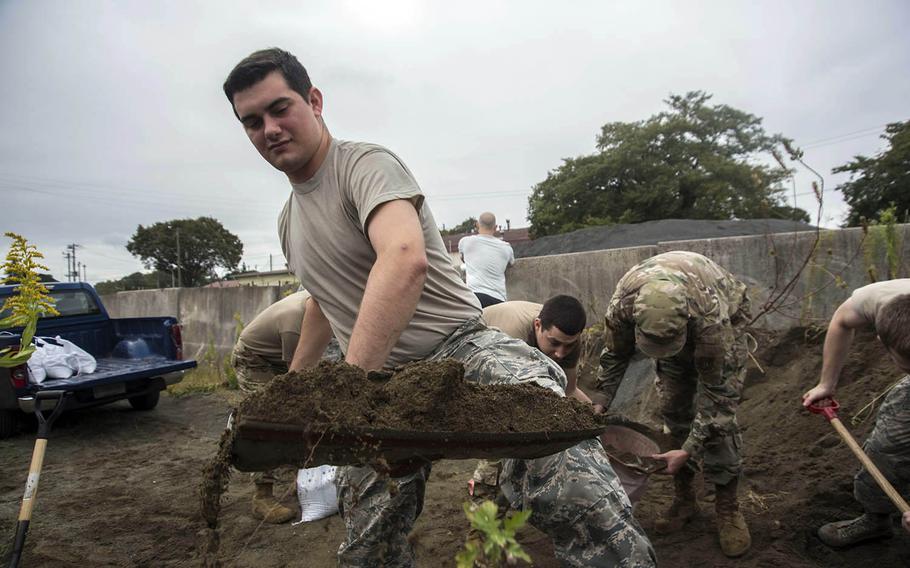 Stars and Stripes is making stories on the coronavirus pandemic available free of charge. See other free reports here. Sign up for our daily coronavirus newsletter here. Please support our journalism with a subscription.
YOKOTA AIR BASE, Japan — The Air Force is ready to house families in separate emergency lodging at Yokota to prevent the spread of the coronavirus if they're evacuated during typhoon season in Tokyo, officials said June 5.
Preparations are underway at the home of U.S. Forces Japan in the Japanese capital with members of the 374th Civil Engineer Squadron trimming trees to protect power lines and clearing drains to stop flooding when the next big storm arrives.
Yokota-based weather officer 1st Lt. Gregg McCambley, 30, of Horsham, Pa., said the Pacific Ocean appeared to be in a "neutral phase" but could enter a La Nina pattern later in the year.
A La Nina involves cooler than average temperatures in the central and eastern Pacific causing more typhoons near the Philippines but likely fewer near Japan, he said.
In October, Typhoon Hagibis pummeled the Japanese capital with wind gusts as high as 104 mph and record-breaking torrential rain. U.S. military bases in and around the city reported minimal damage but 11 people assigned to Yokota, which got a record 15 inches of rain, were evacuated from their off-base homes due to flooding.
In August 2016, more than 300 families living at Yokota were displaced after Typhoon Mindulle caused flooding that knocked out power and water service to their homes.
The Air Force has made sure it has enough space to house any evacuated families separately so that they don't spread the coronavirus, said Senior Master Sgt. Shawn Jamison, 37, of Aiken, S.C., superintendent of readiness and emergency management at Yokota's Civil Engineer Squadron.
In a typical year the western Pacific gets 20 to 25 storms that can range from tropical storms to super typhoons in Tokyo, McCambley said.
Ninety-six hours out from a typhoon's expected arrival, bases will announce Tropical Cyclone Condition of Readiness level 5, indicating that people should prepare food, water and emergency supplies, he said. When sustained winds reach 58 mph or frequent gusts of 69 mph they will declare level 1-E (emergency), meaning people should stay indoors.
robson.seth@stripes.com Twitter: @SethRobson1