Coronavirus cases surge in Singapore, home to US Navy littoral combat ships and logistics hub
by
Seth Robson
May 12, 2020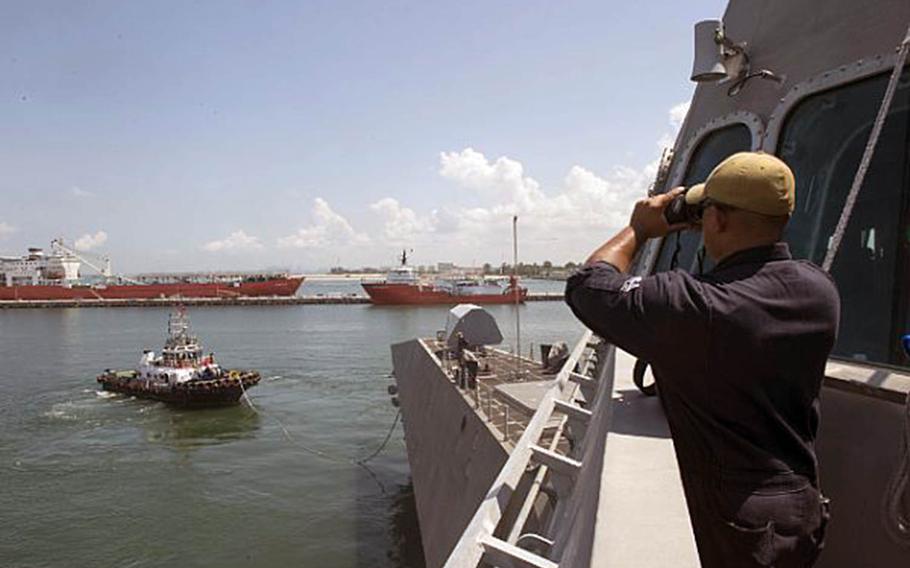 Stars and Stripes is making stories on the coronavirus pandemic available free of charge. See other free reports here. Sign up for our daily coronavirus newsletter here. Please support our journalism with a subscription.
More than 24,000 coronavirus cases in Singapore threaten a key Pacific logistics hub for the U.S. Navy, according to a local defense expert.
Outbreaks in dormitories for migrant workers there have catapulted the island from a nation with fewer than 600 cases through the beginning of April to the epicenter of the outbreak in Southeast Asia. Singapore's Ministry of Health announced 884 new cases Tuesday, taking the island's count to 24,671, The Straits Times newspaper reported that day.
The outbreak could affect 1,000 service members, civilians and their families in Singapore serving with Task Force 73 and Command Logistics Group Western Pacific — teams that arm, fuel, feed and support 7th Fleet operations in the region and support U.S. littoral combat ships stationed there since 2013.
Of concern are cases among Singapore's 1 million migrant workers, including 300,000 who live in congested dormitories that have been flagged as disease hotspots, said Ian Chong, an assistant professor in the National University of Singapore's political science department.
"Migrant workers are employed in shipbuilding and repair facilities used by the U.S Navy," he said.
The Sembawang district, home to several shipyards as well as the Task Force 73 headquarters, is frequented by many migrant workers, Chong said.
"Some Navy ships go to Changi [Naval Base] but those that need work go to Sembawang. Asymptomatic workers could bring the disease aboard ships," he said but noted that the Navy's littoral combat ships berth at Changi and likely wouldn't be impacted.
Singaporean authorities have isolated sick workers in their dormitories and moved others to barracks on military bases to relieve congested living conditions, Chong said.
"They are actively trying to keep these barracks separate from everyone else," he said.
The outbreak among migrant workers could mean U.S. warships visiting Singapore — a transit point for warships challenging Chinese territorial claims in the South China Sea — might not get certain kinds of work done or work might be slowed, Chong said.
"If the U.S. wants to continue with deployments it will have to think about it because there are maintenance and other needs," he said.
Singaporeans have monitored news about the outbreak aboard the USS Theodore Roosevelt, which caused that aircraft carrier to divert to Guam on March 26. About a month later, more than 1,150 Roosevelt sailors had tested positive for the virus and many were moved off the ship and isolated in local hotels.
"The situation with the Roosevelt shows there is some difficulty in maintaining a ship and what to do when there is an outbreak onboard," he said.
Chong questioned what would happen if a ship arrived in Singapore carrying infected sailors.
"There would definitely be a lot of concern," he said. "We are trying to fight to prevent our medical system becoming overwhelmed. We are just managing to keep things together. If you had a carrier with 5,000 people that came it could be very messy diplomatically as well as medically."
The Navy will not release details of coronavirus cases among its forces in Singapore, Lt. Cmdr. Sean Riordan, a spokesman for Task Force 73 and Command Logistics Group Western Pacific, said in emailed answers to questions Tuesday.
"We won't be providing updates by specific location or command," he said.
The Navy in Singapore has been taking conservative measures such as maximizing telework to prevent the spread of coronavirus among its forces there, Riordan said.
"We have also stressed the basics: good hand washing, physical distancing, and taking appropriate actions if feeling sick … our personnel here are required to wear masks any time outside their homes, maintain social distancing, and actively monitor themselves for even mild symptoms," he said.
The Navy has limited access and occupancy in its gym and exchange store, prohibited outdoor and group activities and restricted food service to take-out only on the island, he said.
The Navy is also offering mental health, stress management and religious resources to mitigate potential negative effects of social isolation during stay-home periods, Riordan said.
"This is not business as usual," he said. "On board our ships, we are enforcing social distancing, minimizing group gatherings, wearing [personal protective equipment], and cleaning extensively."
Quarterdeck watch standers are screening anyone who walks on board Navy ships and referring sailors and civilian mariners with symptoms for medical evaluation, he said.
"For our logistics fleet, we are following U.S. Pacific Fleet's guidance instructing Navy vessels to remain at sea for at least 14 days in order to monitor Sailors and civilian mariners for any symptoms of the coronavirus," he said.
All Military Sealift Command ships manned by civilian mariners took early preventive measures enabling the Navy to continue supplying warships at sea, Riordan added.
robson.seth@stripes.com Twitter: @SethRobson1
---
---
---