Coronavirus cases spike in Tokyo as US military cases continue to fall across Japan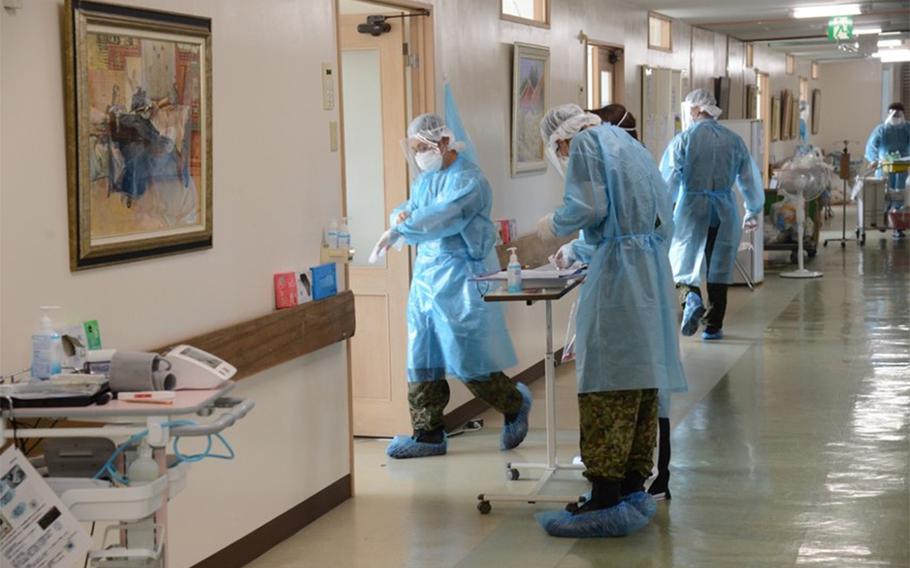 Stars and Stripes is making stories on the coronavirus pandemic available free of charge. See other free reports here. Sign up for our daily coronavirus newsletter here. Please support our journalism with a subscription.
TOKYO — New coronavirus cases in Japan's capital city jumped Thursday to 339, just shy of twice the previous day's count, according to public broadcaster NHK, citing city authorities.
Meanwhile, new infections among the U.S. military in Japan continued to fall. The Marines on Okinawa reported four new cases, all at Camp Courtney and all of them close contacts of another infected individual, according to a Facebook post by Marine Corps Installations Pacific.
Tokyo cases had dipped from a previous daily high of 385 on Saturday to 186 on Wednesday, according data on the Tokyo Metropolitan Government website.
The city government had warned its residents to refrain from travel beyond city borders, especially vacations far from home, and to avoid dining out at night and other activities in close, crowded conditions.
A second coronavirus surge began in late June in the city of 13 million, according to metro government data. Tokyo has 18,268 active cases with 1,614 hospitalized.
On top of the coronavirus, Tokyo has baked through a heat wave that killed 131 people so far this month, many of them over age 70, according to NHK, which cited the metro public health department.
The city center is off-limits to most U.S. military personnel, civilian employees and families.
Okinawa prefecture, home to about 30,000 U.S. troops, reported 45 new coronavirus cases on Thursday, a prefectural official told Stars and Stripes by phone.
The local community has more than 850 active cases and a total of 1,662 since July. Fifteen people have died since the pandemic began, the most recent on Wednesday evening, the official said.
Medical teams from the Japan Ground Self-Defense Force went to work in local hospitals, the Ministry of Defense Joint Staff tweeted Thursday. The ministry offered the teams Monday and Okinawa Gov. Denny Tamaki accepted the next day.