Coronavirus case numbers are dropping at bases in Japan, USFJ commander says
by
Seth Robson
April 24, 2020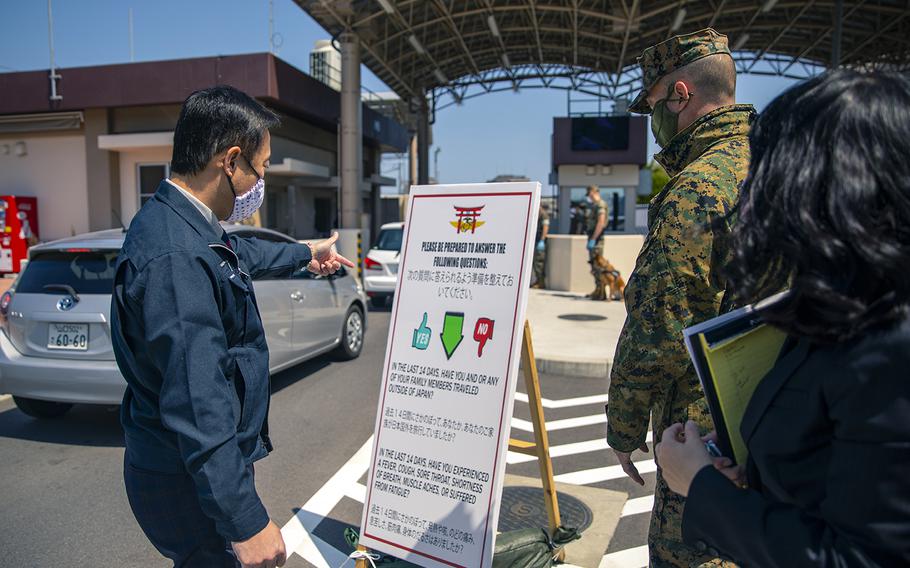 Stars and Stripes is making stories on the coronavirus pandemic available free of charge. See other free reports here. Sign up for our daily coronavirus newsletter here. Please support our journalism with a subscription.
YOKOTA AIR BASE, Japan — Coronavirus case numbers are falling at U.S. bases in Japan and shallowing outside the wire, the commander of U.S. Forces Japan told military community members during a virtual town hall Friday.
Lt. Gen. Kevin Schneider, answering questions at a town hall livestreamed on 5th Air Force's Facebook page, said base numbers have stabilized and are declining following a number of cases between the end of March to early April.
"The decisions commanders are making are effective and they are working," he said, referring to measures like restrictions on movement, bans on visiting off-base bars and restaurants, social distancing and wearing of masks.
Japan had reported 12,388 coronavirus cases and 317 deaths as of Thursday, according to the Ministry of Health, Labour and Welfare. Tokyo, the epicenter of the outbreak in the country, reported a slight increase in cases throughout the week. There were 134 new infections Thursday compared to a high of 201 new cases April 17.
Yokosuka Naval Base, home of the 7th Fleet south of Tokyo, reported "fewer than 30" cases of coronavirus by Thursday. Camp Zama, the nearby home of U.S. Army Japan, has reported six cases. Kadena Air Base and Sasebo Naval Base have also reported infections.
USFJ began taking action on the coronavirus on Jan. 21 and recorded its first case March 26, Schneider said.
About three weeks ago, the trend in communities outside bases was also troubling, he said. "This week there is still a rise in day-by-day cases, but the rise is a lot smaller than it was."
On April 16, Japanese Prime Minister Shinzo Abe extended a state of emergency declared in Tokyo earlier this month to cover the entire country. Schneider declared a public health emergency for U.S. bases in and around the Japanese capital April 6 and extended it Japan-wide April 15.
However, Japan's coronavirus mitigation measures, which involve requests that some businesses temporarily close and that people work from home as much as possible, aren't as severe as those in some parts of the U.S., Europe and Australia.
Japan's measures may differ from those in the U.S., but they are having an effect and numbers of new cases in the country are continuing to "shallow out," Schneider said.
Earlier in the year, U.S. bases in Japan were challenged by the risk of people bringing the coronavirus from overseas, he said.
"Our threat vectors may be a little closer to our fence line and a little closer to our gates [now]," he said.
Asked whether military authorities would announce new coronavirus cases on bases in Japan, Schneider answered with a statement about "operational impacts."
"I can certainly understand those concerns," he said. "I have a wife and two teenagers who I live with. They are concerned."
America's adversaries are looking to take advantage of impacts on military readiness caused by the pandemic, Schneider said.
"We're going to be relatively quiet about what the operational impacts are, so our adversaries don't take advantage of that," he said.
Defense Secretary Mark Esper on March 27 ordered commanders to stop announcing new infections on their installations, citing a concern that potential adversaries might exploit that information. Officials at some bases in Japan have indicated they will inform the community about new cases.
Schneider said commanders must balance being open with the public and security needs.
"Sometimes specific information isn't released, and when that is done that is not at the expense of health, safety or protection of people that live on our bases," he said.
Another community member asked why restrictions are different at each Air Force facility in Japan.
"People are comparing whether base gyms are open," Schneider said, noting the 1,300-mile distance between Kadena Air Base on the island of Okinawa and Misawa Air Base in northeastern Japan and the difference between Yokota, in a metropolitan area of 39 million people, and Misawa, which is in a "remote" location.
Commanders set policies based on conditions inside their fences, the capability they have and what's happening outside the fence, he said.
Schneider said he agreed with Air Force Chief of Staff Gen. David Goldfein's assessment that the impact of the coronavirus will be felt for more than a year because so much is unknown about the pandemic.
USFJ's health protection condition may change and some of the restrictions may be removed; however, some precautions will continue, such as quarantining or restricting people with coronavirus symptoms, Schneider said.
"While our numbers are good inside the wire we are going to have to continue to watch and see what goes on outside the wire, he said. "We are in the endurance phase of this."
robson.seth@stripes.com Twitter: @SethRobson1