'Conditions' dictate delay in South Korea OPCON transfer
by
Jon Harper
October 26, 2014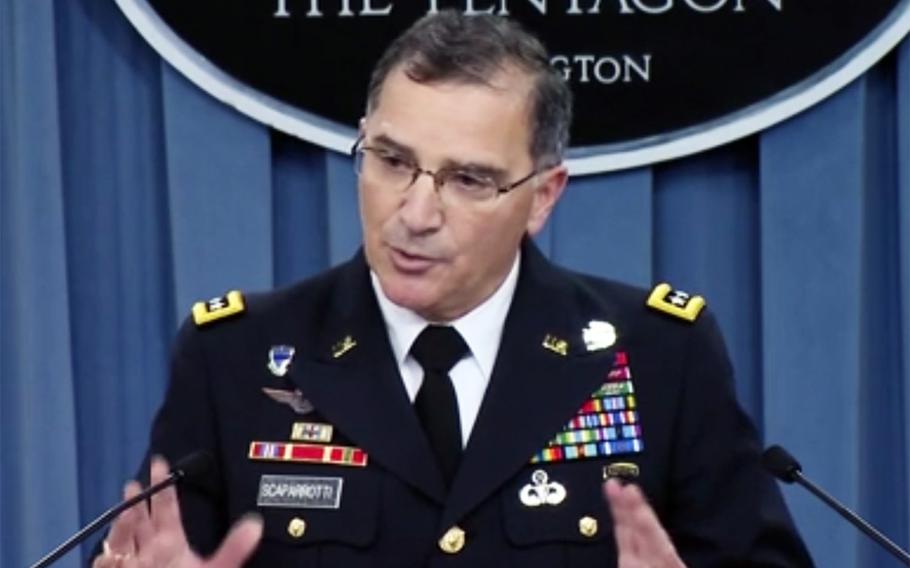 WASHINGTON — Political and strategic developments have compelled the United States and South Korea to shelve major plans for reorganization of allied forces on the Korean Peninsula, according to officials and outside experts.
During a joint press conference at the Pentagon on Thursday, Secretary of Defense Chuck Hagel and his South Korean counterpart announced several steps that were being taken in light of the "grave threat" posed by North Korea.
One is to postpone the transfer of wartime control over allied forces on the Korean Peninsula. Under the current arrangement, U.S. commanders would take command of all American and South Korean troops in the event of war with North Korea.
Plans had called for that power to be transferred to Seoul's military leaders next year, but officials said the transfer will now be "conditions based," and thus postponed indefinitely.
Another major decision is to delay the movement of American troops away from the North-South border, which the government in Seoul had called for. The combined forces headquarters will remain in Yongsan until the OPCON transfer takes place, and a U.S. artillery brigade will remain near the demilitarized zone.
Hagel said the changes will ensure that South Korea has sufficient military capabilities in place before it assumes lead responsibility for wartime operations.
On Friday, Gen. Curtis Scaparrotti, the commander of U.S. Forces Korea, said Seoul needs to improve its command and control, intelligence, surveillance and reconnaissance, and missile defense capabilities before the OPCON transfer takes place.
Scaparrotti said that in addition to their larger ground force, North Korea has ballistic missiles, one of the world's largest chemical weapons stockpiles, a biological weapons research program, the world's largest special operations force, an active cyberwarfare capability and a nuclear weapons program.
He told reporters that he believes that North Korea now has the capability to miniaturize nuclear warheads and place them on missiles.
"There's all of these reasons why we need to maintain the maximum level of military effectiveness and … we're hesitant I think to make any changes that could compromise that," according to Zachary Hosford, an Asia expert at the Center for a New American Security.
Officials and experts are also alarmed by North Korea's actions. In recent years, Pyongyang has launched a series of provocations, including a nuclear weapons test, ballistic missile launches, artillery attacks on South Korean islands and the sinking of a South Korean warship, which killed 46 sailors.
In recent days, troops from both sides exchanged gunfire across the border.
"North Korea definitely poses a bigger threat now" than it did when the OPCON transfer was first proposed more than a decade ago, Hosford said.
Hosford said going ahead with previous plans as scheduled would have left the alliance in a weakened position at a dangerous time.
"The security environment is tenuous and I think it's quite unstable," he said. "I don't expect North Korea to launch a full-scale ground invasion tomorrow. But … there could be another conventional skirmish similar to the Cheonan sinking or to the Yeonpyeong island artillery shelling that could … escalate out of control beyond what was ever intended by either side and we could end up in a conventional conflict due to miscalculation."
Experts said the political environment in which the OPCON transfer was proposed by the South Koreans has changed significantly, justifying an indefinite delay. At the time, leaders of South Korea were trying to improve ties with the North Korean regime and distance themselves from the U.S. after two South Korean schoolgirls were killed by a convoy vehicle driven by American soldiers.
"In the early 2000s there was a lot of anti-American sentiment" in South Korea, Hosford said. "The U.S.-ROK alliance was not in anywhere near as good a shape as it is now and there was animosity there that was driving some of the issues of transferring operational control. So now that the political and diplomatic situations have improved, there's less of that motivation there."
Michael Auslin, an Asia specialist at the American Enterprise Institute, said the plans were always driven by politics.
"It stemmed originally from domestic [South] Korean politics, to get rid of the inequity of not having control over their own troops in times of war," he said.
"That's really the core problem," Auslin said, "It wasn't driven by military planning and analysis on what was the best way to maintain alliance effectiveness in the face of a contingency or a war with North Korea and the like, but rather it was based on politics. And the South Koreans simply were not ready" to take over.
harper.jon@stripes.com Twitter: @JHarperStripes