Commander: 'Quick thinking' by B-52 crew averted larger disaster
---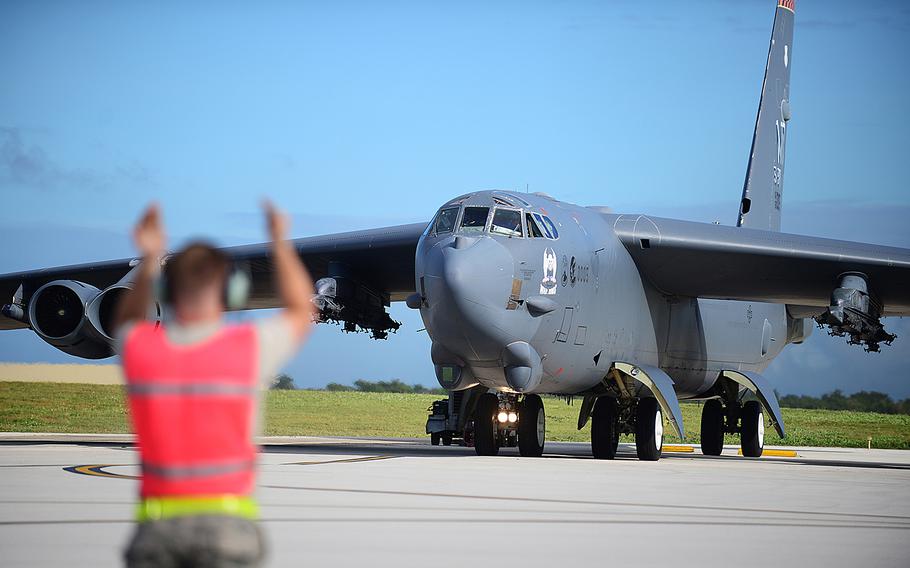 HONOLULU — The wing commander of a B-52 bomber that crashed Thursday at Guam's Andersen Air Force Base credited the crew's "quick thinking" in averting a larger disaster.
None of the seven crewmembers were injured when the Stratofortress crashed during takeoff at about 8:30 a.m. They were able to immediately exit the plane.
Emergency-response personnel from Andersen, Navy Base Guam, Joint Region Marianas and local agencies cordoned off the crash site and extinguished the flames. The plane was smoking heavily on the north end of the runway, according to local news reports.
"We are thankful that the aircrew are safe," said Brig. Gen. Douglas Cox, 36th Wing commander, in an Air Force statement. "Because of their quick thinking and good judgment in this emergency situation, the air crew not only saved their lives but averted a more catastrophic incident."
Air crews regularly train for incidents of this type, Cox said.
U.S. Pacific Air Forces declined to disclose what the crew did during the emergency or any other specifics of the crash.
"It is too early to discuss these details as they are all currently under investigation by Air Force Global Strike Command," Pacific Air Forces spokesman Capt. Ray Geoffroy said in a written response to questions. "Once the investigation is complete, a report will be publicly available."
The incident serves as a reminder of the danger servicemembers put themselves daily, whether flying a mission or training, Guam Congresswoman Madeleine Z. Bordallo said in a statement Thursday.
"I will be in touch with Andersen AFB leadership to get a better understanding of what led to this incident, and I stand ready to support Andersen AFB," she said.
The B-52, which had deployed to Andersen from Minot, N.D, in March, was carrying "inert" munitions and performing a routine training mission, the Air Force said. Mock munitions are used for training and do not explode.
Environmental specialists at Andersen are assessing whether leaked fluids of flames from the damaged B-52 pose any risks to the base, the Air Force said.
The B-52 crew is from the 69th Expeditionary Bomb Squadron, and its mission in Guam is part of the Defense Department's continuous bomber presence mission in the Pacific, which has included flights to North Korea.
B-52s have been flying out of Andersen for decades, particularly during the Vietnam War.
Since 2004, the air base has had continuous, six-month rotations of six B-52 bombers and 300 airmen.
olson.wyatt@stripes.com Twitter: @WyattWOlson
---
---
---
---