Commander in Fitzgerald collision asserts innocence, attacks Navy's claims
by
Claudia Grisales
May 16, 2018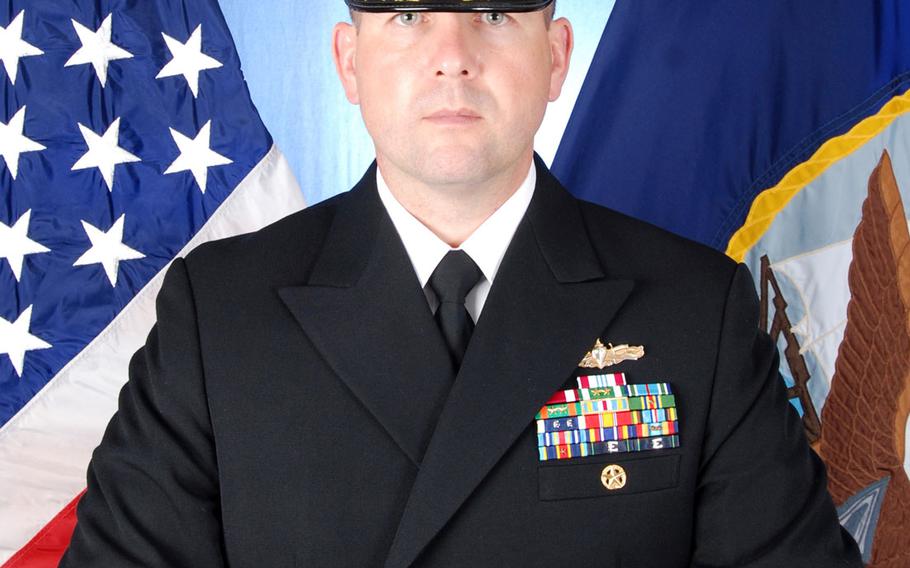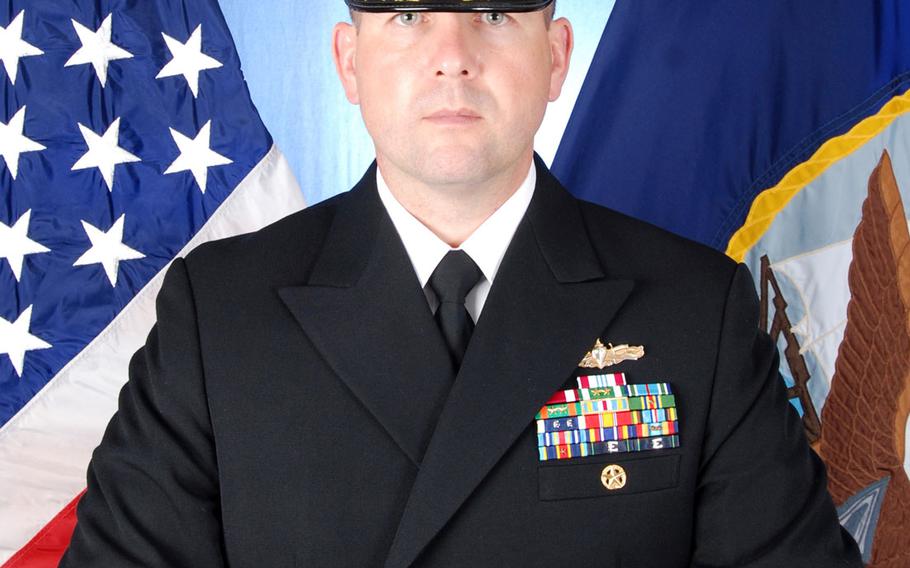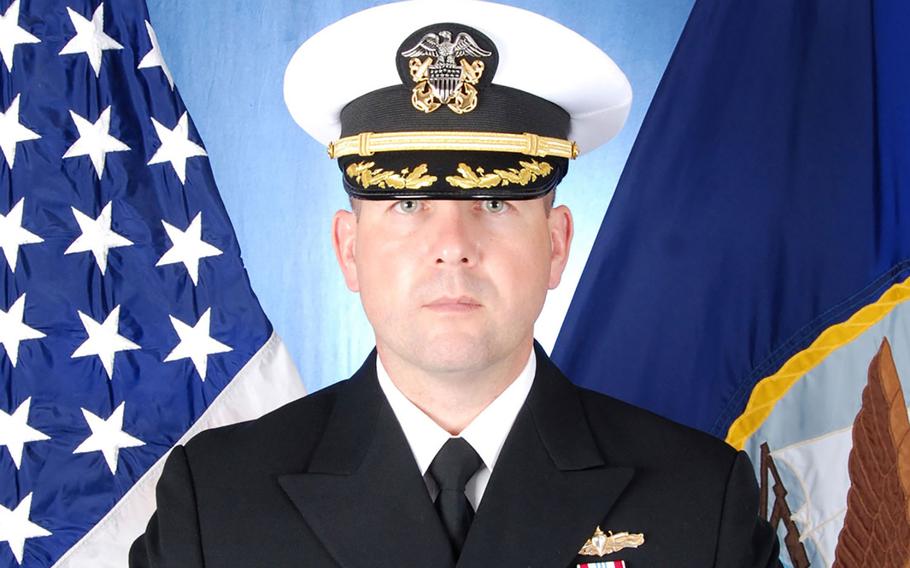 WASHINGTON — Lawyers for the former USS Fitzgerald commander in charge during the ship's deadly collision last year are firing back against a series of Navy statements that they claim could damage his pending court-martial.
Lawyers for Cmdr. Bryce Benson on Tuesday issued a surprising one-page rebuke of statements from senior Navy leaders and other officials since last year. The statement from Lt. Cmdr. Justin Henderson and Cmdr. Ben Robertson detailed Benson's most extensive comments to date about the incident and claimed the Navy's harmful comments assigned guilt before his court-martial.
On Wednesday, Henderson said his client will be asserting his innocence.
"We are not pleading guilty," he said. "There will be no agreement."
Benson, 41, is facing charges of negligent homicide, negligent dereliction of duty and negligent hazarding of a vessel.
Henderson pointed to a recent Navy news release that served as a "dog whistle" to suggest Benson failed to accept responsibility for the crash that left seven sailors dead because he didn't plead guilty, as well as other comments by top Navy officials in congressional hearings and other public forums since August.
For example, a Nov. 1 report said "leadership failed" to adhere to safety protocols in the Fitzgerald incident. The next day, Adm. John Richardson, chief of naval operations, told reporters that there was negligence in the Fitzgerald and McCain crashes, adding "we found that the commanders were at fault."
But a Navy spokesman late Wednesday said the earlier comments don't assign guilt.
"The Navy's public discussion of earlier administrative actions does not imply guilt," Lt. Cmdr. Daniel Day said in a prepared statement. "Those accused are always presumed innocent unless proven guilty, and our communication of the status of criminal proceedings have been fact-based and in accordance with service regulations."
Last week, a news release detailed a guilty plea from the junior lieutenant in charge of navigating the Fitzgerald for dereliction of duty.
"By pleading guilty today, Lt. j.g. Sarah Coppock has accepted responsibility for the role she played in the USS Fitzgerald collision," the May 8 release stated.
Another Navy spokesman on Wednesday rejected the claims of prejudicial bias in the service's news releases.
"The statements we have provided to reporters are on the facts and status of the proceedings alone, and are done so in accordance with Navy regulations for release of information pertaining to the administration of military justice," Cmdr. William Speaks wrote in an email.
Benson's strongly worded claims mark a new turn in the courts-martial following the deadly Navy destroyer collisions last year involving the Fitzgerald and the USS John S. McCain. Ten sailors died aboard the McCain.
Benson, who is still recovering from a traumatic brain injury sustained in the crash, has remained largely silent during the Navy's attacks on him out of respect to the families of the sailors killed in the crash, his lawyers said.
Yet "senior Navy leaders have repeatedly used public forums to assign guilt, foreclose legitimate defenses and cast unwarranted aspersions," said Henderson and Robertson, both of whom have held their Navy posts for more than 10 years.
Henderson and Robertson said Tuesday that while the former Fitzgerald commander grieves for his "seven brave sailors," he had taken every opportunity to spare the families of the sailors killed from reliving the events that led up to the deadly crash.
Subsequently, Benson on Monday waived his right to a preliminary hearing to determine whether he should face criminal charges in the incident, the lawyers said. The Article 32 hearing, which was slated to take place at the Navy Yard in Washington on May 21, was canceled. It's now up to a panel of Navy officials, known as the Consolidated Disposition Authority, to decide whether there's enough evidence to proceed with a court-martial. A decision could be handed down in the coming months.
"Cmdr. Benson's approach to accountability stands in stark contrast to the Navy's method of litigating this case through the media and other out-of-court opinions," Henderson and Robertson said in their joint statement. "Rather than achieving accountability, the Navy's strategy harms the very system of justice that is designed to protect sailors."
Benson commanded the Fitzgerald for only five weeks when the ship crashed June 17 into a civilian merchant vessel about 60 miles southwest of Yokosuka Naval Base, Japan.
Last week, a preliminary hearing for two junior officers charged in the Fitzgerald crash highlighted a series of errors by the ship's crew, readiness challenges and other concerns that contributed to the deadly incident.
The Navy's statements could come into question, said one law professor.
"While there are many reasons to issue public statements about the course of the investigations and prosecutions, the Navy should follow a tight course that does not appear to prejudice the right of the defense," said Lawrence B. Brennan, a law professor at Fordham University School of Law.
Court proceedings at the Navy Yard will start next week for the McCain's deadly crash, which took place just two months after the Fitzgerald collision. The McCain, also a Navy destroyer, collided with an oil tanker near Singapore.
Chief Boatswain's Mate Jeffery D. Butler will face a summary court-martial May 24. Former McCain commanding officer, Cmdr. Alfredo J. Sanchez, is scheduled for arraignment at a special court-martial May 25.
Navy investigations found both collisions were avoidable and caused by failures in planning, training, procedures and operations. Part of that, the Navy found, was caused by the intense operational pace the fleet has been maintaining in recent years.
Stars and Stripes reporter Dianna Cahn contributed to this report.
grisales.claudia@stripes.com Twitter: @cgrisales