Commander: Changes to Navy culture after collisions lead to higher re-enlistment rates in Japan
by
James Bolinger
April 16, 2019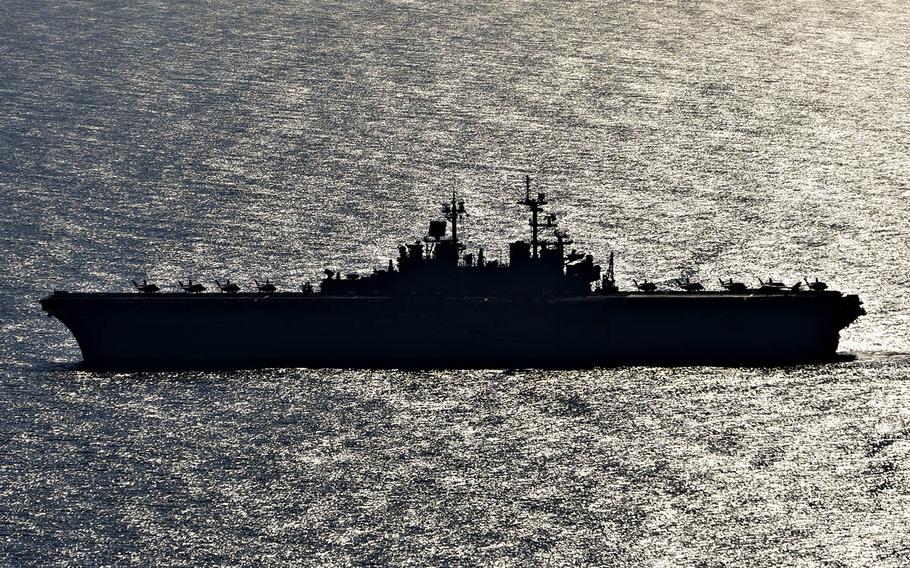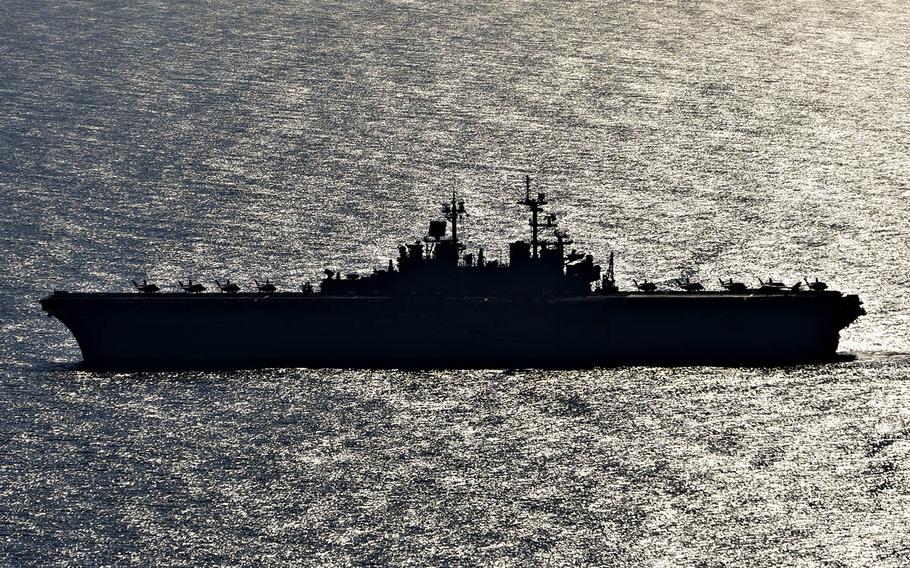 SASEBO NAVAL BASE, Japan — Changes instituted by the Navy after two fatal collisions involving U.S. warships in 2017 are paying off with more realistic training, higher re-enlistment rates and a culture centered around combat readiness, the commander of Task Force 76 said recently.
The re-enlistment, or retention, rate for first-term sailors aboard Sasebo-based ships reached 80 percent this year along with an overall enlisted promotion rate at or above the Navy average, Rear Adm. Brad Cooper told Stars and Stripes in March.
"Every ship in the strike group won the retention excellence award, which sets minimum thresholds for retention across the Navy," he said. "In our case, every ship exceeded those requirements, which is always an indication of morale. It really reflects a positive command climate across the waterfront, across the force and even exceeds what we accomplished last year, which was 72 percent."
Cooper said the retention rate and other improvements are also adding to a culture among sailors at Sasebo that values readiness and lethality, goals laid out by former Defense Secretary Jim Mattis in January 2018.
Cooper said the re-enlistment rate is one tangible sign that the recommendations made by the Navy following the collisions are improving the lives of sailors under his command.
"There are a large number of measures that have been implemented as a result of the conclusions and recommendations after the collisions," he said. "And, we are indisputably a better force because of those recommendations."
Two separate investigations commissioned by the Navy offered up 103 recommendations to improve deficiencies that contributed to those tragedies, according to a memo to Congress in February from the vice chief of naval operations, Adm. Bill Moran. His memo said all but 12 of the 103 were implemented.
Those measures include increased manning on overseas ships, completion of required maintenance for aging vessels, and dedicated, uninterrupted training periods. The recommendations addressed years of underfunded operations, an increased pace of operations and an erosion of safety standards.
The Navy found those factors played a part in the fatal collisions involving ships of the Japan-based 7th Fleet in summer 2017. The USS Fitzgerald collided with a Philippine container ship off Japan that June, killing seven sailors. Two months later, the USS John S. McCain ran into a Liberian merchant vessel near Singapore, resulting in 10 sailor deaths. Both destroyers sustained millions of dollars in damages.
Manning and maintenance The service has faced criticism from frustrated lawmakers who have challenged its leaders' claims that changes have truly been implemented.
"I want real numbers. I don't want general 'We're working on staffing' or 'We're working on more training,' because these were avoidable tragedies," Sen. Angus King, a member of the Senate Armed Services Committee, told Adm. Philip Davidson, the top military commander in the Pacific, during a Feb. 12 hearing on Capitol Hill. "I would like to see specific responses from the Navy. Not promises and not good feelings."
In a recent report by ProPublica, a nonprofit organization for investigative journalism, Moran said none of the promised reforms had been completed, but that work had started on 91 pledges to "among other things, provide additional manning to Japan-based ships and stop ships from sailing without complete certifications regarding their navigation and war-fighting abilities — both issues in the two 2017 deadly collisions."
In the wake of the collisions, the Sasebo-based USS Wasp strike group spent much of 2018 focused on safety and compliance with regulations, Cooper said, adding that the amphibious assault ship's captains and leadership teams are setting the pace for the Navy in operations, training and safety.
"It's a cultural mindset, and it's not enough for just the [commanding officers] to have it," he said. "It has to be pushed from [commanding officers] down to the deck plates."
Prior to the collisions, sailors and ships were sustaining a fast pace of operations but had fallen behind on required maintenance and mandatory training, according to Moran's memo to Congress.
Cooper, referring to the memo, said all the ships of his strike group are 100% manned, and that mandatory maintenance periods for the ships had been completed.
Maintenance for the Sasebo fleet focused on its four aging Avenger class mine countermeasures ships, which were commissioned in 1987. The average mine countermeasures ship, designed to last 15-20 years, has been in service 27 years.
"If you go back to 2018, many of the ships in our strike group were in long-term maintenance, in many cases extended beyond their planned rotation," Cooper said. "Project ahead to today and you can tell by the empty piers, we are just far more ready."
As of March 22, eight of the nine Sasebo-based vessels were underway, and the ninth, the USS Patriot, a mine countermeasures ship, had recently returned to port.
Readiness and lethality Training is the final leg of the triad designed to prevent future mishaps, but training without a focus on readiness doesn't enable change, Cooper said.
"We are not delivering readiness for readiness sake. It's about producing readiness to turn it into a more lethal force," he said. "Our leadership has challenged us to focus on increasing readiness and increasing lethality. Amphibious Force 7th Fleet is really delivering on both."
The focus on lethality as a measuring stick for military readiness is a hold-over from Mattis' tenure. The January 2018 National Defense Strategy, issued under his watch, set goals for improved readiness and increased lethality as a military force. Mattis resigned from the post in December.
"Everything we do must contribute to the lethality of our military. We cannot expect success fighting tomorrow's conflicts with yesterday's weapons or equipment," Mattis said in January 2018. The National Defense Strategy directed military leaders to rebuild military readiness, strengthen alliances and attract new partners, and reform the department's business practices.
A portion of the force is conducting basic training during dedicated periods of time, where crews go to sea, complete training objectives and gain proficiency and confidence, Cooper said. Sailors are also spending additional time in simulators to improve their ability to drive ships.
The rest of the force is deployed to real-world missions where sailors know they are making a difference, and that builds culture and community, he said.
For example, in the past few months, each of Sasebo's large ships — the USS Wasp, USS Green Bay and USS Ashland — have conducted sanctions enforcement operations against North Korea in the East China Sea.
The entire Wasp amphibious readiness group recently embarked the 31st Marine Expeditionary Unit for exercises in the Philippine Sea, Cooper said. The Marine Corps embarked fifth-generation F-35B Lighting II stealth fighters and dropped more bombs in live-fire events at training ranges than they did in all of 2018.
Additionally, in mid-March, the Green Bay and the Ashland, accompanied by three destroyers and a cruiser, completed advanced tactical training and live-fire Tomahawk missile exercises in the Philippine Sea, he said. The Wasp also just completed Exercise Balikatan with embarked Marine Corps F-35Bs near the Philippines.
"We are always at our best when we are performing what our country and the Navy expect us to do," Cooper said. "Whether operating in the East China Sea enforcing sanctions, helping Americans recover from natural disasters, or honing your skills and improving your lethality at sea — people joined the Navy to make a difference and I think they are able to do that in the strike group."
bolinger.james@stripes.com Twitter: @bolingerj2004