Combat-capable Coast Guard cutter to homeport in Honolulu
---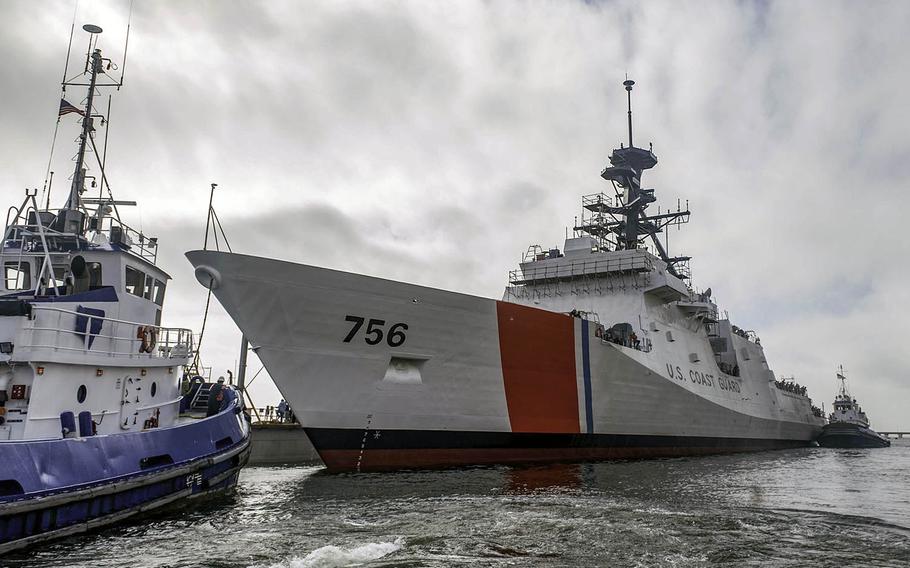 FORT SHAFTER, Hawaii — The first of the Coast Guard's combat-capable, Legend-class ships to be homeported in Hawaii, the U.S. Coast Guard cutter Kimball, was expected Saturday in Honolulu.
Arriving from Pascagoula, Miss., where it was built, the Kimball is the seventh of the Coast Guard's new breed of national security cutters to enter the fleet since 2008, the Coast Guard said in a statement.
"Kimball will routinely conduct operations from South America to the Bering Sea," the statement said.
A second Legend-class ship is expected to homeport in Hawaii next year, the statement said.
They are "designed to be the flagships of the Coast Guard's fleet, capable of executing the most challenging national security missions, including support to U.S. combatant commanders," the statement said.
The new generation of cutters is the replacement for the 378-foot, high-endurance Hamilton-class cutters that have been in the Coast Guard fleet for more than 50 years.
National security cutters are significantly longer, at 418 feet. They have a top speed of more than 28 knots — about 32 mph — and a range of 13,800 miles. They can hold a crew of up to 160 and stay at sea for three months, if need be.
Legend-class ships are armed with a 57-millimeter gun, which can fire more than 200 rounds a minute and can be used effectively against a high-speed, maneuvering surface target. Other arms include a 20-millimeter gun and four .50-caliber machine guns.
In addition to its combat capability, the beefed-up cutter has familiar Coast Guard missions: interrupting illegal immigration and the flow of illicit drugs, protecting domestic fisheries and search and rescue, the statement said.
The cutter is named for Sumner Kimball, who was the superintendent of the Life-Saving Service, which was a predecessor to the modern-day Coast Guard, the statement said.
Kimball established a training school for young officers that morphed into the U.S. Coast Guard Academy.
olson.wyatt@stripes.com Twitter: @WyattWOlson
---
---
---
---