Combat aviator brings deep Asia ties to new role as Pacific Air Forces commander
by
Wyatt Olson
July 9, 2020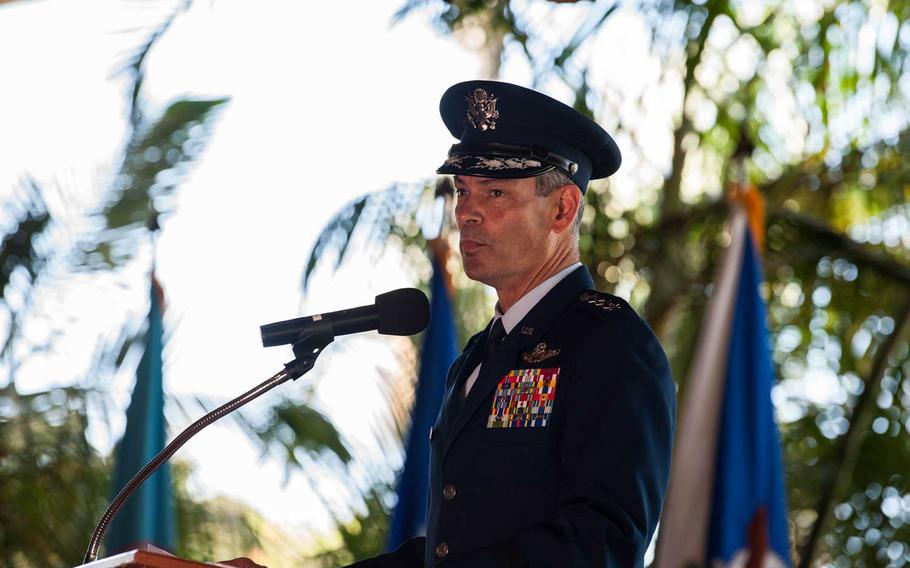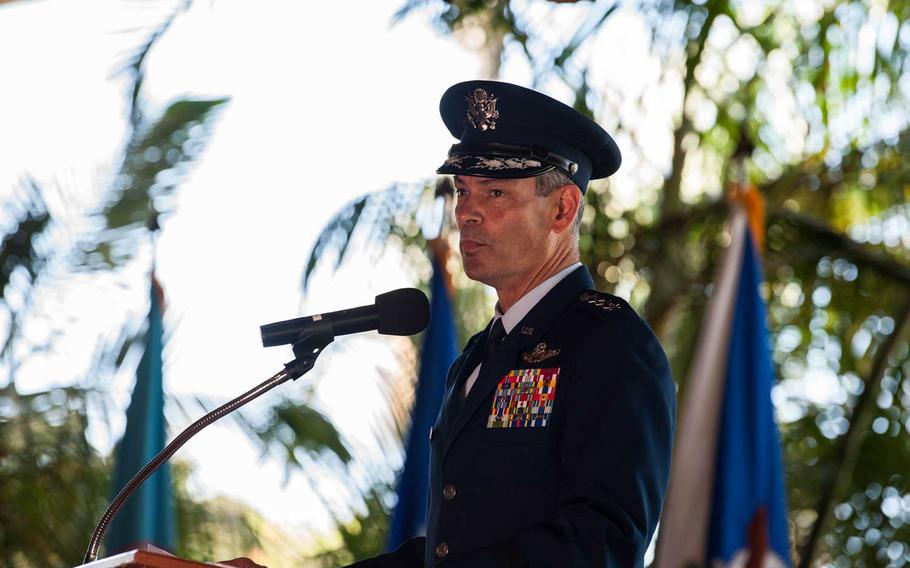 FORT SHAFTER, Hawaii — Gen. Kenneth Wilsbach took command of U.S. Pacific Air Forces on Wednesday during a ceremony at Joint Base Pearl Harbor-Hickam, marking his fourth time stationed in Hawaii.
Wilsbach, who received his fourth star shortly before the ceremony, was most recently commander of 7th Air Force and deputy commander of U.S. Forces Korea. He replaces Gen. Charles Brown Jr., who will next month become the 22nd Air Force chief of staff.
In a career spanning more than three decades, Wilsbach has spent about half that time stationed in the Indo-Pacific theater, he told the audience, which was kept small due social distancing requirements from the coronavirus pandemic.
"Over that time, the theater has certainly matured," he said. "It's changed dramatically. It's become a lot more complex, and it's become, frankly, the strategic epicenter for our nation. I am very proud to lead the airmen in this priority theater."
Gen. David Goldfein, the outgoing Air Force chief of staff, told the audience that Wilsbach was "one of the most seasoned, combat-proven leaders in our long blue line."
"I got to see him up close and personal when we served together in [U.S.] Central Command during some challenging times: calm, cool in a clutch, mature and internationally savvy – the whole package," Goldfein said of the new combatant commander.
The command marks Wilsbach's ninth assignment in the Pacific, having had multiple tours at Kadena Air Base on Okinawa and stints at Joint Base Elmendorf-Richardson in Alaska, Hawaii and South Korea, Goldfein said.
Wilsbach is an experienced aviator, primarily flying F-15C, F-22A, and F-16C fighter jets and the MC-12 twin-engine turboprop. He has logged more than 5,000 hours of flying time.
He flew 71 combat missions in operations Northern Watch and Southern Watch, which enforced no-fly zones in Iraq during Saddam Hussein's regime, and Enduring Freedom in Afghanistan. He has commanded a fighter squadron, an operations group and two wings.
"You are precisely the experienced leader and proven warfighter best suited to take this extraordinary team of professionals to the next set of heights," Adm. Phil Davidson, commander of U.S. Indo-Pacific Command, said during the ceremony.
"His warfighting experience here in the Indo-Pacific is noteworthy," Davidson said. "In fact, he has lived in this region for 10 of the last 12 years."
Davidson praised Brown's accomplishments during his two-year tenure, including the proliferation of fifth-generation fighters, not just under his command but added to the air force fleets of Australia and South Korea.
"His efforts paved the way for multiple airfield construction projects in strategic locations west of the International Date Line, enhancing our design and posture through the dispersal of combat air power in Oceania and in Southeast Asia," Davidson said.
Brown helped Pacific Air Forces usher in the "agile combat employment" concept, which shifts larger operations-level forces into leaner, more agile tactical forces.
"I'm proud that we've been able to move agile combat employment from a PACAF concept closer to an Air Force reality," Brown said.
Earlier this year, the Air Force discontinued its longtime routine of deploying bombers to Andersen Air Force Base on Guam for six-month rotations in favor of a suite of less predictable sorties that take off from locations around the world.
olson.wyatt@stripes.com Twitter: @WyattWOlson