College Board will still give AP tests at same time worldwide despite DODEA pushback
by
Dave Ornauer
April 22, 2020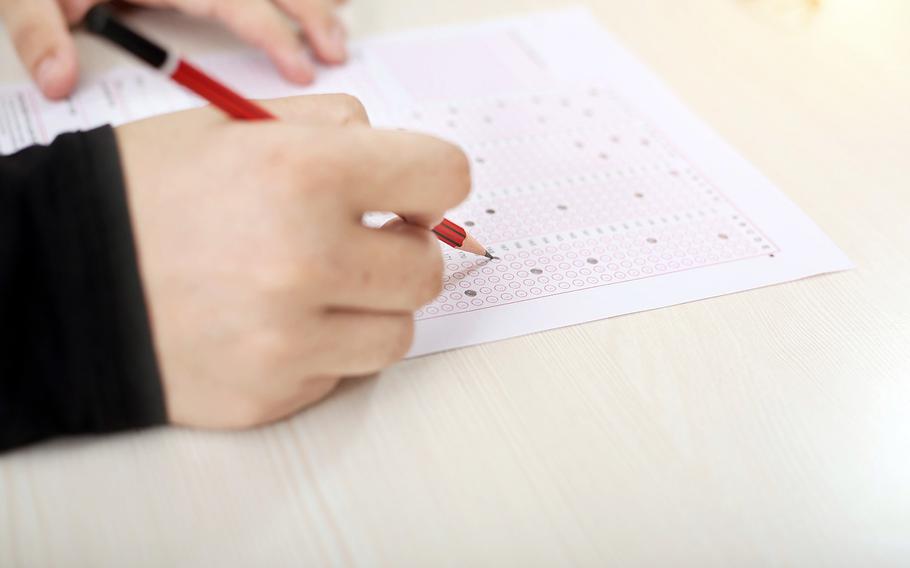 Stars and Stripes is making stories on the coronavirus pandemic available free of charge. See other free reports here. Sign up for our daily coronavirus newsletter here. Please support our journalism with a subscription.
CAMP FOSTER, Okinawa — Despite protests from the Defense Department, the College Board is pressing ahead with plans to give next month's Advanced Placement tests simultaneously worldwide.
The exams are being administered online this year and shortened from three hours to 45 minutes. They are scheduled for May 11-22 with makeup tests June 1-5.
The change was brought on by coronavirus concerns, and the tests are being given at the same time worldwide to ensure test security, College Board senior vice president of advanced placement and instruction Trevor Packer said earlier this month via Twitter.
Tests must be taken at 6, 8 and 10 p.m. by Department of Defense Education Activity students in Europe and 1, 3 and 5 a.m. by those in Japan and Korea and one hour later on Guam.
DODEA director Tom Brady last week "personally engaged senior leadership of the College Board on this issue and shared our concerns," said DODEA-Pacific area director Lois Rapp in a message Monday.
College Board officials were "well-aware and concerned," Rapp said, of how the time difference affects students outside the United States and "inconveniences our students disproportionately."
But the only alternative would have been to cancel exams in certain time zones entirely and that would have been unacceptable, she said.
A new release Monday from DODEA communications chief Frank O'Gara said the impact of nighttime testing "did not go unnoticed" by the College Board. The board has offered alternatives to taking tests at odd hours, according to Rapp's message and one from the College Board.
Students who don't wish to test at night may opt out of the AP tests with no cancellation fee, according to Rapp. They would receive DODEA credit for the course, but no college credit.
Students who test but aren't satisfied with their results can report back to College Board, which would then offer a free voucher to take a College Level Examination Program test later, either at a stateside campus or an overseas education center that offers the exams, according to Rapp.
Those options did not satisfy Cameron Murray, a senior at Kubasaki High School on Okinawa who takes seven AP courses.
"Opting out of the AP exam gets rid of the incentive to take the class in the first place," Murray said. "Even with the CLEP exams as an option, that's still a lot of time lost that we've invested in studying specifically for the AP exams."
Recognizing that some students must test during off-hours, DODEA-Pacific is giving an extra quality point to students enrolled in AP courses, whether they take the AP tests or not, officials said.
"All students who are enrolled in AP classes will get the additional quality point," said DODEA-Pacific spokeswoman Miranda Ferguson.
Most regular high school courses feature a grade-point scale of 1 to 4, but AP course scales are 1 to 5, with 3 or higher considered ac-ceptable for credit at most universities in the United States.
"That means a lot for students. Good news for them," said Mark Lange, who teaches AP literature for Matthew C. Perry High School at Marine Corps Air Station Iwakuni, Japan.
But to get college credit for AP courses, students must still take the AP tests.
DODEA has registered 5,218 students for 9,134 AP tests in 32 DODEA-Europe and Pacific high schools, O'Gara said in a media release Monday.
Numbers for 2020 are not available, but that is a fraction of all students worldwide in 2019, more than 573,000, who registered for more than 1.1 million AP tests, DODEA officials said.
Parents are not required to proctor tests being taken by their student children at home, Ferguson said. Some teachers and students said they were informed via email that was the case.
"College Board has not issued any requirements for parents to proctor students during AP exams, nor is it an expectation from DODEA that parents will proctor these tests," she said.
ornauer.dave@stripes.com Twitter: @DaveOrnauer
---
---
---