Chinese warship nearly collided with USS Cowpens
by
Jon Harper harper.jon@stripes.com
December 13, 2013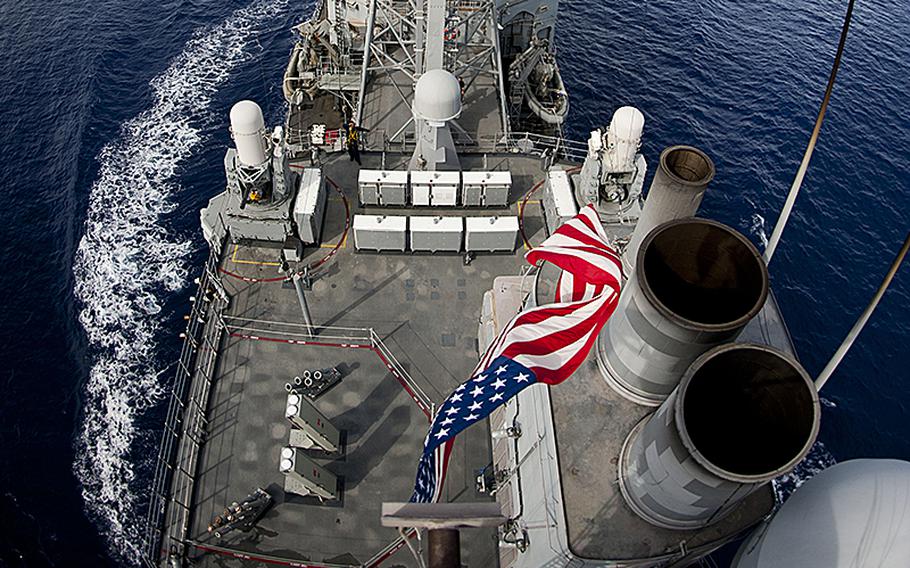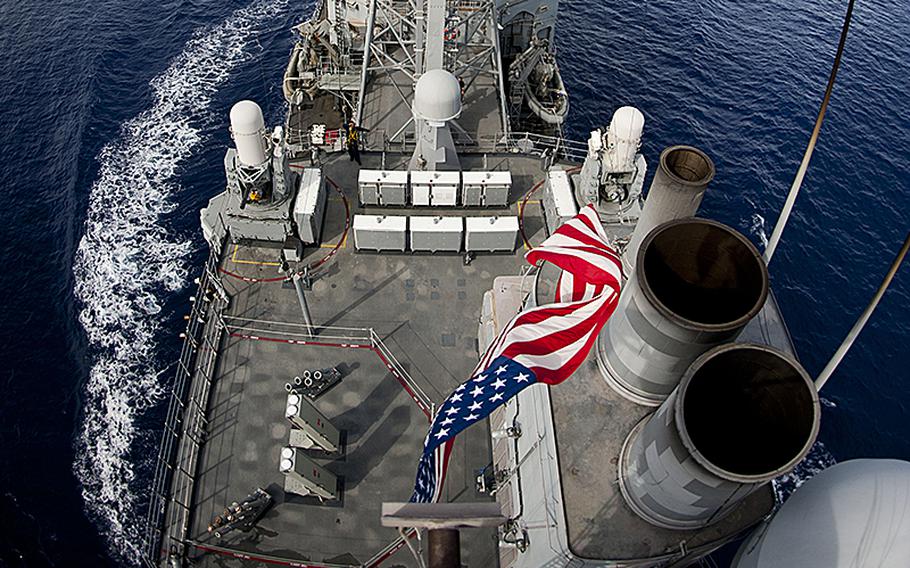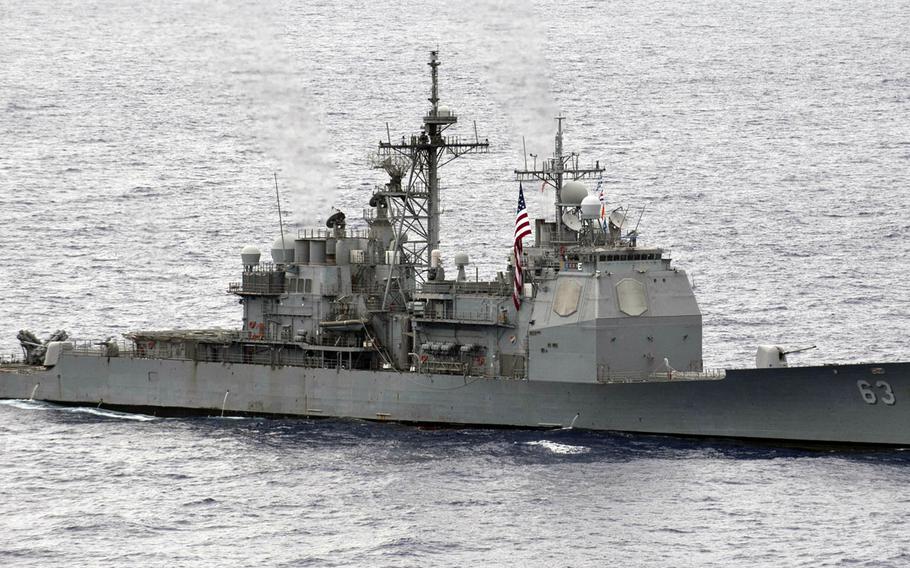 WASHINGTON – On Dec. 5, a Chinese warship nearly collided with a U.S. Navy guided missile cruiser, according to U.S. Pacific Fleet.
"While lawfully operating in international waters in the South China Sea, USS Cowpens (CG 63) and a PLA Navy vessel had an encounter that required maneuvering to avoid a collision. This incident underscores the need to ensure the highest standards of professional seamanship, including communications between vessels, to mitigate the risk of an unintended incident or mishap," the Pacific Fleet said in a statement.
A U.S. military official confirmed the incident and said the PLA ship tried to get the Cowpens to stop in international waters. No shots were fired, according to the official, who asked not to be identified.
Another U.S. military official, also speaking on condition of anonymity, told Stars and Stripes that the incident was ultimately resolved through ship-to-ship communications via radio between the Cowpens and a Chinese aircraft carrier in the vicinity. The official said that at some point there was direct communication between the Cowpens and the Chinese vessel that was harassing it, but the official was unaware of what was said during the exchange.
"The U.S. has raised this issue at a high level with the Chinese government," a State Department spokesperson said in an email to Stars and Stripes.
It is unclear why the Chinese vessel wanted the Cowpens to stop.
"I don't know the intent of the guy driving that PLA ship," one of the officials said. "I just know that he was moving to impede and harass the Cowpens. I mean, from my perspective, having him stop in the middle of the South China Sea is kind of dumb … [The Chinese saying] 'Go away, get out of here' [would make more sense]. But 'stop' doesn't really do anything because all that does is just maintain the status quo."
The encounter with the Cowpens isn't the first time that Chinese ships have acted aggressively against U.S. Navy vessels. In one high-profile incident in March 2009, five Chinese ships harassed the USNS Impeccable in international waters in the South China Sea, forcing the Impeccable to make an emergency maneuver in order to avoid collision. During the confrontation, crewmembers waved Chinese flags and told the Impeccable to leave the area, the Pentagon said at the time.
The Chinese government claims most of the South China as its territorial waters, but the U.S. and most other countries don't recognize it as such. The PLA Navy's attempt to stop or impede the Cowpens may have been a symbolic attempt to assert its sovereignty over the area.
China expanded its territorial claims in November by declaring an Air Defense Identification Zone over part of the East China Sea that other nations consider international airspace. Beijing is insisting that aircraft from other nations identify themselves as they customarily would when entering China's recognized national airspace.
Secretary of Defense Chuck Hagel addressed the ADIZ issue in a news conference Thursday, saying, "China's actions raise regional tensions and increases the risk of miscalculation, confrontation, and accidents. And restraint is critically important on these issues, especially at this time."
harper.jon@stripes.com Twitter: @JHarperStripes