Chinese ships remain just outside waters of Japan-run islands
by
Hana Kusumoto Erik Slavin kusumoto.hana@stripes.com slavin.erik@stripes.com
September 12, 2013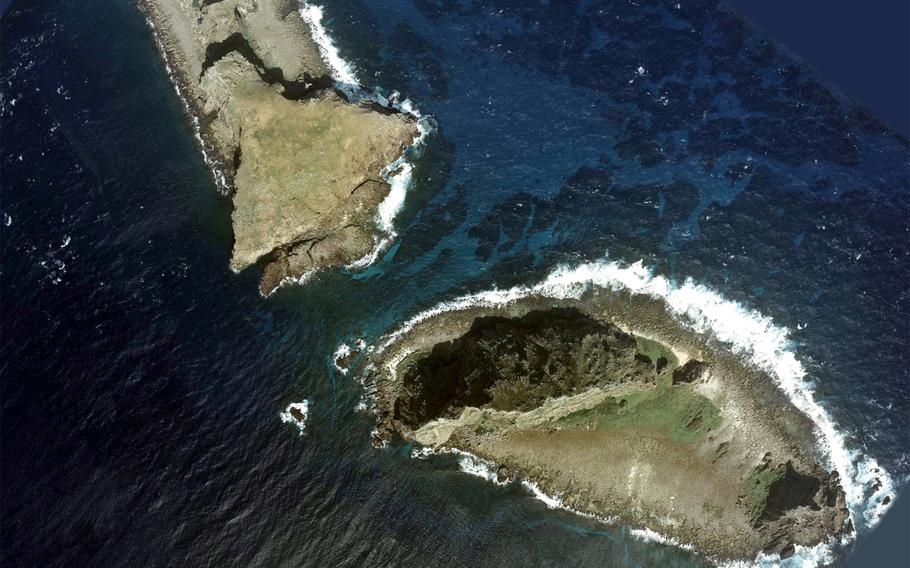 YOKOSUKA NAVAL BASE, Japan — Tensions are once again increasing between China and Japan over the Senkakus, an uninhabited Pacific island chain that the United States has repeatedly said falls under its security alliance with Japan.
Four Chinese patrol vessels remained just outside Japan's territorial waters as of Thursday afternoon, a Japanese coast guard spokesman told Stars and Stripes.
Eight Chinese ships entered and exited waters near the Japan-administered islands on Tuesday, coast guard officials said.
Meanwhile, Japanese diplomats have made an official query with Beijing into an unidentified drone flight Monday near the Senkaku group, located about 100 miles north of Japan's Yonaguni Island and about 125 miles from Taiwan's northeast coast.
Wednesday marked the one-year anniversary of the Japanese government's purchase of the islands from private Japanese citizens.
Beijing, which claims the islands as part of its "inherent territory," does not recognize the purchase's legality.
Japanese Chief Cabinet Secretary Yoshihide Suga reiterated his government's continued position that Senkaku's sovereignty isn't up for discussion.
"We will firmly protect our territory standing by our position that there is no territorial dispute that needs to be resolved," Suga told reporters. "And we will also calmly handle it from a strategic and comprehensive standpoint."
The islands were deeded to Japan, along with Taiwan, following a treaty ending the First Sino-Japanese War in 1895. When Japan relinquished control of Taiwan following WWII, Senkaku and Okinawa remained under U.S. administration. The U.S. returned control of Senkaku and Okinawa to Japan in 1972.
China claims the islands based on historical discovery. Its position on the U.S. transfer of Senkaku is made clear in a header used for Beijing's 2012 white paper on the islands: "Backroom deals between the United States and Japan concerning Diaoyu Dao are illegal and invalid."
Last year, then-Secretary of State Hillary Clinton and Defense Secretary Leon Panetta each said U.S. treaty obligations to Japan included Senkaku, but added the caveat that the United States does not take a position on the future sovereignty of the islands.
Daniel Russel, the State Department's assistant secretary of East Asian and Pacific Affairs, told reporters in Tokyo on Monday that the Obama administration opposes "unilateral efforts to change the status quo through coercion."
"We are, of course, concerned about the risk of an incident and very much want a peaceful and diplomatic approach to the differences over the East China Sea, over the Senkakus," Russel said.
The Senkaku island group totals about 3.5 square miles, according to Chinese estimates. The land is of less value to each nation than two other points: economic potential and national pride.
The area around Senkaku is prized for both its fishing grounds and its potential undersea energy resources, which were identified in a United Nations report in the 1960s.
Meanwhile, Chinese government officials still air periodic grievances over World War II and a perceived lack of contrition by Japan for its wartime actions. China claims hundreds of islands and reefs throughout the East and South China seas, despite competing claims from several other countries.
slavin.erik@stripes.comTwitter:@eslavin_stripeskusumoto.hana@stripes.com