Chinese carrier sails between Okinawa islands for second time in April
by
Aya Ichihashi Matthew M. Burke
April 29, 2020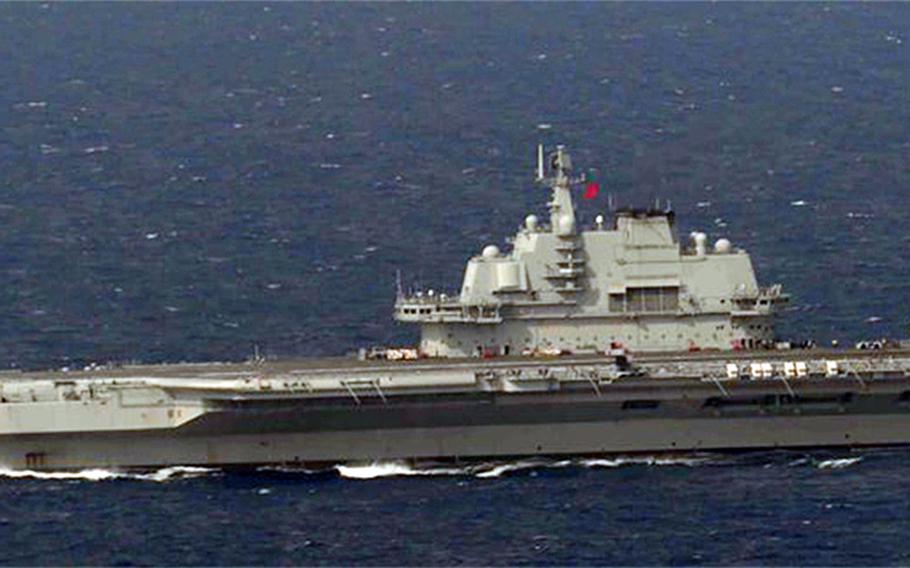 CAMP FOSTER, Okinawa — A Chinese aircraft carrier sailed between two islands of Japan's Okinawa prefecture for the second time this month, according to Japanese defense officials.
The Chinese carrier Liaoning and its five-ship strike group were spotted at around 9 a.m. Tuesday approximately 50 miles southeast of Miyako, a Japan Ministry of Defense Joint Staff statement said Tuesday. The ships sailed north, passing between Okinawa itself and Miyako at about 10 a.m. before traversing the East China Sea later that day.
The Liaoning strike group was spotted by the JS Kongo, a guided-missile destroyer of the Japan Maritime Self-Defense Force, the destroyer JS Umigiri and a P-3C Orion maritime surveillance aircraft, the statement said. The Liaoning was accompanied by two Chinese guided-missile destroyers, two multi-role warships and one supply-class fast combat support ship.
It was the second time the strike group had traveled through the 155-mile-wide strait this month and just the fifth time since the Liaoning was commissioned in 2012.
"This is the first time the Chinese Navy made round-trip passage through the Miyako Strait," a spokesman from the Joint Staff told Stars and Stripes Wednesday. "The coronavirus will not affect our mission. We will keep eyes on them very closely."
The spokesman declined to comment on the Chinese flotilla's exact location, except to say it was in the East China Sea. He also declined to comment on where it appears to be headed.
"They are not intending to come closer at this moment," he said. Some Japanese government spokespersons traditionally speak under the condition of anonymity.
The Liaoning strike group last passed through the Miyako Strait on April 11, the Joint Staff statement said. The strait, though a passageway between two Japanese islands, is an international waterway. The United States and its allies in the region viewed the April 11 transit cautiously due to the flotilla's passing east of Taiwan.
The earlier Liaoning passage occurred after a coronavirus outbreak sidelined the aircraft carrier USS Theodore Roosevelt in Guam, leaving the U.S. without a carrier on patrol in the western Pacific. Meanwhile, the Navy moved to control an outbreak among the crew of the USS Ronald Reagan in port at Yokosuka Naval Base, Japan, for scheduled maintenance.
For the moment, the Liaoning is the only active carrier in the Western Pacific.
In addition to its trips through Miyako Strait, Chinese vessels have sunk a Vietnamese fishing vessel in the South China Sea, deployed maritime militias around the contested Spratly Islands and established new "research stations" on the disputed Fiery Cross and Subi reefs, all in the past six weeks, Secretary of State Mike Pompeo said in a statement last week.
Chinese naval vessels reportedly passed between Taiwan and the Philippines on April 23, according to the Japanese outlet Sankei News. China has maritime territorial disputes with the Philippines as well.
burke.matt@stripes.com Twitter: @MatthewMBurke1
ichihashi.aya@stripes.com Twitter: @AyaIchihashi