China sends two aircraft carriers to sea as US conducts large-scale drills off Guam
by
Seth Robson
September 15, 2020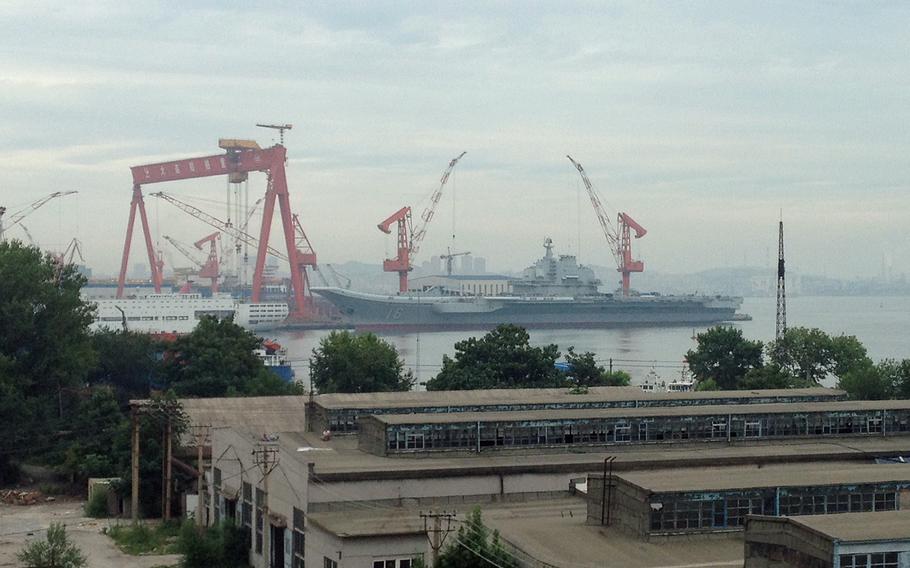 China's navy hit a milestone this month, sending two aircraft carriers to sea at the same time, according to state-controlled media.
The Liaoning, Beijing's first carrier, and the Shandong, commissioned at the end of last year, are both embarked on separate training missions, the Global Times newspaper reported Sept. 6.
The Liaoning was spotted leaving its base and sailing in the Yellow Sea that weekend, according to the report. The Shandong deployed a week earlier to exercise in the Bohai Sea.
China's carriers will become key forces in handling pressure from the United States in the South China Sea and Taiwan Strait and potentially from India on China's maritime routes, Beijing-based naval expert Li Jie told the newspaper.
China and India have clashed in recent months along the disputed 2,175-mile border that separates the world's most populous nations. The rivals, who fought a 1962 war, have agreed not to attack each other with firearms; however, there have been occasional skirmishes along the border. A June 15 brawl involving clubs stones and fists killed 20 Indian troops.
Beijing considers Taiwan a breakaway province that must be reunited by the mainland.
The U.S. Taiwan Relations Act of 1979, passed to coincide with recognition of Beijing's government, allows arms sales to Taiwan and calls for the U.S. to "maintain the capacity" to resist any force or coercion that would jeopardize Taiwan's security.
Two aircraft carriers could combine with anti-ship ballistic missiles to squeeze Taiwan and prevent U.S. intervention in any conflict there, Li Jie added.
"They can also play a role in protecting crucial maritime transport lanes like the Strait of Malacca," he said.
However, Ian Chong, an associate professor of political science at the National University of Singapore, thinks China's carriers wouldn't be a major factor in a conflict over Taiwan.
The island is well within range of China's land-based air power, evidenced by multiple sorties of Chinese military aircraft flying around Taiwan in recent years, he told Stars and Stripes in an email Tuesday.
"An aircraft carrier makes marginal difference, especially if they carry less fuel and munitions than land-based aircraft as widely reported," he said.
The vessels also wouldn't likely be very helpful in a contingency involving India, Chong said.
"To have the carriers out in the Indian Ocean leaves them quite exposed," he said. "They are unable to put pressure on India when in the Pacific."
The carriers may have some impact in the South and East China Seas since those waters are farther from Chinese air bases, Chong added.
Beijing is engaged in multiple disputes with its neighbors over sea territory that encompasses vast natural resources. It has built up and militarized several small islands in the South China Sea that have become frequent targets of U.S. freedom-of-navigation operations.
"If it is the case that the Chinese wish to make some statement about power projection, this could create some pressure on other claimant states and possibly the U.S.," Chong said.
Deployment of the carriers could spur stronger responses from the U.S. and China's neighbors, he said.
"It comes down to the appetite Beijing has for escalation and what it believes the appetite for escalation of other interested actors are," he said.
Meanwhile, U.S. warships have been engaged in larger scale and more complex training in the region.
Valiant Shield, which kicked off in waters near Guam on Monday and ends Sept. 25, follows last month's Rim of the Pacific exercise off Hawaii, which involved navies from 10 nations with 22 surface ships and one submarine.
The exercise includes the aircraft carrier USS Ronald Reagan and amphibious assault ship USS America, along with other warships and about 100 aircraft and 11,000 personnel from the Navy, Air Force, Army and Marine Corps.
Another exercise off Guam, Pacific Vanguard, began Saturday and involves eight ships from the U.S., Japan, South Korea and Australia, along with more than 1,500 sailors, one unnamed submarine and a patrol aircraft.
robson.seth@stripes.com Twitter: @SethRobson1