Cavalry battalion arrives in Korea for 'plus-up' deployment
by
Ashley Rowland
January 30, 2014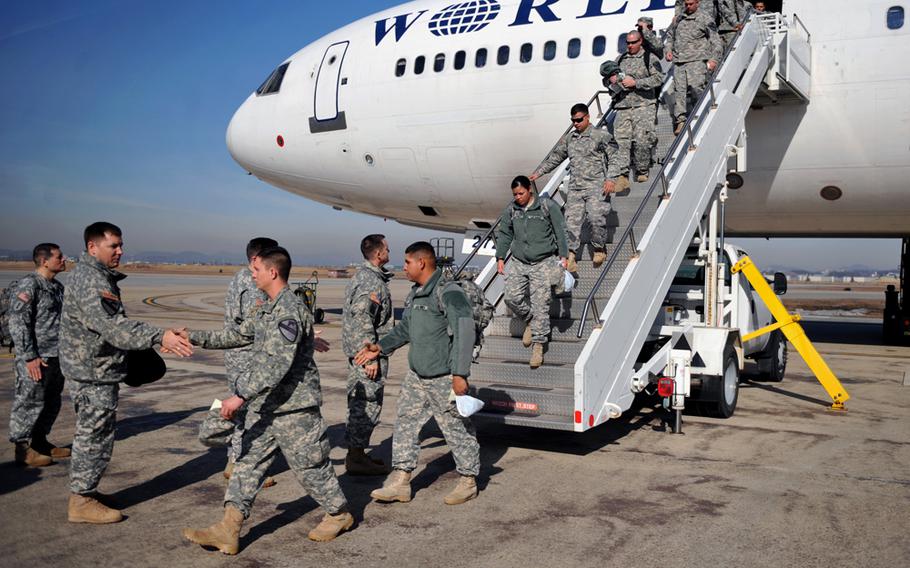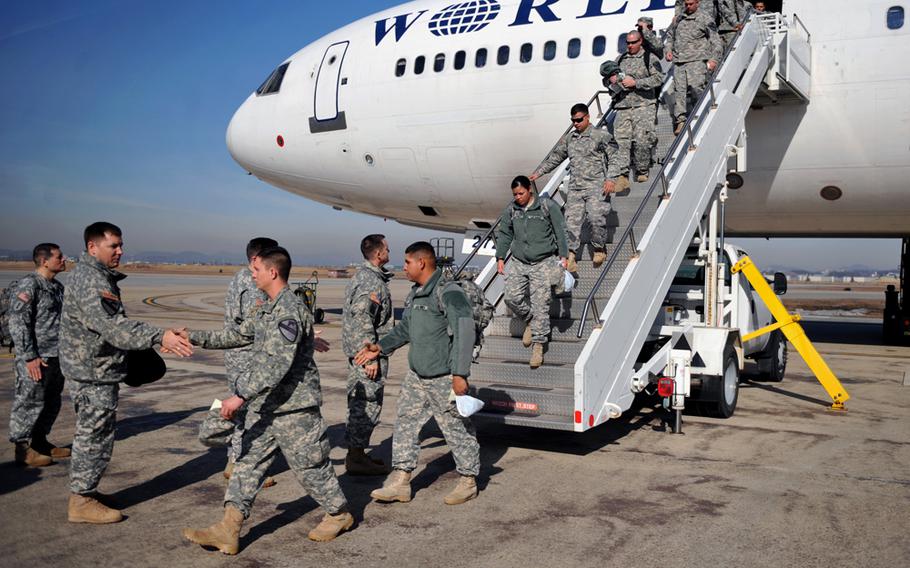 SEOUL — A U.S.-based cavalry battalion, complete with tanks and Bradley fighting vehicles, has arrived in South Korea for a nine-month rotational deployment.
In a nod to the sensitivities on both sides of the Demilitarized Zone to changes in the U.S. force posture, officials are calling the additions only for defense and have been hesitant to discuss how the deployment affects the actual American troop strength in South Korea.
A 2nd Infantry Division statement described the deployment as a "strictly defensive" movement that will increase readiness and strengthen U.S. and South Korean capabilities.
"The addition of a Combined Arms Battalion makes 2ID a more agile and lethal force more capable of deterring aggression and defending the Republic of Korea if called upon," it said.
The battalion, commanded by a lieutenant colonel, includes a Headquarters and Headquarters Company, two companies of mechanized infantry, two companies of armor and a forward support company.
The approximately 800 members of the 1st Battalion, 12th Cavalry Regiment from Fort Hood, Texas, arrived Wednesday at Osan Air Base before traveling to Camps Hovey and Stanley, both north of Seoul.
The unit brings with it about 40 M1A2 Abrams tanks and 40 M2A3 Bradleys, which will remain in Korea for follow-on rotations.
Earlier this month, Pentagon spokesman Col. Steven Warren described the rotational deployment as a long-planned "plus-up" that is part of the U.S. military and diplomatic rebalance to Asia.
"This gives the commanders in Korea an additional capability — two companies of tanks, two companies of Bradleys," he said.
The U.S. military's use of rotational forces in South Korea appears to be increasing.
Last September, it announced plans for a nine-month deployment of the 4th Squadron, 6th Cavalry Regiment from Joint Base Lewis-McChord, Wash., to Camp Humphreys. The air reconnaissance squadron includes about 380 soldiers and 30 OH-58D Kiowa Warrior helicopters.
Adm. Samuel Locklear, head of the U.S. Pacific Command, told a Washington news conference last week that the decision to send a rotational armored unit was prompted by concerns over how to best maintain capabilities on the peninsula, not by changes in the tactical or strategic environment.
"So it got played out like it was a big strategic move, but in reality, it was just part of the pre-planned decision we had made in the alliance to make sure we had the most capable forces on the peninsula and the way that — reflective of the way we rotate — we're increasingly rotating and using forces in this century," he said.
The U.S. military has maintained a force level of 28,500 in South Korea since 2008, when it halted a long-term drawdown to 25,000 troops at Seoul's request.
However, the arrival of the 1-12 CAV — the first troop movement of 2014, according to 2ID — and the increasing frequency of rotational deployments could point to more boots on the ground.
Because the deployment is considered a temporary duty assignment and not a change of duty station, its personnel are not counted toward U. S. Forces Korea's strength capacity, according to the Eighth Army officials in South Korea.
USFK refused to comment this week on whether the use of rotational forces would affect current or future troop levels, but said that South Korean officials are informed of the strength of units deploying to the country, including rotational units.
In a country where the presence of U.S. troops remains a sensitive topic and officials take pains to portray routine military exercises as non-threatening to the North, South Korean officials have also been reluctant to address the U.S. troop levels.
A Ministry of National Defense spokesman says U.S. troop levels will remain at roughly 28,500 but could fluctuate slightly. Another ministry spokesman said there would be a temporary increase in troop numbers but refused to provide details.
Both said the rotational deployment was unrelated to concerns about the North Korean military threat.
Chris Carroll and Yoo Kyong Chang contributed to this story.
---
---
---
---