SHANGRI-LA DIALOGUE
Carter calls for end to China island-building, wants closer Vietnam ties
---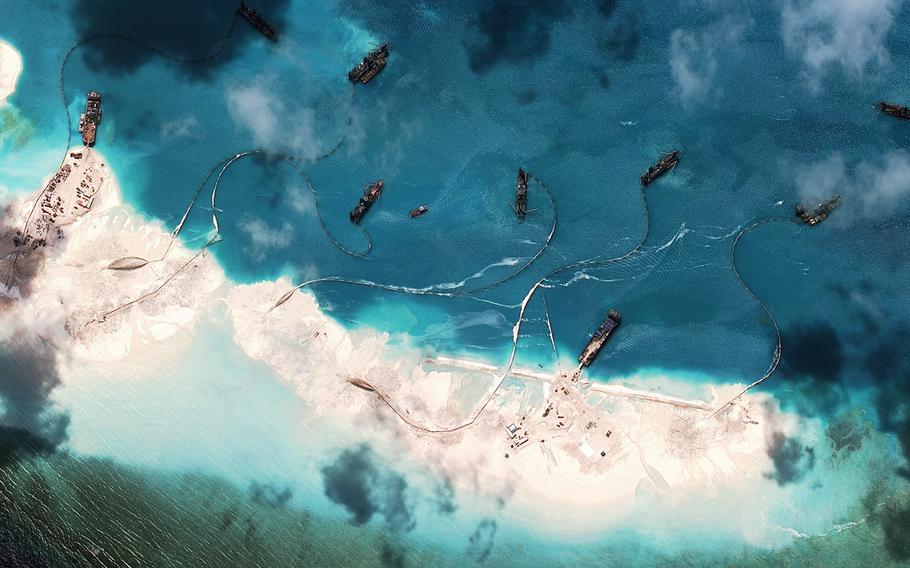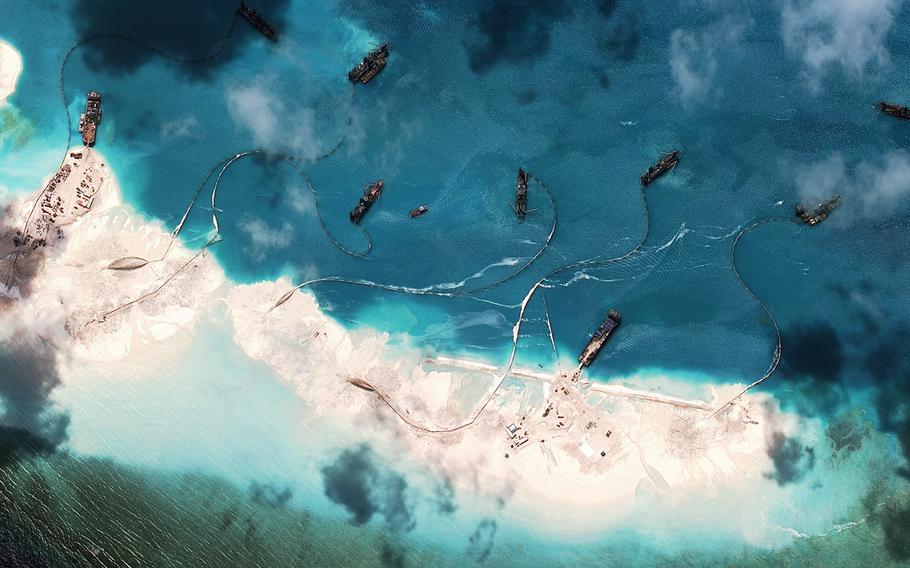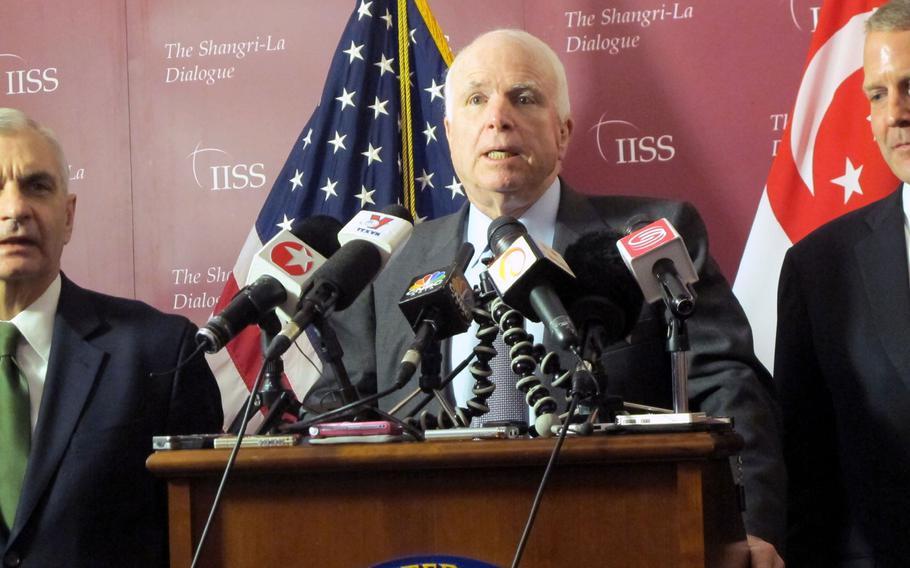 SINGAPORE — The Pentagon will launch a new "maritime security initiative" aimed at protecting rights to navigation and overflight as China continues its rapid construction of reefs in the South China Sea, U.S. Defense Secretary Ash Carter said here Saturday.
Carter also announced to the world's defense officials gathered at the 14th Shangri-La Dialogue security summit that the U.S. and Vietnam would sign a "joint mission statement for greater operational cooperation," a move signifying the two former enemies' growing mutual defense interests.
Each of those announcements are at least partially related to easing military tensions over territory and movement in a region where trillions in global trade transit annually.
Carter called for an immediate halt to land reclamation in the Spratly and Paracel islands, home to dozens of reefs and rocks garrisoned by militaries from China, the Philippines, Malaysia, Vietnam and Taiwan.
However, Carter singled out China's unprecedented artificial island building in the sea. In the past 18 months, China has created 2,000 acres of new land in the ocean and constructed airstrips, hangars and ship berths. Earlier this week, U.S. officials said that artillery vehicles similar to U.S. Howitzers were spotted at Fiery Cross Reef, where a Chinese dispatcher attempted to order a Navy P-8 Poseidon flying overhead to change course May 20.
Artificial islands are not considered national territory under international maritime law, and on Saturday, Carter reaffirmed U.S. rights to patrol them.
"The United States will fly, sail and operate wherever international law allows, as U.S. forces do all over the world," Carter said. "Turning an underwater rock into an airfield simply does not afford the rights of sovereignty."
Congress has added $425 million to a pending defense authorization bill that would help nations in the region conduct military exercises and acquire equipment, Sen. John McCain told reporters following Carter's remarks.
McCain, a former prisoner of war in Vietnam, added that a proposal to ease a Vietnam arms embargo would likely be introduced on the Senate floor next week.
McCain ruled out allowing sales of most light arms, crowd control weapons and anything else that could potentially be used to abuse human rights.
The relaxed arms rules would focus on weapons "that are defensive in nature that could be used in case of a crisis between Vietnam and China," McCain said.
McCain reiterated his opposition to China's participation in the 2016 Rim of the Pacific exercise, an opinion he said was bolstered by China's weapons on Fiery Cross Reef.
The Hawaii-based RIMPAC is a biannual exercise that includes most of the world's strongest navies. McCain said Carter has not yet responded to McCain's request that the Pentagon rescind China's invitation.
He added that the U.S. must continue to operate ships and aircraft within 12 nautical miles of China's occupied reefs, the maximum extent of territorial seas under international law.
"I believe that if we respected a 12-mile zone, that we would be making a mistake of enormous proportions, because that would be de facto recognition of Chinese sovereignty over the reclaimed lands, which are international waters," McCain said.
McCain and Jack Reed, the chairman and ranking member of the Senate Armed Services Committee, are leading a group of five senators attending the security summit.
On Sunday, Adm. Sun Jianguo, the Chinese military's deputy chief of staff, will address the summit's general session. He is expected to make the Chinese case for its ambiguous claim on about 90 percent of the South China Sea.
slavin.erik@stripes.com Twitter: @eslavin_stripes
---
---
---
---