Career submariner arrives in Japan to take helm of troubled 7th Fleet
by
Wyatt Olson
August 25, 2017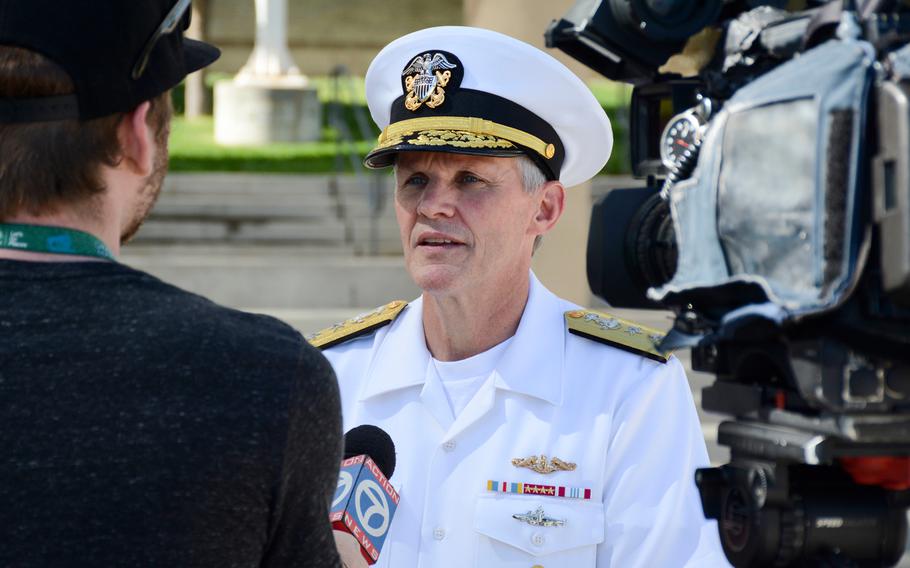 A career submariner arrived Friday in Yokosuka, Japan, to take the reins of the beleaguered 7th Fleet after its previous commander was relieved in the wake of a second major ship collision since June.
Vice Adm. Phillip Sawyer, who most recently served as Pacific Fleet's deputy commander, assumed command Wednesday when Vice Adm. Joseph Aucoin was relieved "due to a loss of confidence in his ability to command," the Navy said.
Sawyer takes over at a time when the entire surface fleet is under scrutiny because of 7th Fleet's problems.
As of Saturday in Singapore, the Navy had recovered the bodies of two of 10 sailors missing since the USS John S. McCain collided with an oil tanker Monday east of the city-state. Seven sailors died aboard the USS Fitzgerald June 17 when the guided-missile destroyer collided with a container ship near Japan. Both incidents are under investigation.
In January, the USS Antietam ran aground and spilled more than 1,000 gallons of hydraulic fluid into Tokyo Bay. In May, the USS Lake Champlain collided with a South Korean fishing boat east coast of the divided peninsula.
The commanding officers of the Antietam and Fitzgerald were relieved from their duties.
Adm. William Moran, vice chief of Naval Operations, on Thursday outlined the requirements of a Navy-wide comprehensive review of the incidents, with the goal of determining common factors among them.
"Recent events indicate these tragic incidents are not limited occurrences but part of a disturbing trend of mishaps involving U.S. warships in the AOR," Moran wrote in a memorandum.
Sawyer has extensive command experience in the Indo-Asia-Pacific region. He headed up Submarine Forces Pacific in Hawaii and led Submarine Group 7/Task Force 54 and 74 in Yokosuka. His afloat commands were the USS La Jolla and Submarine Squadron 15 in Guam.
Sawyer is a Phoenix native and a 1983 graduate of U.S. Naval Academy. He holds a master's degree in engineering management.
olson.wyatt@stripes.com Twitter: @WyattWOlson