Canada becomes latest nation to sail warships through Taiwan Strait
---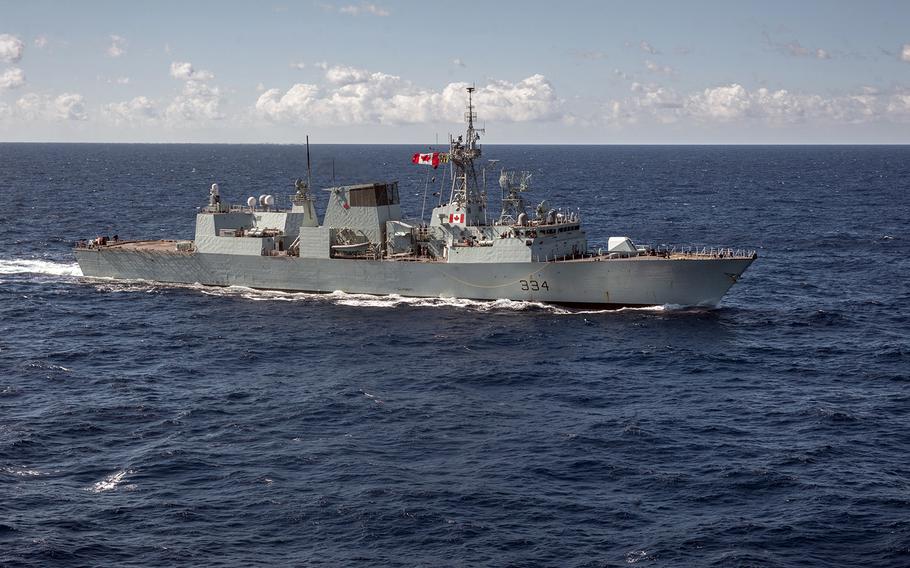 YOKOSUKA NAVAL BASE, Japan — In a rare move Tuesday, the Canadian navy sent two warships through the Taiwan Strait, becoming the latest western country to transit the contentious waterway, according to a Thursday statement by Canada's Department of National Defense.
Canada's HMCS Regina and naval supply ship Asterix made the trip through the strait because it was the "most practical route" between Cam Ranh Bay, Vietnam — where the two vessels made a port call — and Northeast Asia, according to the statement. The 100-mile-wide strait separates Taiwan from mainland China.
"Transit through the Taiwan Strait is not related to making any statement," the agency said.
The U.S. Navy has sailed the strait eight times since July, each time stating the trips are made to demonstrate "the U.S. commitment to a free and open Indo-Pacific."
China, which claims Taiwan as its own, asserts that ships must ask permission to transit the strait, but international law declares it an open waterway.
Canada's transit was also likely meant as a message to Beijing, which regularly protests foreign transits through the strait, according to Stephen Nagy, a senior associate professor of politics and international studies at International Christian University in Tokyo and a distinguished fellow of the Asia Pacific Foundation, Canada.
Nagy said strait transits are "very indirect signals" of disapproval of China's assertion of dominance in the South China Sea. Beijing has been growing its power there, claiming and militarizing 27 islets and land features since 2012, despite international law denying the claims.
"Middle powers [like Canada] are about bolstering international institutions and international law so they can restrain the power of very big countries," Nagy said.
He said Canada's actions represent a "dramatic shift" from three years ago, when the Canadian navy "was really not a presence within the region."
"They view that China is going to present a bigger risk going forward and they have to demonstrate some resolve through ships in the region," Nagy said. "I think sailing through the Taiwanese strait is part of a broader expansion of Canadian naval activities in the Indo-Pacific."
While the U.S. is a regular visitor to the strait, other nations rarely make the trip. Canada made the transit once before in October, according to the National Defense Department statement. France in April sailed its frigate Vendemiaire through the strait, and China in response disinvited France from its international naval parade later that month celebrating the Chinese navy's 70th anniversary, according to an April 25 Reuters report.
Germany is also considering making a Taiwan Strait transit, according to a June 5 Politico report.
Last week, China made its own statement by sailing the carrier Liaoning and five other vessels, including two guided-missile destroyers and two frigates, through the Miyako Strait between the main island of Okinawa and Miyako Island, both part of Japan's Okinawa prefecture. The carrier is heading into the South China Sea, the South China Morning Post reported Thursday.
Nagy said allied countries must make "more coordinated efforts" if they want to send a stronger message to Beijing.
"Regularized coordinated efforts would be a message to Beijing that their behavior is causing these countries to coalesce in some kind of alignment that is meant to constrain Beijing's behavior," Negy said.
The U.S. has made one transit of the strait each month since January but has not conducted one thus far in June.
doornbos.caitlin@stripes.com Twitter: @CaitlinDoornbos
---
---
---
---