Camp Humphreys to reopen gyms, barber shops as coronavirus slows in South Korea
by
Kim Gamel
April 16, 2020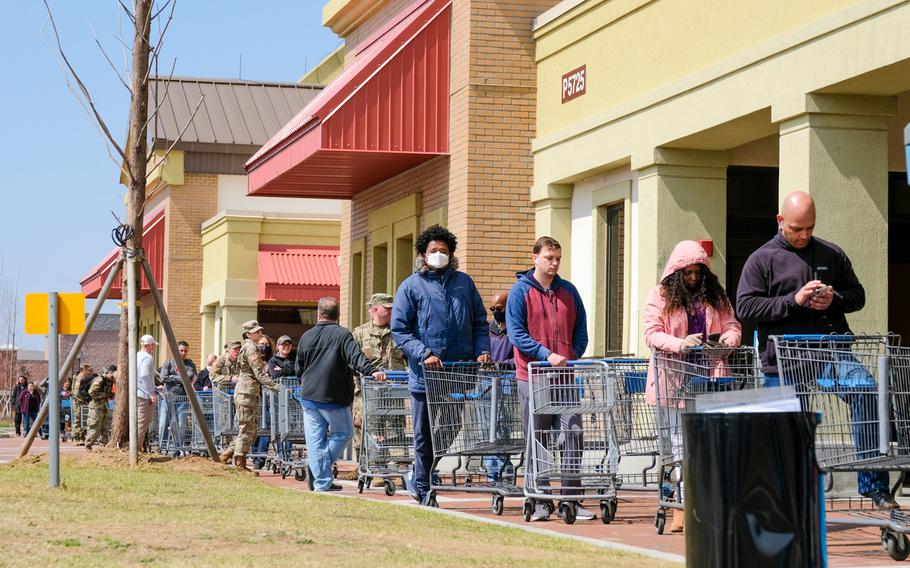 Stars and Stripes is making stories on the coronavirus pandemic available free of charge. See other free reports here. Sign up for our daily coronavirus newsletter here. Please support our journalism with a subscription.
SEOUL, South Korea — As the daily count of coronavirus cases declines in South Korea, Camp Humphreys will take a step toward normalcy this weekend by reopening gyms, barber shops and some other services, the commander said Thursday.
Anticipating crowds, garrison commander Col. Michael Tremblay said military standards for haircuts would be phased back in slowly.
"What we don't want to have is a rush on the barbershop," he said in a community update via Facebook live. "We know you're all shaggy out there and that's fine."
"We're going to do this deliberately. So you're going to get at least a week before there's going to be any type of hair cut inspection," he said.
U.S. service members have been largely holed up in barracks or off-base residences for about three weeks after a soldier and several American contractors at Camp Humphreys tested positive for the respiratory virus.
The largest overseas Army garrison, which is home to the military headquarters on the divided peninsula and a population of more than 37,000, closed several services and restricted on-base movement. The nearby Osan Air Base followed suit after it reported three cases.
In all, 24 people linked to USFK have tested positive for the virus, including two soldiers.
However, the overall pace of infections across South Korea has slowed, with only 22 new infections logged on Wednesday, the eighth day that the daily count was below 50. That was down from several days of 500 or more.
On Thursday, USFK commander Gen. Robert Abrams authorized Camp Humphreys and Osan Air Base to return to Health Protection Condition C from C+, meaning they can lift some restrictions on a limited basis beginning Saturday.
Abrams also planned to address the community in a Facebook live on Friday.
Tremblay stressed that social distancing standards as well as disinfectant and mask requirements will continue to be enforced.
The number of people allowed into the commissary and post exchange also will continue to be limited, often meaning long lines of people standing several feet apart.
"We are on to the next evolution and the establishment of a new normal," he said. "We're not going away from all the hard lessons we've learned as we really beat this thing down."
The gyms and the 18-hole golf course will be open for active-duty service members and their dependents only in the beginning, Tremblay said.
On-post bus service will resume with soldiers as drivers, although taxis will remain halted for the time-being, he said.
The barber shops and hair and nail salons will open, and some restaurants will resume sit-down service, he said.
The food courts will remain takeout-only, but a new service allowing food to be ordered in advance and picked up curbside will be implemented. A similar service has been launched by the PX.
Other openings will include the bowling alley with every other lane closed for social distancing and the theater, as well as several administrative services on Monday.
Restrictions on access and nonessential activities outside all bases nationwide will remain in place.
"We're opening it up a little bit by a little bit, but we're being vigilant," Tremblay said.
The reopening of services suggests the command is increasingly confident about its policies of quarantines and other mitigating measures.
The coronavirus crisis also has coincided with the furlough of some 4,500 South Korean base employees due to an impasse between Washington and Seoul over defense cost-sharing.
South Korea has reported 10,613 cases, with 229 deaths, since the virus first appeared in China in late December.
Health authorities have warned against complacency due to fears of cluster outbreaks and imported cases since the virus has spread to the United States and other countries.
gamel.kim@stripes.com Twitter: @kimgamel