Camp Humphreys commander warns against complacency amid decline in South Korean coronavirus cases
---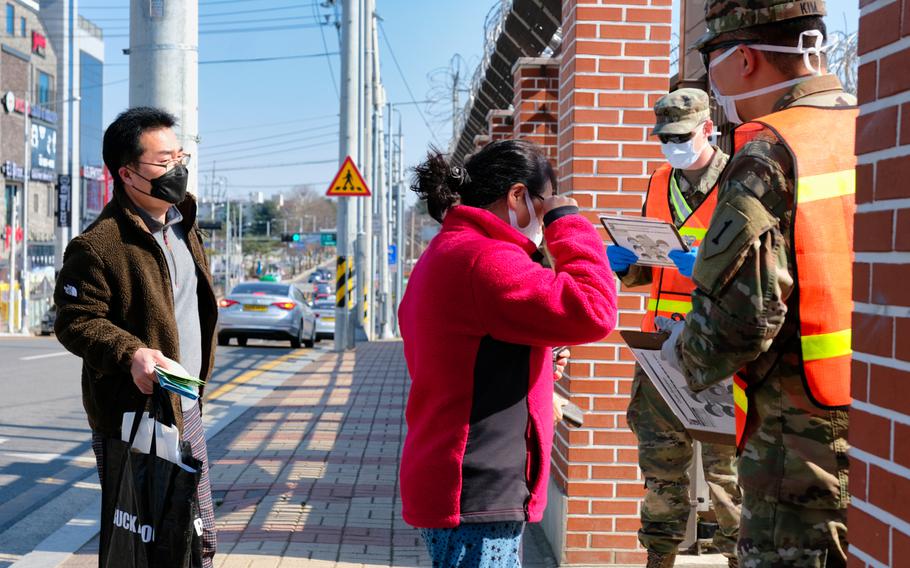 CAMP HUMPHREYS, South Korea — Pedestrian gates on the largest U.S. military base in South Korea will be closed for entry overnight to prevent people from violating a ban on outside social activities, the garrison commander said Tuesday, warning against complacency amid a decline in the daily number of coronavirus cases nationwide.
The Army garrison, which has a population of more than 37,000 and is home to the main military headquarters on the divided peninsula, already has sharply restricted access and ordered service members to avoid unnecessary off-post activities in a bid to prevent the spread of COVID-19.
South Korea logged 84 new cases on Monday for a total of 8,320, with 81 deaths, health authorities said Tuesday. It was the third consecutive day that the number of new cases fell below 100, after reaching a high of 909 on Feb. 29, although health authorities continued to express concern about cluster infections.
U.S. Forces Korea has reported nine cases — a soldier and his wife, three other military dependents and four South Korean employees.
"We are cautiously optimistic as we proceed forward," Humphreys garrison commander Col. Michael Tremblay said Tuesday, expressing concern the military community is getting restless after nearly a month of confinement. "What we are fearful of is complacency setting in, and there's no time for that now."
Tremblay said pedestrian gates would be closed from 10 p.m. to 4 a.m. starting Thursday, with exceptions made for shift workers who get a signed memorandum from their leadership. People can still exit through the gates, although Tremblay stressed that should only be for work.
"We just think if you're not out doing social things and at the bar, at the club or whatever, we're not sure why you're out there and wanting to come back in" during that time period, he said.
Military officials already have suspended access for South Koreans who are members of a so-called "good neighbor program" aimed at fostering goodwill with the local community and restricted local contract worker movement to and from work sites on U.S. installations across the divided peninsula.
Service members also have been deployed to access gates with questionnaires asking about potential exposure to the virus and thermometers for temperature checks in case of fevers.
Tremblay also said physical fitness classes would be limited to a maximum of 20 people to avoid spreading the virus in cramped spaces.
"We don't want anything to get inside of our bubble," he said during a Facebook live community address. "We're really trying to ratchet down because we want to really put a stake through the heart of this thing."
He did have some good news, however. While on-post schools remain closed, officials are "on the verge" of fully reopening child development centers, which had been limited to mission essential personnel and teachers during the crisis.
South Korean officials also have urged people to maintain social distancing and other precautions as the country has suffered one of the largest outbreaks of the pneumonia-like illness outside of China, where it first appeared in late December.
In other figures, 1,401 coronavirus patients have been discharged while 261,105 of 286,716 people tested had negative results as of Monday, according to the Korea Centers for Disease Control.
gamel.kim@stripes.com Twitter: @kimgamel
---
---
---
---