Businesses counter-protest 'juicy bars' demo outside Osan
by
Jon Rabiroff rabiroff.jon@stripes.com
June 17, 2013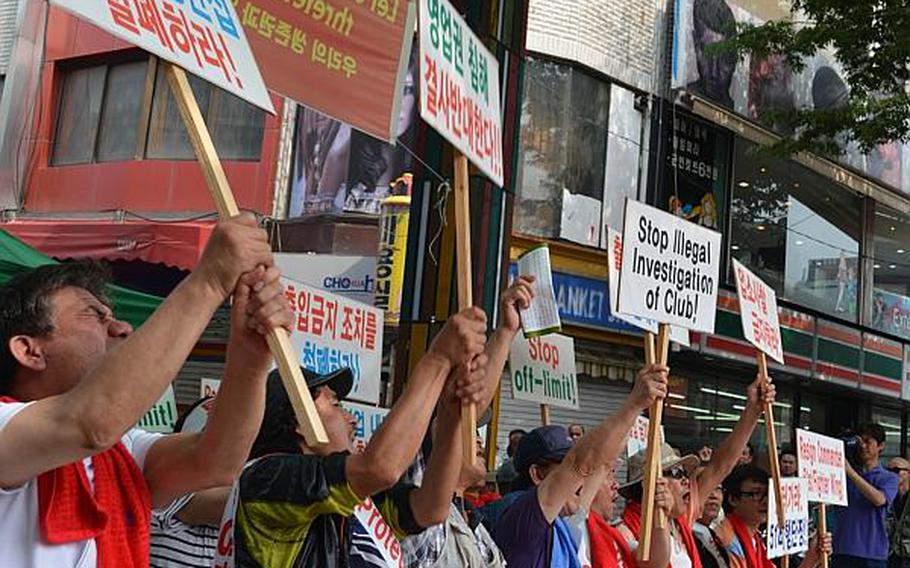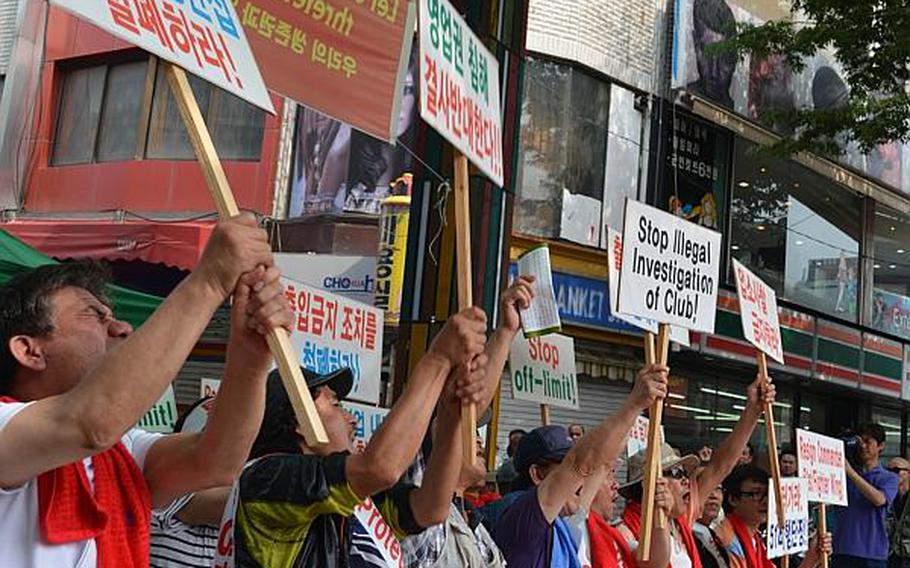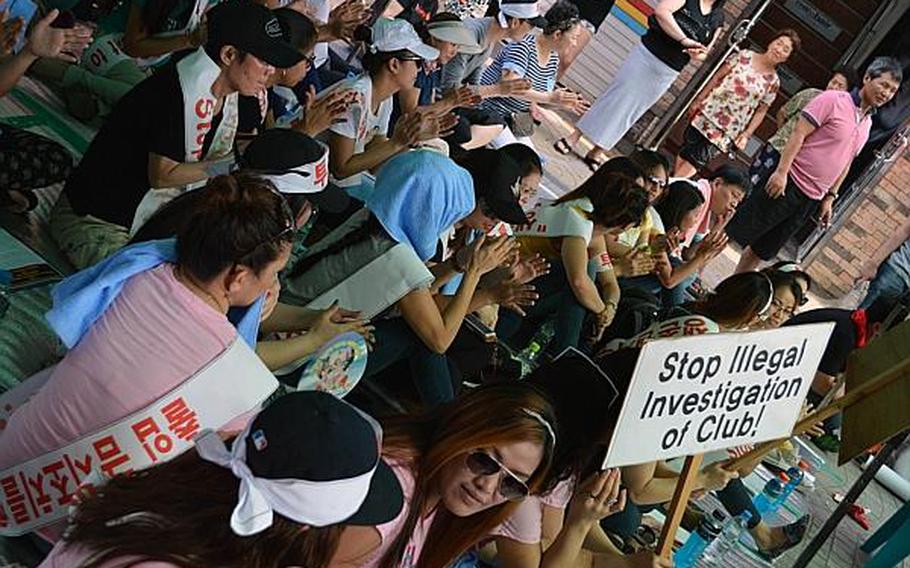 SEOUL — The decision by "juicy bar" owners to stage daily protests over Osan Air Base's decision to add a half-dozen bars to the servicemembers banned list isn't sitting well with other businesses in the adjacent Songtan Entertainment District.
The protests by bar owners, employees and sympathizers have led the 51st Fighter Wing to put the entire district — home to 600 businesses overall —- off-limits from 11 a.m. to 5 a.m. The resulting loss of income has led some of those businesses to plan a counter-protest for Monday evening, Wing officials said.
Kim Tong-min, head of the Songtan branch of the Korea Tourism Association — which represents the owners of base-area juicy bars across the peninsula — said the protests in front of the base will continue, staged at varying hours between 3-10 p.m. for the time being, depending on the base's response. There are now a total of 12 bars outside Osan that are off-limits due to prostitution and human trafficking issues.
The bar owners are upset about what they call heavy-handed tactics by base officials. One association official, who requested anonymity, said juicy bars get tax breaks on condition that they cater only to foreigners, so barring servicemembers from patronizing them is the same as forcing them to shut down.
Base-area juicy bars primarily employ Philippine women who are brought into South Korea to serve as hostesses. Their job is to flirt with servicemembers, trying to get them to buy the women expensive juice drinks in exchange for their continued company and conversation.
While flirting is as far as things go at some of the bars, others are notorious for forcing their "juicy girls" to prostitute themselves when they fall short of drink-sale quotas.
Wing spokesman Capt. Adam Gregory said the protests have led the base leadership to work closely with the Chamber of Commerce, the Korean National Police, local businesses and other Songtan officials.
"This protest is right in front of both our main gate and the [Songtan Entertainment District] so to respect the right of the protesters and for the safety of our servicemembers, the [area] will continue to be off-limits until the end of the protests," he said.
A Korea Tourism Association official estimated there are 800 young women employed as hostesses at the 150 base-area juicy bars across the peninsula. In a bit of irony, the association claims that efforts to prohibit women brought into South Korea on E-6 entertainers visas is a "serious human rights abuse."
Felicitas Bay, labor attaché at the Philippine Embassy, said no matter how anyone tries to spin it, bringing in women that way – whether the women know what they are in for or not – and then asking them to flirt with customers to boost drink sales is a form of human trafficking.
"My contract says I'm a singer," Bay said. "So, if you require me to sit down and to drink 10 tequilas, that's trafficking because you are coercing me that I have to produce 10 drinks or 15 or 20. You are coercing me to sit with a customer … [and] to be touched, because if I sit I will be touched. You are coercing me to go into that VIP room."
Stars and Stripes' Yoo Kyong Chang and Armando Limon contribute to this report.
---
---
---
---