Building unity: Yokosuka sailors talk through recent race-related events on Juneteenth
by
Caitlin Doornbos
June 19, 2020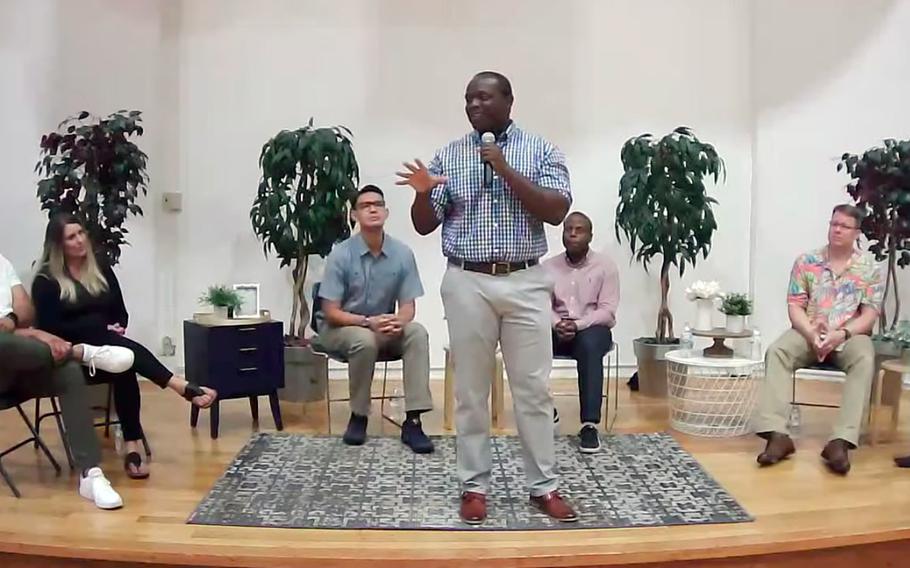 YOKOSUKA NAVAL BASE, Japan — A diverse panel of six sailors and family members gathered at Yokosuka's headquarters Friday to discuss racism in a community presentation that coincided with the Juneteenth holiday celebrating the end of slavery in America.
The panel shared experiences from various vantage points and discussed racism for an hour. Social-distancing requirements kept the audience to 50 people, although about 100 additional people watched via Facebook Live.
Panelist Cmdr. Robert "Mac" McFarlin, commander of the guided-missile destroyer USS Benfold, told the panel he has struggled with a "lack of empathy and a lack of understanding" from some of his white colleagues.
"If I told you I was the victim of sexual assault, even if that has never been something that you have experienced … you could figure out how to empathize," he said. "But when we talk about racism — systemic racism — racism that is as much a part of America as is our uniforms and our flag, people just automatically turn off their brain."
One of the event's organizers, Navy spouse Sarah Murphy, said the panel aimed to be "representative of the broader base community" and an opportunity "to build unity and not drive division."
"We saw a need in the [Yokosuka] community for a timely, constructive conversation related to the race-related events that are being highlighted in the U.S. and wanted to focus on what we can personally do to take actionable steps towards racial reconciliation and awareness — both here in Japan and at home," Murphy told Stars and Stripes in a Facebook message Friday.
Juneteenth marks the day — June 19, 1865 — that the Union Army arrived in Galveston, Texas, and gave African Americans there the news that they were freed by the Emancipation Proclamation more than two years earlier. It is not a federal holiday but is celebrated with gatherings and festivals in Texas and across the country.
The discussion at Yokosuka was one of many discussions about racism in the United States taking place since protests and riots erupted across the country after the May 25 killing of George Floyd in Minneapolis. Floyd, a 46-year-old black man arrested on suspicion of using a counterfeit $20 bill to buy cigarettes at a convenience store, suffocated while a white police officer knelt on his neck for nearly nine minutes.
Panelist Asia White, a black Navy chief assigned to the Naval Information Operations Center in Yokosuka, said during the panel that Floyd's killing brought a harsh reminder about the way black people are treated, especially in the civilian world.
"The military gave me a false sense of comfortability," she said. "I thought, 'in the military, everyone is equal, everyone has the same opportunity to succeed, so the world must be the same.'"
White said that after the video of Floyd's death was released, she had a tearful conversation with her young son about how to act when approached by a police officer because of his skin color.
"I was living in this bubble that I didn't know existed," she said. "Because you're black, not everyone is going to give you the opportunity to be yourself."
"I was fearful I was stealing my child's childhood away," she said of the difficult discussion.
To move forward, White encouraged fellow leaders to embrace diversity and end the well-intentioned but ill-advised attitude of "not seeing color."
"As leaders, we are put in a position to lead these individuals. If you don't see them, you can't relate to them," White said. "By saying, 'I don't see color,' you're stripping that person of their strengths, their skills — everything that belongs to them."
Panelist Lt. Cmdr. Ryan de Vera, a public information officer at Navy Public Affairs Support Element, said during the discussion that he and his wife have been watching documentaries and movies to educate themselves on racism and the black experience, and encouraged the audience to do so, as well.
De Vera said he has experienced racism as an Asian man and believes more conversations like the one Friday should take place to enable positive change and empathy.
"I'll never know what it's like to be a black person; I have my experiences of racism, but they certainly don't compare to the systemic racism," he said. "I'm glad I'm hearing [these stories] because that's what we need more of — being comfortable with discomfort."
doornbos.caitlin@stripes.com Twitter: @CaitlinDoornbos