Bill clears way for Japan to sign treaty to prevent international child abductions
---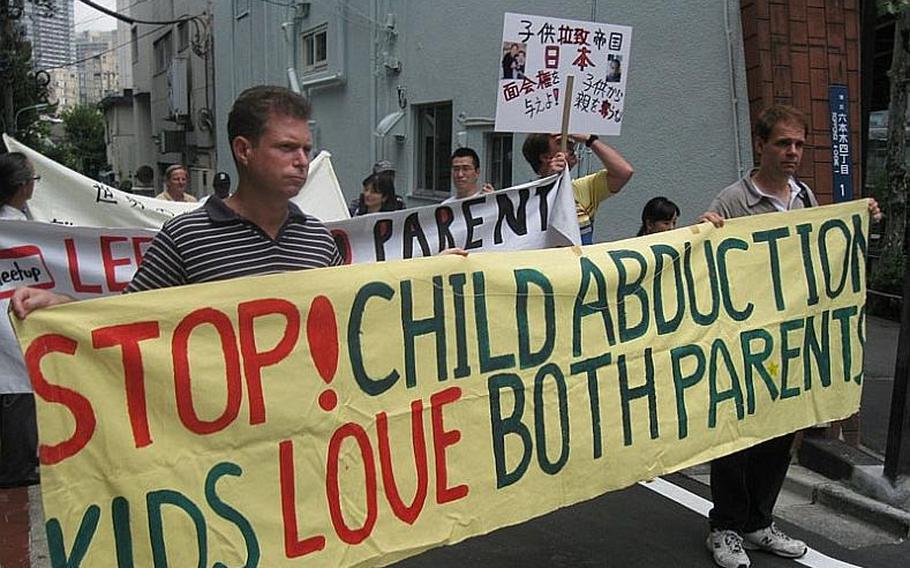 Japan's legislature passed a bill Monday authorizing the government to sign an international treaty to prevent international child abductions, an issue that is close to the heart for some American servicemembers.
The move by the Diet will make Japan the 85th signatory to the 1980 Hague Convention on Aspects of International Child Abduction.
The treaty requires a parent who flees with a child to another country to evade a custody dispute or dodge an existing court order to return the child to his or her home of habitual residence. It establishes reciprocal protocols within the signatory countries.
Pressure has been mounting in recent years among countries, including the United States, for Japan to ratify the treaty. U.S. State Department officials have voiced concerns that the issue could hurt bilateral relations.
As of last year, there were 192 cases — including 81 involving the U.S. — in which foreign governments have urged Japan to return children who were snatched by their parents, according to the Ministry of Foreign Affairs.
The U.S. House of Representatives passed a resolution in 2010, calling for changes in the U.S.-Japan Status of Forces Agreement to assist affected servicemembers.
Japan's longstanding reluctance to sign the treaty stemmed from the country's traditional family values and expectations that most child-rearing responsibilities lie with the mother.
In Japanese divorces, it is taken for granted that parental custody will go to the mother, said Misaki Smith, founder and representative of an Okinawa-based women's advocate group, Women's Pride.
"Now that the treaty is about to be ratified, Japan needs to change the notion, otherwise, people will feel at odds with the treaty," she said.
Masahisa Miyazaki, member of Japan's House of Representatives, welcomed the bill's passage.
"It is long overdue," said Miyazaki, who is also a lawyer and is familiar with cases involving child custody between couples of international marriage on Okinawa.
Women's rights advocates in Japan have voiced concerns that the treaty was not clear enough to protect a parent and child who flee to Japan after becoming victims of domestic violence, but Miyazaki said pending legislation will deal with domestic violence with a priority on protecting children.
Ratification of the treaty is expected to take place by the end of March 2014.
---
---
---
---