B-52 bombers train with Japanese, US fighter jets over East China Sea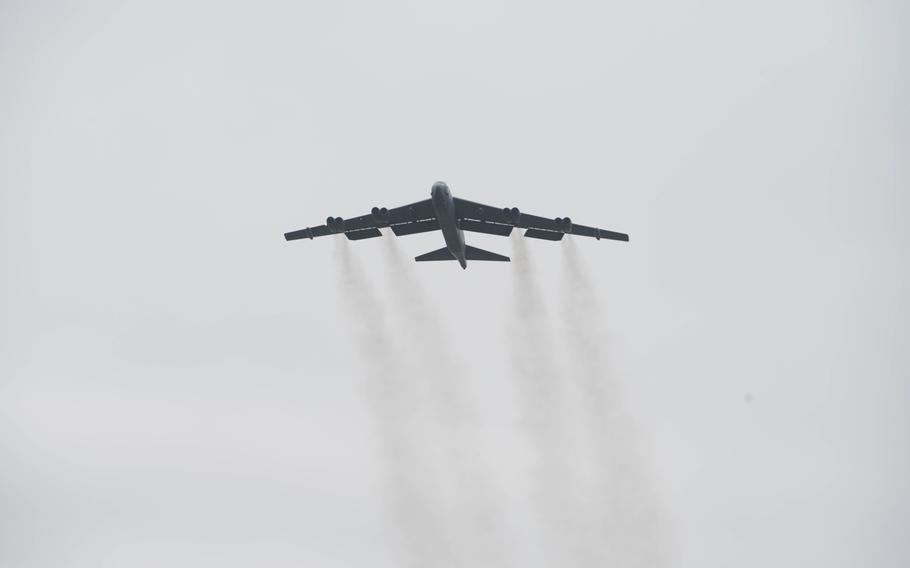 Two B-52 bombers flew over the East China Sea Tuesday during joint training with the Japan Air Self-Defense Force and the U.S. Navy, the Air Force said.
The B-52H Stratofortresses took off from Andersen Air Force Base, Guam, and conducted "integration training" that also included F-15C Eagle fighter jets assigned to the 18th Wing at Kadena Air Base in Okinawa, U.S. Pacific Air Forces said in a statement.
The bombers returned to Guam after the flight, the Air Force said.
The U.S. has been flying bombers out of Guam throughout the region for more than a decade as part of the Air Force's "continuous bomber" presence.
Bomber flights and other training involving the East China and South China seas frequently raise ire in Beijing, which is a claimant over disputed sovereignty of islands in both seas.
Both China and Japan claim ownership of the Senkaku islands -- which China calls the Diaoyu islands -- near Okinawa.
In 2013, China declared an air defense identification zone in the East China Sea. It proclaimed that the designation required all aircraft passing through the zone to identify themselves to Chinese monitors.
The U.S. and Japan both ignored the designation and have continued to fly unannounced over the sea in the six years since then.
"U.S. aircraft regularly operate throughout the region in support of allies, partners and in defense of a free and open Indo-Pacific," the Air Force statement said.
Two B-52s from Guam flew over the South China Sea on March 13. About a week before that, a single Stratofortress bomber flew over the South China Sea while another circled Japan during a joint exercise with the Japan Air Self-Defense Force.
At sea, the U.S. Navy calls passages near disputed islands in both seas "freedom of navigation operations," and in the past year it has frequently sent ships near disputed islands in the South China Sea that China has militarized.
olson.wyatt@stripes.com Twitter: @WyattWOlson