B-52 bombers train with Japanese fighters over Sea of Japan days after deploying to Alaska
by
Caitlin Doornbos
June 18, 2020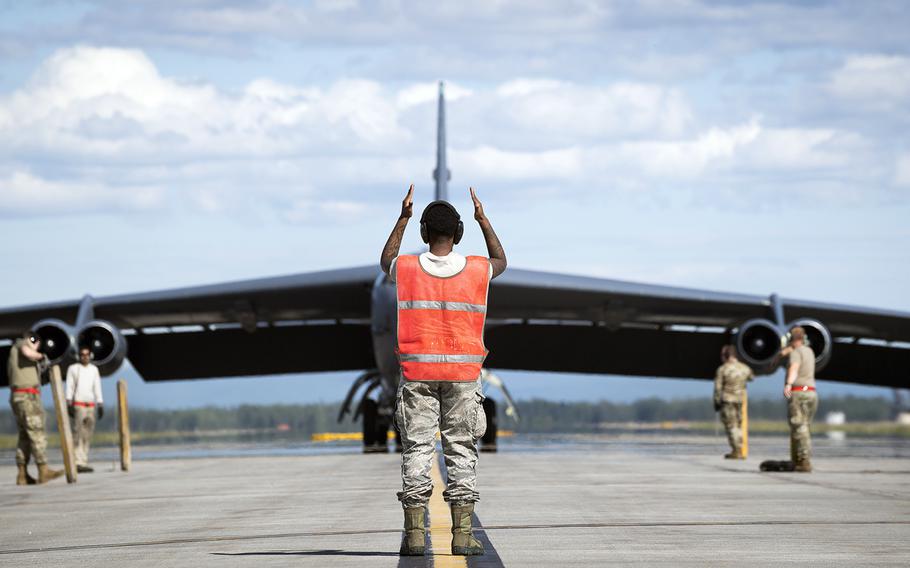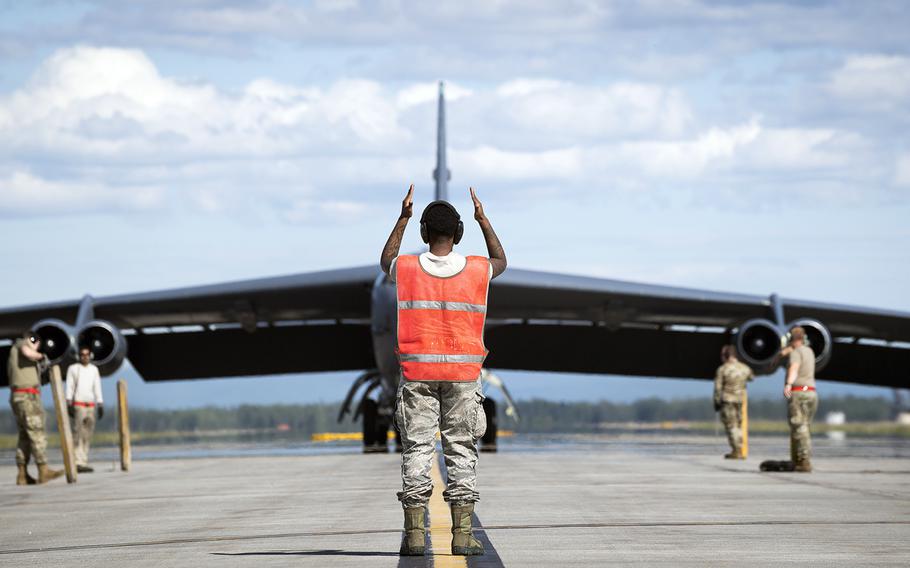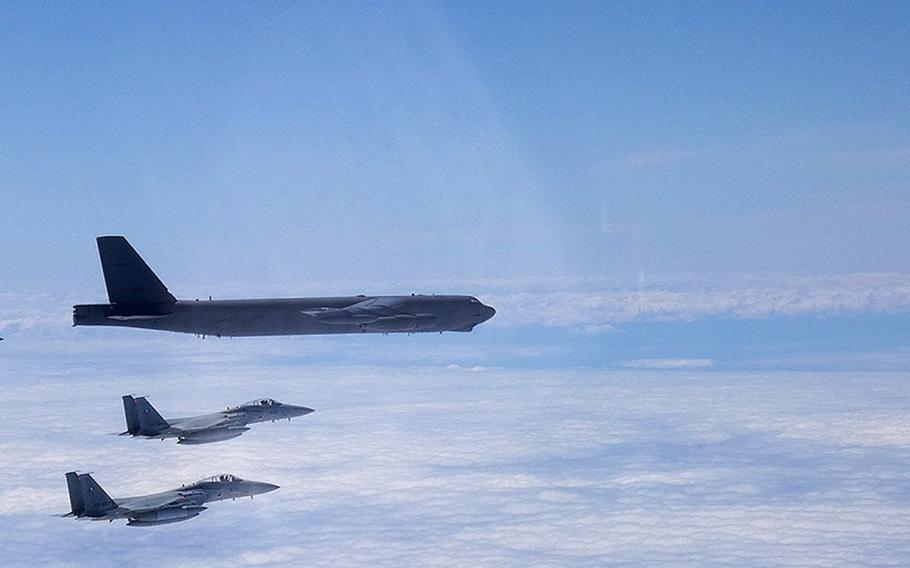 Two Air Force B-52H Stratofortress bombers and several Navy E/A-18G Growlers practiced long-range escort and aircraft interception with the Japan Air Self-Defense Force on Wednesday over the Sea of Japan.
The bombers left Eielson Air Force Base in Alaska for the mission, which involved four F-2 and 12 F-15 JASDF fighter jets "to enhance the readiness and security of the region," according to an Air Force statement Thursday.
"These strategic bomber missions provide our Airmen with the realistic long-duration sorties that they require to remain highly proficient and ready to act when called upon to support the collective defense of the United States," said 96th Bomb Squadron commander Lt. Col. Christopher Duff in the statement.
The bombers are from the 2nd Bomb Wing at Barksdale Air Force Base, La., but are deployed to Eielson, near Fairbanks, as part of the new Air Force approach to making its global bomber presence less predictable.
The new "force employment model" means the Air Force will deploy strategic bombers to the Indo-Pacific region from more locations overseas and in the United States, the statement said.
Global deployments demonstrate the Air Force's capability for long-range strikes "anywhere in the world, and at any time," Duff said in the statement.
The B-52s arrived with one other at Eielson on Sunday, their first presence there in three years, the Air Force announced Monday. The bombers were last deployed to Eielson in July and August 2017 for the Red Flag-Alaska exercise.
The Growlers, from Electronic Attack Squadron 209, are deployed to Misawa Air Base in northern Japan from Naval Air Station Whidbey Island, Wash. The statement did not say how many of the aircraft participated.
Bomber task force missions familiarize aircrews with other combatant commands' areas of responsibility, according to a statement in October by the U.S. Strategic Command.
"Deploying in an expeditionary format challenges our aircrews, maintainers and support personnel in different theaters," Duff said in the statement.
Exercises like these have become common recently in areas that brush up against areas of interest to China and Russia, along with the Air Force publicizing them.
The most recent bomber task force mission prior to Wednesday's took place Sunday over the Beaufort Sea when B-52s teamed up with F-22 Raptors and Royal Canadian Air Force CF-18 Hornets for intercept training to support the North American Aerospace Defense Command, according to the Thursday statement.
In May, a pair of B-1B Lancer bombers trained with 16 Japanese fighter jets over the Sea of Japan. The Texas-based bombers were among four that deployed to Andersen Air Force Base, Guam, from May 1 through early June.
doornbos.caitlin@stripes.com Twitter: @CaitlinDoornbos