B-1 bombers deploy to Guam as Navy carriers continue readiness training in South China Sea
by
Wyatt Olson
July 18, 2020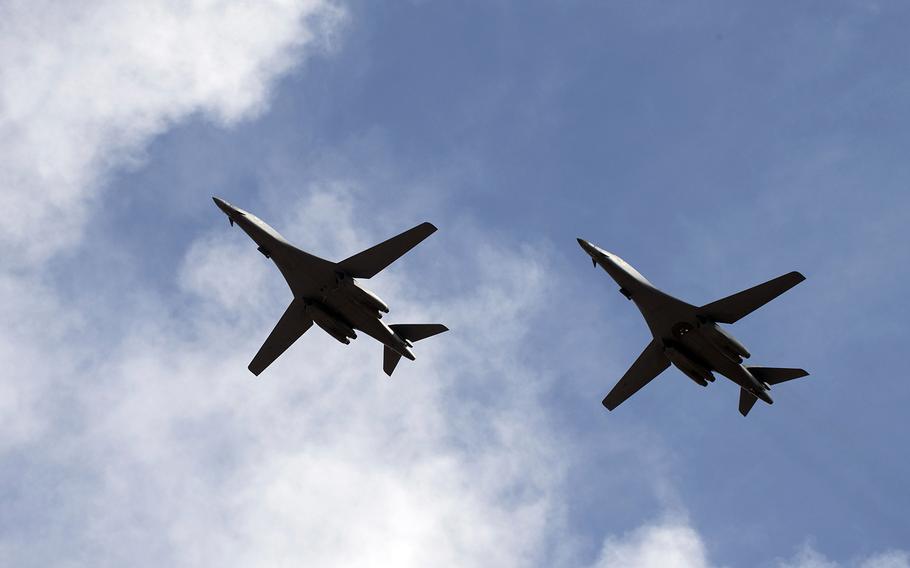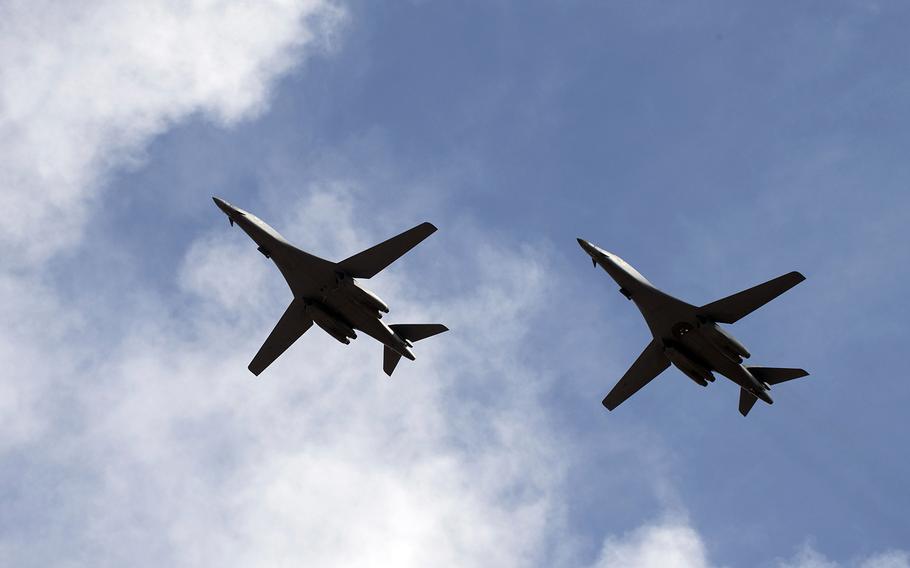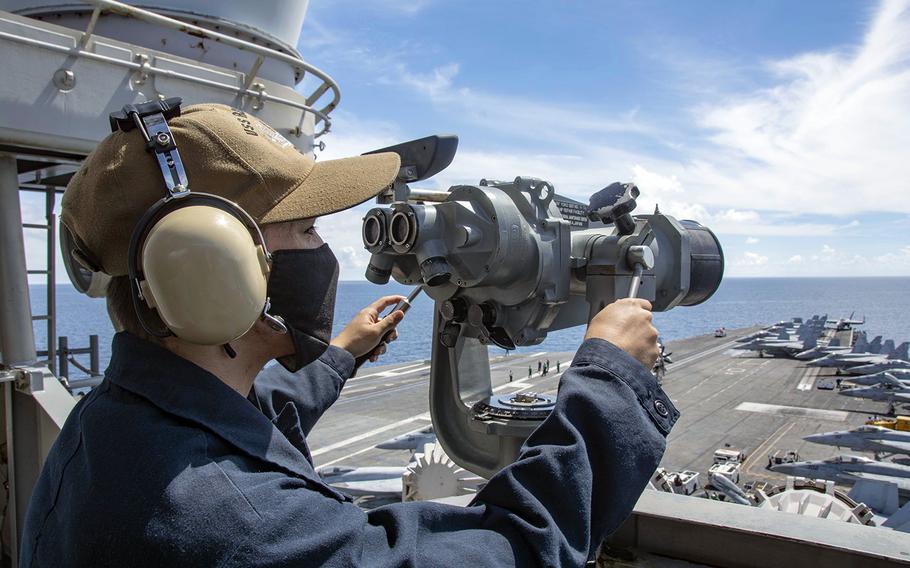 The Air Force on Friday deployed two B-1B bombers to Guam as the Navy continued its dual-aircraft carrier operations in the contested South China Sea.
Both services described the operations as routine, but they follow a U.S. State Department announcement Monday explicitly embracing a 2016 decision by an international tribunal that rejected China's claim of sovereignty over certain reefs and isles in the South China Sea.
The pair of Lancer bombers — from the 37th Expeditionary Bomb Squadron, 28th Wing at Ellsworth Air Force Base, S.D. — will conduct bilateral bomber task force operations out of Andersen Air Force Base, the Air Force said in a statement.
They will train with allies, partner nations and other U.S. services. The deployment also supports "strategic deterrence missions to reinforce the rules-based international order in the region," the Air Force said.
About 170 airmen also deployed from Ellsworth to Guam in support of the bomber mission, according to the statement.
The Air Force did not disclose the intended length of the deployment.
Before arriving on Guam, the bombers conducted intercept training over the Sea of Japan with F-15J fighter jets belonging to the Japanese Air Self-Defense Force, the Air Force said.
B-1s were last deployed to Guam in May when they flew in from Dyess Air Force Base, Texas.
Meanwhile, the more than 12,000 sailors and Marines aboard the vessels of the USS Nimitz and USS Ronald Reagan carrier strike groups continued training Friday in the South China Sea, where they have been operating since early July.
China conducted drills July 1-5 near the sea's Paracel Islands, which both China and Vietnam claim as their own.
The Pentagon issued a statement at the time calling China's actions "counterproductive to efforts at easing tensions and maintaining stability" in the sea.
The current operations by the Nimitz and Reagan strike groups "continue to demonstrate operational commitment to allies and partners in the region, providing combatant commanders with significant operational flexibility if needed in response to regional situations," the Navy said in a statement.
"Nimitz and Reagan Carrier Strike Groups are operating in the South China Sea, wherever international law allows, to reinforce our commitment to a free and open Indo-Pacific, a rules based international order, and to our allies and partners in the region," Rear Adm. Jim Kirk, commander of Nimitz Carrier Strike Group, said in the statement.
The tactical drills focus on the groups' offensive and defensive capabilities, the statement said.
"These carrier strike groups incorporate the capabilities of embarked fixed and rotary wing aircraft, Aegis guided-missile cruisers and destroyers, and attack submarines," the statement said. "This opportunity for two carrier strike groups to train and operate together in the region provides combatant commanders with significant operational flexibility and capabilities that only the U.S. Navy can bring."
olson.wyatt@stripes.com Twitter: @WyattWOlson