Army, Navy reach 'major milestone' with launch of hypersonic vehicle in Hawaii
---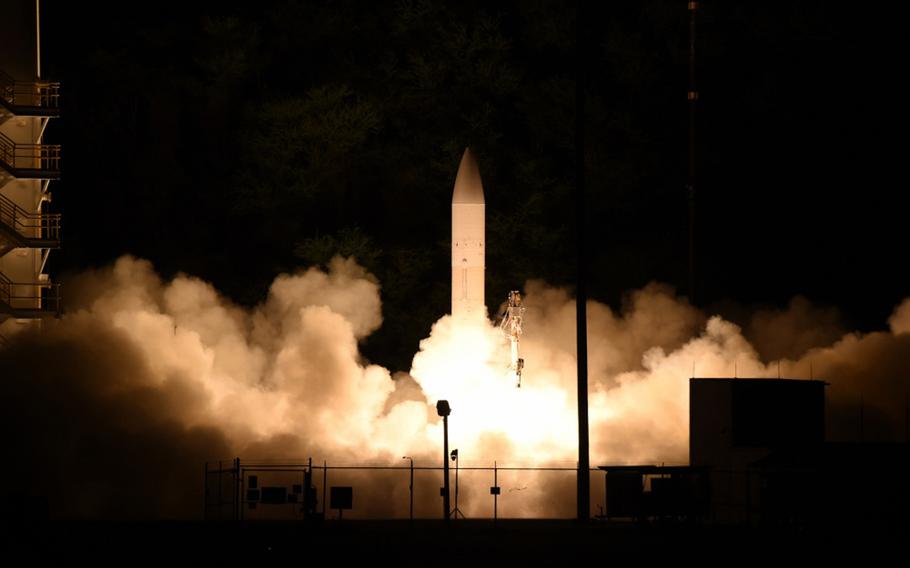 FORT SHAFTER, Hawaii — The U.S. Army and Navy successfully launched a hypersonic glide body Thursday at Hawaii's Pacific Missile Range Facility, taking a major step in the Pentagon's goal of developing weapons that can travel five times the speed of sound or faster.
The glide body, sometimes called a glide vehicle, flew at hypersonic speed to a designated impact point, the Defense Department said Friday in a statement. It did not specify the top speed the glide body reached.
In a fully functioning hypersonic weapon, a conventional rocket booster first launches the glide body, which then accelerates at hypersonic speeds to deliver the warhead aboard it.
"This test was a critical step in rapidly delivering operational hypersonic capabilities to our warfighters in support of the National Defense Strategy," Army Lt. Gen. L. Neil Thurgood, director of Hypersonics, Directed Energy, Space and Rapid Acquisition, said in a Defense Department statement. His office is leading the Army's Long Range Hypersonic Weapon program.
"We successfully executed a mission consistent with how we can apply this capability in the future," he said.
Both China and Russia are developing hypersonic weapons, which unlike conventional ballistic missiles can be maneuvered deftly after launch to avoid detection or destruction.
The Pentagon has requested $3.2 billion for hypersonic-related research for fiscal year 2021, a jump from the previous year's $2.6 billion request.
During the launch, the Missile Defense Agency gathered tracking data from the flight experiment that will be used to develop systems to defend against an adversary's hypersonic weapons.
The Defense Department described Thursday's launch as a "major milestone towards the department's goal of fielding hypersonic warfighting capabilities in the early- to mid-2020s."
Vice Adm. Johnny Wolfe, director of the Navy's Strategic Systems Programs, said in the statement that this test follows up one done in October 2017 and put "additional stresses" on the system. "It was able to handle them all," Wolfe said.
"Today we validated our design and are now ready to move to the next phase towards fielding a hypersonic strike capability," he said.
Once the glide body is fully fielded, the Navy and Army will each develop individual weapon systems and launchers for use on sea or land, the statement said.
"The glide body tested today is now ready for transition to Army and Navy weapon system development efforts and is one of several applications of hypersonic technology underway across the Department," Mike White, assistant director of hypersonics in the Office of the Under Secretary of Defense for Research and Engineering, said in the statement.
olson.wyatt@stripes.com Twitter: @WyattWOlson
---
---
---
---