Analysts: North Korea's Kim Jong Un flawed, yet provides stability
by
Paul Alexander
September 15, 2015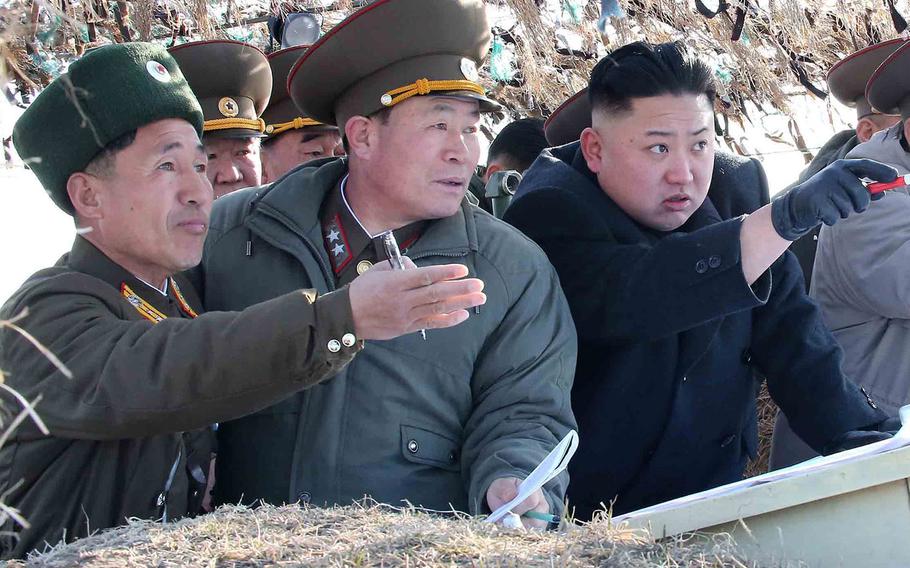 Kim Jong Un is provocative and dangerous, and few people outside North Korea would shed a tear if he suddenly wasn't around any longer.
This is the man who reportedly had his military chief executed with an antiaircraft gun and thumbs his nose at international sanctions by developing increasingly powerful atomic bombs and ballistic missiles. Just this week, his government announced it had resumed operations at a key nuclear facility and even threatened to use them against the United States and South Korea.
It's the same chubby, 30-ish guy who oversaw the most recent standoff on the Korean Peninsula, almost certainly gave the OK for the hack of Sony Pictures for making fun of him and likely will foment more crises, perhaps with another nuclear or missile test next month for the anniversary of the Communist Party's founding.
Yet, he still appears to be the best bet of keeping the nuclear-armed derelict of a country from fracturing into chaos that could spark a major conflict.
The problem is that there's really no alternative, not in a third-generation dictatorship that the country's propaganda machinery has painted as a godlike succession.
"If something were to happen to Kim, the country would suffer severe leadership problems," said Ken Gause, a North Korea-watcher at CNA, a not-for-profit think tank in Arlington, Va., who just released a research paper on Pyongyang's cycles of belligerency.
"That could lead to a nasty collapse of the regime. And if they collapse, the problems of the Mideast would pale by comparison."
Reunification of the rival Koreas would be inevitable — an outcome that experts think would be grudgingly accepted by China, with some major concessions. But all of North Korea's neighbors and the United States have no doubt been planning for the worst-case scenario: a sudden collapse in Pyongyang that could set off a civil war with control of the North's nuclear, chemical and biological weapons up for grabs.
The biggest question is how China would react to chaos on its doorstep. With Beijing and Washington uneasily seeing each other as potential foes with a number of potential flash points, neither is going to share its thinking. That leaves open the possibility that their responses could be misread and unintentionally set off a wider conflict.
"China has refused to discuss with the United States what they would do if the North Korean regime collapsed," said Bruce Bechtol, a North Korea expert at Angelo State University in Texas.
Gause added, "They don't want to send any provocative signal to Pyongyang."
China has long been North Korea's biggest — sometimes lone — patron, and Pyongyang has its hand out in that direction for food and fuel. But there have been signs that Beijing's patience with little brother's bullying tactics have limits.
During last month's standoff along the Demilitarized Zone, which began with two South Korean troops being seriously injured by land mines apparently planted by the North and quickly escalated, China massed troops along its border with North Korea. It later called the military movements routine, but most analysts said Beijing was sending two messages: one telling Pyongyang to settle down and the other telling the world that it was keeping a close eye on the situation.
Denny Roy, an Asia expert at the East-West Center in Hawaii, thinks the fact that the standoff was resolved peacefully through direct talks between the Koreas was positive and has "cranked the crisis clock back a few minutes from midnight."
"It was truly a haggle in that each side gave up something," Roy said. "I thought that was encouraging."
There's general consensus that almost four years since Kim took over following the death of his father, he still has not been able to consolidate power. His grooming for the top spot was relatively short, and in the country's Confucian traditions, you don't become a man until around age 30.
Gause said Kim has had to overcome his relative youth and has had some success in conducting politics within the regime, bringing in a new generation of leaders and showing progress in the military arena. But it's been painful, and the longer it goes on, the more worrisome the situation becomes.
"If Kim's not able to consolidate power in the next two to five years, he will become more of a consensus leader. That will make things more unpredictable," he said.
Bechtol said the ongoing challenges are reflected in mass purges in North Korea's three main factions — the party, the military and the security apparatus — the likes of which haven't been seen since the country's founding father, Kim Il Sung, was consolidating power in the 1950s and '60s.
Plotting and mounting a coup attempt would be difficult, though, and the deadly purges are a warning of how any dissent would be handled. Most experts believe Kim Jong Il, Kim Jong Un's father, was able to stifle a coup attempt in 1995.
"Everyone in North Korea is being watched by someone," Bechtol said. "That makes it very difficult to pull off anything."
The latest standoff between the Koreas could be a sign of unpredictability, even instability, by Pyongyang, but Gause and Bechtol think it was carefully planned and follows a long-established strategy of brinkmanship to get what it wants in negotiations.
And although South Korea touted the North's agreement to express regret for the land-mine incident as a victory, they say Pyongyang got just what it wanted.
"This is all designed to engage South Korea," Gause said. "I would not be surprised to see more provocations in the near future. I've been telling the South Koreans that they need to stop patting themselves on the back."
Gause said he sees the latest crisis as a sign that North Korea has abandoned its so-called diplomatic "charm offensive" in which it reached out to Japan and Russia because it hasn't provided the progress in the country's foundering economic system that it needs among endemic poverty and food shortages. Trade with Russia is up, but not enough to kick-start the economy.
"Their economy has already collapse by most reasonable standards," Roy said. "But they show a remarkable capacity to persevere."
While food shortages loom as winter approaches, the North could be angling for food aid.
"It's not the '90s," Gause said, referring to a period of widespread famine. "They are suffering but not as bad. They can muddle through because they're like a police state on steroids."
The standoff also was aimed at testing South Korea's resolve under President Park Geun-hye's policy of retaliation against Pyongyang's provocations. While Seoul responded quickly, Gause feels its actions were no worse than North Korea expected. The results were talks, which the North wants to seek solutions to its economic struggles.
"The North basically wants government-to-government economic engagement" and at a much higher level than the Kaesong Industrial Complex, a group of South Korean industries located in North Korea and manned by North Korean workers, Gause said. That would include the startup of North Korean tourism and more joint economic zones.
"We're at a turning point, a watershed moment," Gause said. "If the talks go well, North Korea will probably go quiet for a while. If South Korea pushes the nuclear issues, we could see more provocations. South Korea is going to have to put a lot on the table. North Korea will be pushing back. They will become more and more impatient."
---
---
---
---