VIDEO
Amphibious assault ship bolsters search for missing USS McCain sailors
by
Seth Robson Tyler Hlavac
August 22, 2017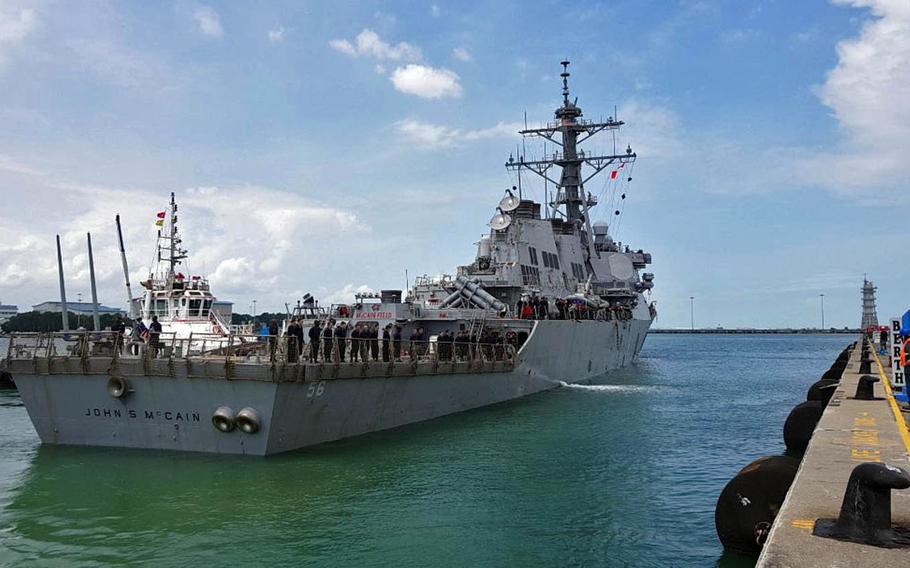 YOKOSUKA NAVAL BASE, Japan – Bolstered by a Navy amphibious-assault ship, search-and-rescue efforts continued Tuesday for 10 sailors missing after the USS John S. McCain collided with a civilian oil tanker near Singapore.
The Yokosuka-based guided-missile destroyer was traveling to Singapore for a routine port visit early Monday when it collided with the Liberian-flagged Alnic MC oil tanker east of Singapore, injuring five sailors and leaving 10 missing.
The amphibious-assault ship USS America joined the damaged destroyer at Singapore's Changi Naval Base on Monday evening. It has been providing MV-22 Ospreys and SH-60 Seahawk helicopters to assist with the search, the Navy said. Ships and aircraft from the Malaysian and Singaporean naval and security forces are also helping to search an area east of Singapore where the collision occurred.
Navy and Marine Corps divers from the America and Yokosuka have been searching the guided-missile destroyer for the missing sailors using surface-supplied air rigs to access sealed compartments in damaged areas of the ship, a Navy statement said.
The America's crew has also been helping control damage on the McCain and to feed and accommodate its sailors. Personnel were pumping water out of the ship and restoring auxiliary systems while divers assessed the hull, the statement said.
Chief of Naval Operations Adm. John Richardson told reporters at the Pentagon Monday that the possibility of cyber sabotage would be explored, though there were no indications the collision was intentional. He later tweeted "2 clarify Re: possibility of cyber intrusion or sabotage, no indications right now … but review will consider all possibilities."
The Singapore Straits are the shortest sea route between India and China and one of the world's busiest shipping channels.
Jan van Tol, a senior fellow at the Center for Strategic and Budgetary Assessments in Washington, D.C., said numerous lookouts should have alerted the McCain's crew to any danger.
"I still find it almost incomprehensible how something like this can happen when you have so many individual watchers … that somebody doesn't notice that another ship is getting too close," said van Tol, who captained two U.S. warships – the USS Essex and the USS O'Brien - through the straits before retiring from the Navy in 2007. "Where were the lookouts in those and where was the bridge, which is supposed to be checking to the side and behind at all times as well as ahead?"
Van Tol said he remained alert to the dangers of passing through such congested sea lanes.
"I was certainly on the bridge because there were numerous close-quarters situations," he said. "Sometimes the point of approach would only be 500 meters with fishing boats or even closer sometimes."
Vessels in the straits are supposed to follow established shipping lanes, but there are complications such ships moving at different speeds, ferries moving across traffic and masses of small fishing boats, he said.
"Not all these little guys know or care about the rules of the road," van Tol said. "You really are trying to dodge your way through."
Van Tol added that 7th Fleet vessels like the McCain typically deploy more often than their stateside counterparts, but that crew fatigue would be offset by the crew's experience from spending extra time at sea.
"The ships are at sea and the watch is doing what watches are supposed to do more frequently than ships ported in the U.S.," he said. "They're doing the normal things of being underway more frequently."