American teen in Japanese custody for allegedly setting fire to shrine, shed
By
Hana Kusumoto Charlie Reed kusumoto.hana@stripes.com reed.charlie@stripes.com
April 8, 2013
---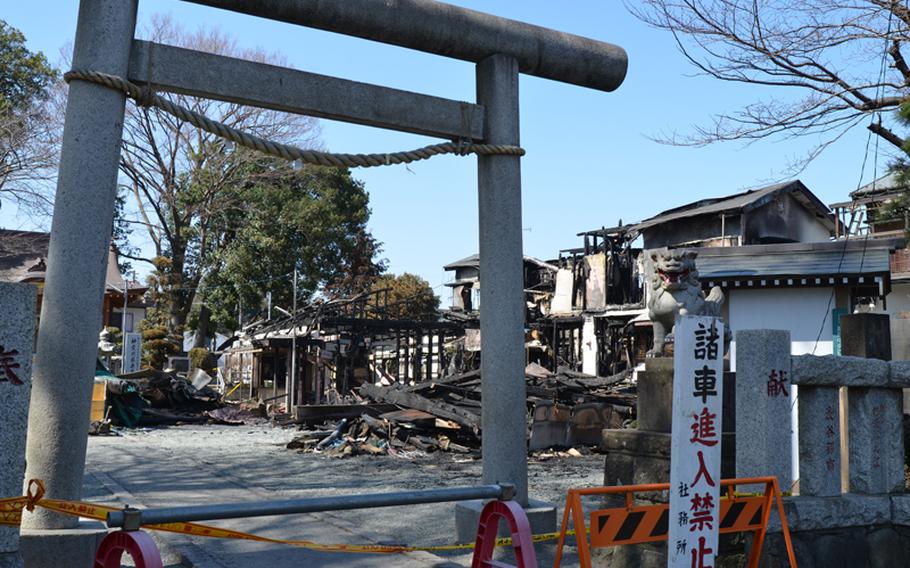 YOKOTA AIR BASE, Japan — A 15-year-old American who admitted to setting fire to a shed in Zama city last month is in custody after confessing to torching a centuries-old shrine the same night, Japanese police said Monday.
The son of a U.S. contractor at Camp Zama, the teen had arrived in Japan only a week before the March 7 early-morning fires. Police said he told them he set the blazes to release stress caused by the language barrier and the close proximity of Japanese homes.
The fire at the Kurihara Shrine spread to two adjacent homes, burning one to the ground and partially damaging the other, a Japanese police spokesman told Stars and Stripes. No injuries were reported.
Damage to the shrine alone is estimated at more than $200,000, said Kazunori Oya, who leads parishioners of the Shinto shrine. The fire also destroyed irreplaceable historical photos and documents, Oya said.
"It is like setting a fire at a church," Oya told Stars and Stripes last month.
The blaze did not damage the shrine's main sanctuary, but Oya said he believes the arsonist tried.
There were eight burned matches underneath the rope that is attached to bells which hang down from the main sanctuary, Oya said. The tip of the rope was partially burned, he said.
"God must have protected it," he said.
The teen, whose name is not being released because he is a minor, was originally taken to a juvenile facility, then released. He has been held at Zama police station since his arrest last Thursday.
A Japanese family court has eight weeks to decide whether the teen should be prosecuted as an adult. If so, a conviction could mean two years in prison.
U.S. Army Japan spokesman Randall Baucom said U.S. military officials are monitoring the case but are not expected to provide legal assistance to the teen or his father because the Status of Forces Agreement here gives Japan authority in such cases.
"The SOFA is pretty clear — the Japanese court system has full jurisdiction," Baucom said. "For the most part, it will be up to the father and his legal representatives."
---
---
---
---